It's not often I feature a chain restaurant here, focusing instead on locally owned establishments.  But Bonefish has long been a favorite of mine.  When the good folks at Bonefish Grill asked if I would like to drop in to sample their Fall Crush menu, I jumped at the chance for a couple of reasons.  First, the food is excellent at Bonefish.  Second, I wanted to share tips with you on eating out at a chain restaurant when you have dietary restrictions.
If you've been a reader here for awhile, you'll remember my take on Bonefish Grill's Bang Bang Shrimp.  I created Bang Bang-inspired tofu.  That came about because of trips with girlfriends to Bonefish for dessert and cocktails. Several times when meeting for dessert, friends would order Bang Bang Shrimp instead of dessert.  While they have shrimp, I have the gluten-free Macadamia Nut Brownie with raspberry sauce.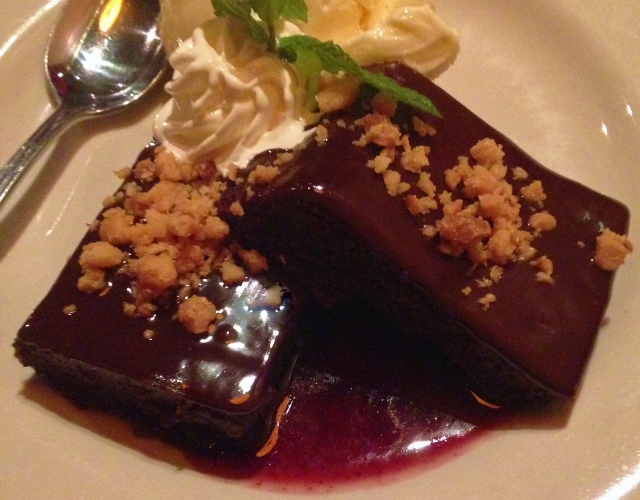 This brownie is very shareable.  In fact, it's probably too rich to eat on your own.  Probably…or maybe not. Oh, forget it. Don't bother trying to share it.  You'll want to eat it all.  It's warm, gooey and one of the richest desserts I've ever had.  You know that dessert when you think you've had enough, you put the spoon down and then mere seconds later you are digging back in?  That's this brownie, except I never manage to put my spoon down.  So good….
By Johnna 3 Comments
I'm writing all about my adventures in Detroit this week.  If you want an introduction to why I'm writing about Detroit, read this.  Make sure you follow along all week. Lots of great stories to share and a Made in Detroit giveaway to wrap up the week. Ever head out to lunch at a new…