This post contains affiliate links. See my disclosure for more information.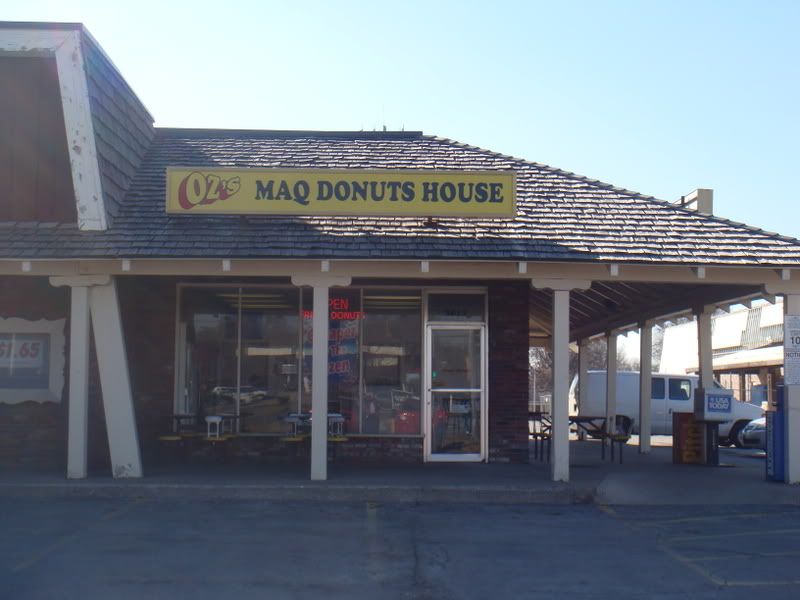 I met Em mid-morning today to try Oz's Maq Donuts House in Leawood, KS. We guessed it used to be a Winchell's, based on the left over signage on the door and bakery case, plus the vivid yellow color of the counter. I don't have a clear recollection of Winchell's donuts, but can't imagine they were as good as Maq's.
Several people had mentioned to me that Maq makes the best cake donut in town, one person suggested I get an old fashioned, which to me is a Cruller. I had a chocolate frosted Cruller and it was yummy. It had a nice crunch on the outside and that really melty buttermilk-y texture on the inside. I also tried the cinnamon crumb cake donut and a traditional raised glazed donut, plus a nibble of the powdered sugar cake donut. The cinnamon crumb was delicious. Em and I were both quite taken by the obvious spice used in the batter–it was visible and tasty! Maybe it's nutmeg? The raised/yeast donuts were gorgeous, with the prettiest texture on the inside. With a better camera, I would have taken photos of the texture and used them to decorate my office, the texture was that visually interesting! Em will have to fill you in on the powdered sugar and sugared raised donut since those are two of her favorites.
Maq seems to have a strong local following, many people addressing him by his name. He sings happily while he works and several times offered to make more of a particular donut if there were not enough in the case to fulfill the wishes of late Sunday morning donut fiends. Alas, we missed the fritters. I suspect we will be back at some point to try the pineapple fritter. Doesn't that sound amazing? Maq greeted each customer with enthusiasm and an occasional funny quip. When Em ordered bottled water, he said something like, "Good girl! Flush, flush flush!"
While the counter is tiny (three stools) and the selection was not huge (yet plenty to choose from), it was a great donut adventure. Oz's Maq Donuts House is located at 3615 W. 95th Street in Leawood, KS.