This post contains affiliate links. See my disclosure for more information.


Did you catch my segment on KC Live this morning? I shared how to make one of my favorite green juices, Gimme The Greens.
Below you'll find the recipe I shared, as well as links to my favorite juicers and juicing accessories. Juicing has been the easiest way for me to introduce more nutrients to my diet. Even as a vegetarian, getting all of the recommended daily servings of fruits and vegetables can be challenging. No more! I have green juice every day and I'm much healthier for it!
If you are new to juicing and want to jump in with minimal investment, I recommend the little Black & Decker Juicer. This is what I started with. It's affordable and a good place to start without making a large investment. It is a centrifugal juicer, which means it spins quickly while grinding the fruits and vegetables to a pulp. Because of this, it heats the produce a bit as it works and introduces oxygen, which means you should drink the juice immediately to get the maximum nutritional content. It works well and was a small enough investment that I was comfortable buying it without knowing if juicing was something I would commit to long-term. I've since passed this juicer on to another family and they are using it, so it's definitely a sturdy little juicer.
Do you have a little more money to spend? A Breville Juice Fountain is a nice step up. It is still a centrifugal juicer, however it handles large quantities of produce quickly and the pulp that comes out is drier, which means you get more juice! I don't own this juicer but did borrow a friend's on a few occasions to demonstrate on TV appearances and culinary classes. I found it to work well and cleanup was relatively easy.
My favorite juicer is the Hurom Snow White. I use this juicer every week. The downside is that fruits and vegetables have to be chopped into smaller pieces and it takes longer to juice than the juicers mentioned above. The upside is that I get a much greater amount of juice from produce. I'm also able to store the juice for a day or so without it turning brown and going bad. It is also much quieter than a centrifugal juicer. I would estimate that I get about 50% more juice from produce using this juicer than a centrifugal juicer. The Hurom quickly paid for itself in my kitchen!

Here are a few accessories I find useful in juicing:
Large glass jars for juice storage. When using a juicer like the Hurom, I can make juice for a couple of days and store it in the refrigerator.

A tea strainer like the OXO Good Grips 3-Inch Mini Strainer
is handy if you like little-to-no pulp in your juice. I strain my juice and put the pulp back through the juicer another time to get the most juice from it.

While I don't have a link to direct you to this, I like a really stiff bristled brush, the size of a toothbrush, to help with cleaning my juicer. Cleaning is the part I like least, but having a good brush to scrub the basket of the juicer makes it much easier.
And here is it, my absolute favorite green juice recipe. This is the basic foundation of green juices in my kitchen. It's a great starting point if you are new to green juices and a good juice to come back to from time to time when you need a bit of a refresh. Enjoy!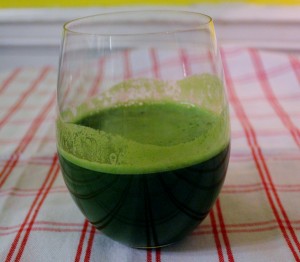 Gimme The Greens!
Makes approximately 16 oz.
1 cucumber
2 stalks celery
2 green apples
½" or to taste fresh ginger root
1 bunch kale (6 to 8 stems)
Juice all ingredients and strain if desired. It is recommended that you juice the kale last, as it is very fibrous and most likely to clog your juicer.
Serve this juice cold and right away if you use a centrifugal juicer. Enjoy!
Disclosure: This post contains affiliate links. I only endorse items I own or have used often enough to know that I like them. Should you follow them and make a purchase, I make a commission. On a good day, it's enough to buy a couple bunches of kale. Thanks!