This post contains affiliate links. See my disclosure for more information.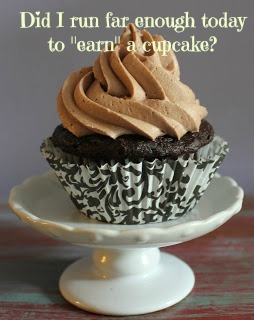 Oh, I'm gonna have a cupcake, I just ran 8 miles. I earned it.
Ever said that? Or maybe instead, "I'm gonna have to spend 4 hours at the gym this weekend to make up for the food and drinks I had Friday evening."
I've totally said those things. I've posted a photo on Facebook of a highly-indulgent post-marathon meal, saying things like, "I earned that cupcake/margarita/cheeseburger." I've also punished myself with excess exercise after having an exception to my normal balanced eating plan.
These are not healthy behaviors. For some of us, this line of thinking is a fast track to disordered thinking about food. For everyone else, it's at a minimum not a healthy way to think about food or exercise.
So here's the deal: you want a cupcake? Have a cupcake. It's not necessary to "earn" every bite you put in your mouth. It takes calories just to exist, even if existing means you sat on the sofa all day. Yes, we should balance how much we eat and how active we are, but you don't have to earn an occasional sweet treat.
And the other part of this deal? Exercise is NOT punishment. If you make exercise a punishment for eating, you're not ever going to enjoy either food or exercise. It's okay to enjoy both of them! Exercise can be just as fun and enjoyable as food can be tasty. We're also more likely to stick with an exercise routine if we enjoy it as opposed to disliking it or viewing it as a punishment.
The next time you want a slice of pie and think you have to earn it first, consider being softer to yourself. You've already earned the right to be kind to yourself.