This post contains affiliate links. See my disclosure for more information.


For the past several years, my favorite fella has put together a drive to see the Christmas Lights in the Johnson County, Kansas area of Kansas City for the members of our car club. I tagged along as he routed the course this year and took lots of photos to share with you AND I've got turn-by-turn driving directions so you can drive the route yourself and enjoy over half a million lights!
But first, a really big THANKS to Keith of KansasTravel.org. For many years, Keith has put together the most comprehensive list of Christmas light displays on the Kansas side of Kansas City. He updates it each year, making sure each display is illuminated. His website is an incredible resource. You'll find many more Christmas light displays and maps on his site for other areas of the city, too. KansasTravel.org has provided a great foundation for many Christmas Light Drives I've been on all over the city.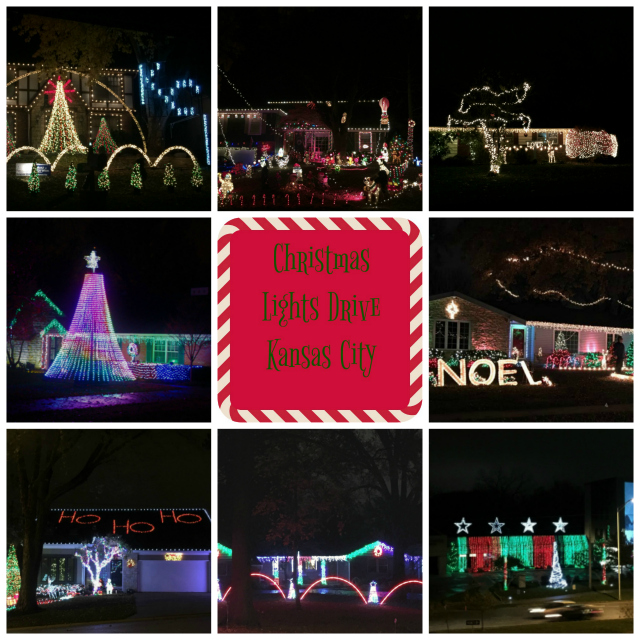 Christmas Lights Drive Kansas City Route
(This drive covers areas of Overland Park, Prairie Village and north Leawood)
Let's get started! A few things first: this drive starts at Starbucks at 95th and Mission Road. You can get a hot cocoa and use the restroom. It's a full two-hour drive so good to care of this first. Be sure to have a DJ for a passenger, as many of the displays have their own FM radio broadcast with the light display synchronized to music and you'll want someone to tune the radio while you drive. Please be respectful in not blocking driveways of neighboring homes or walking through their lawns. And lastly, be prepared to have great fun. It's truly a nice two hours to spend together during the holidays.
Here's a link to the turn-by-turn instructions for this route. It's two pages, print it two-sided and you'll only need one piece of paper to take with you. Below I'll detail the highlights of the tour in photos and tell you a bit about them. There are THIRTEEN light displays on this drive, some you will want to slow down and roll past and some you will want to stop to enjoy for several minutes. There are others that you will pass by that have not been noted in the route, but provide for great enjoyment while getting from one major display to the next.
The first stop is Wright's Lights at 9708 and 9717 Lee Boulevard in Leawood, Kansas. This display is one both sides of Lee Boulevard, all LED lighting with 48,871 lights using 31,812 channels. Music is broadcast on FM 90.7. The light display is synchronized to music. Between each song, the creator of the exhibit includes fun trivia and very corny Christmas jokes that the entire family will enjoy. Follow the route closely, as it directs you to a side street where you can easily park and enjoy the show without being in traffic. I have watched this show in its entirety twice and cannot get enough of the MegaTree. It's gorgeous. Such a well done display!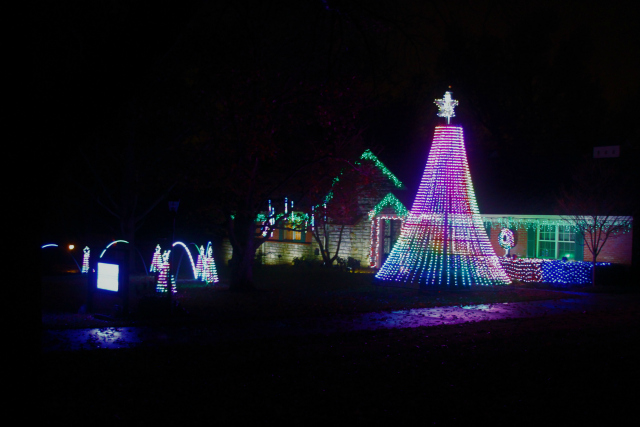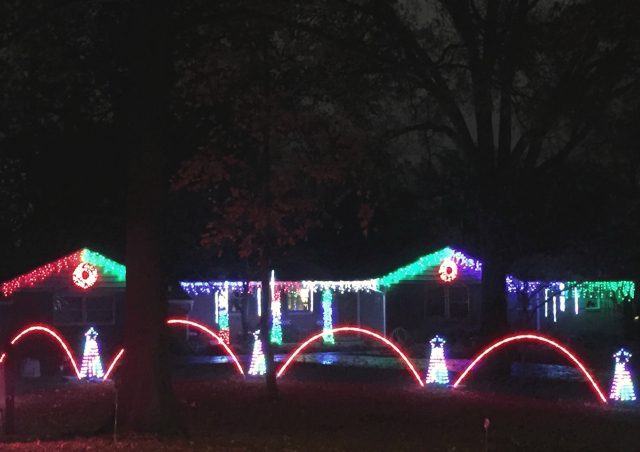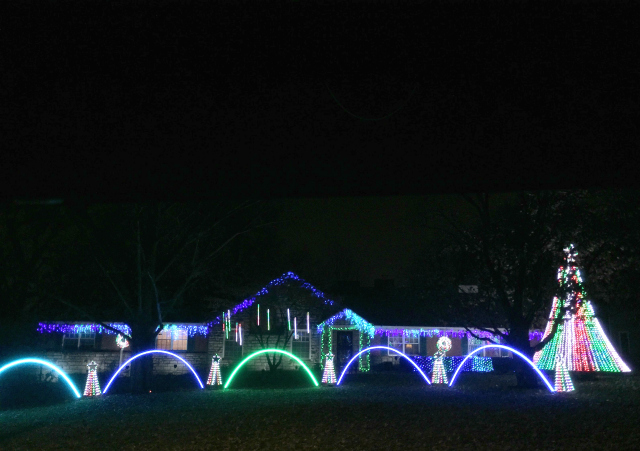 The second stop/roll-by is at 9607 Lamar Avenue, on your right. It's a great collection of Christmas inflatables. In the three times I have driven past this exhibit this month, it has grown each time.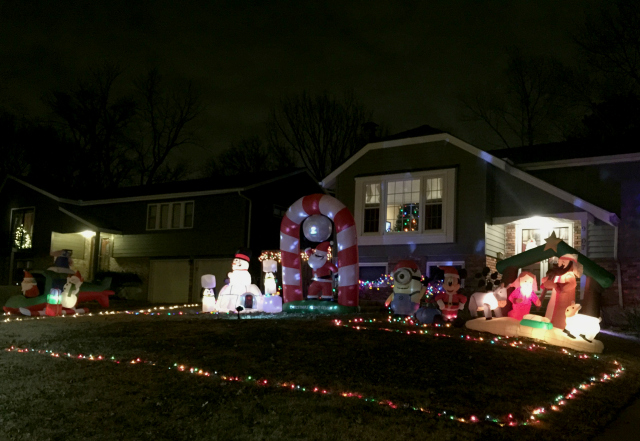 The third stop/roll-by is at 8606 Lamar Avenue, on your left. This home has the largest collection of white illuminated deer I've seen in the area. If we get snow before Christmas, this will be incredibly picturesque.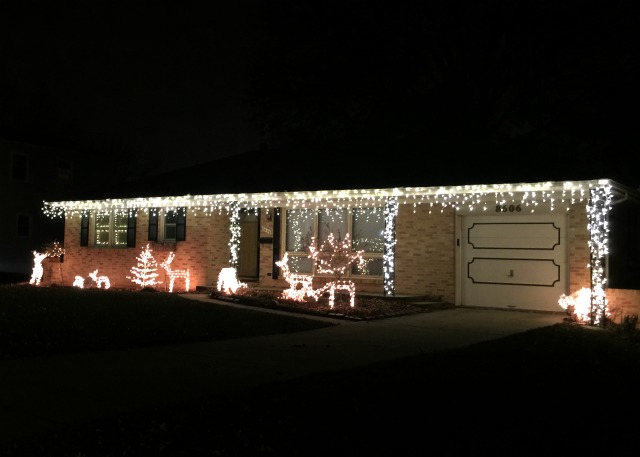 The fourth stop is legendary in Kansas City: Candy Cane Lane at 79th and Outlook in Prairie Village, Kansas. This cul-de-sac street began decorating for Christmas in 1958 and has a 50-foot tall lighted tree and presents.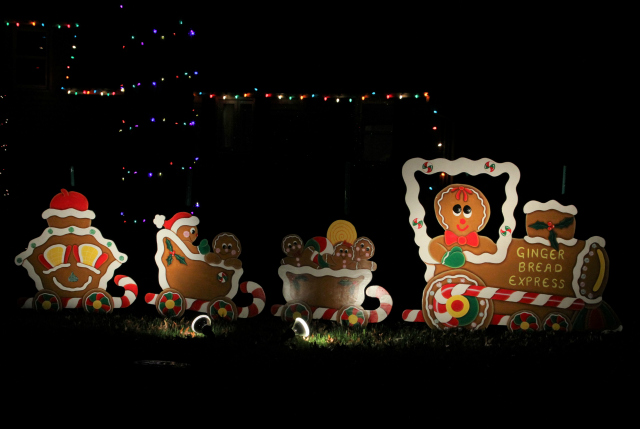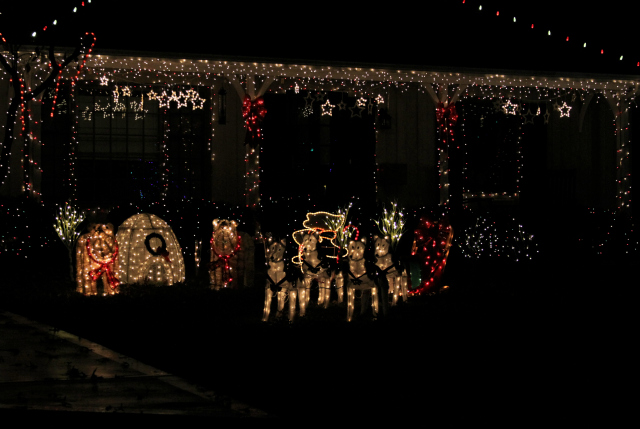 Each house is well decorated, many with hand-painted wooden cutouts. My favorite is the Dr. Seuss Whoville collection. One house has an animatronic Candy Shop sitting curbside. I've heard it said that this was a piece of Mike Babick's incredible display that was shut down by the city years ago because of traffic snarls. It's sweet and reminiscent of store window displays of many years past. Turn your headlights out, leave your parking lights on, while circling through this neighborhood.
Stop #5 is one of the smallest displays on the route, however it is the only one with a complete blow mold Nativity. I'm a fan of vintage blow mold Christmas decor and this is a very nice example. (Plus it's right along the way to the next stop…)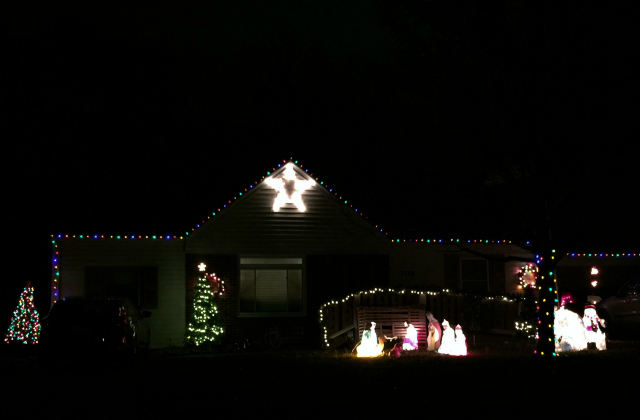 Pretty close by, Stop #6 is located at 7515 Hemlock, The Oshel Family display. A really great little display that includes plenty of inflatables. There are THREE inflatable dinosaurs in this exhibit. This family has decorated everywhere they could, including atop their chimney.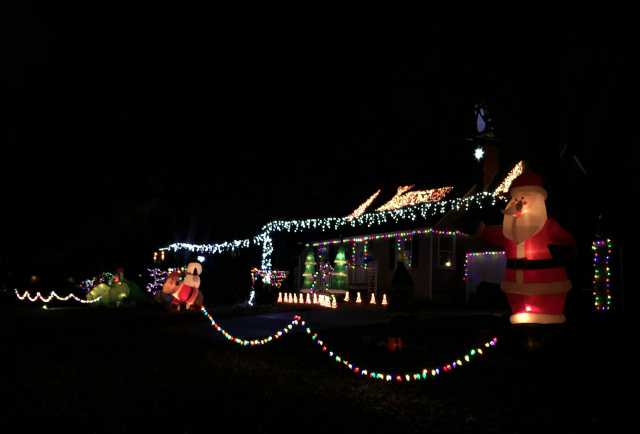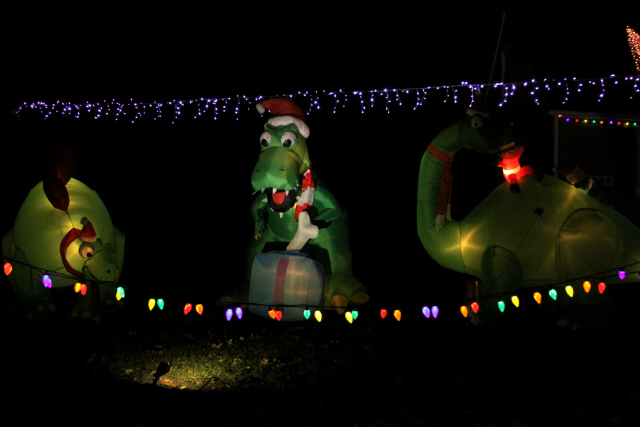 The seventh stop is Shawnee Shines at 12612 West 70th Terrace in Shawnee. (There is a donation tube here for Make-a-Wish, please consider leaving a donation.) Tune your radio to 107.5FM and enjoy Mike Arnott's display of over 26,000 lights. On many weekends, he and his wife are outside passing out candy canes. I've met both of them while viewing the exhibit and they are truly kind people who are excited to share their light display. The music at this display also plays at a low level from the home. If you need to safely park a block away and walk down the hill to see this, you'll find it worth the walk. (Random trivia: this is the second home on this route that has a version of Dueling Banjos included in the program.)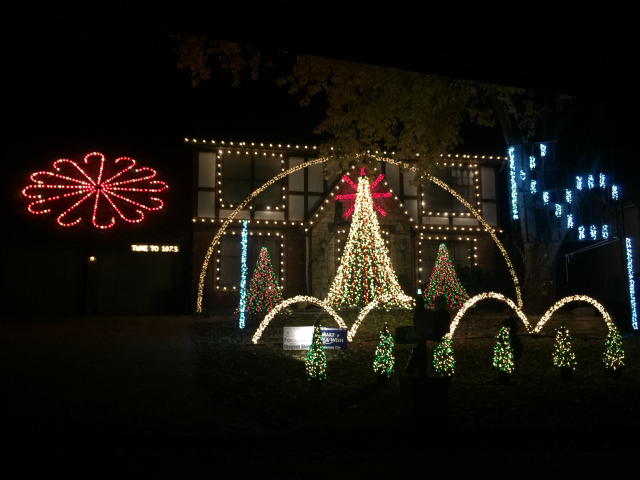 Stop #8 is just up the hill at 13089 West 70th Terrace. This is the Dowding family display. They have music playing from an outdoor speaker. Follow the direction in the route for a great viewing spot of this display. I really enjoy the illuminate HO HO HO on the roof of this house. On my last drive by, the family was standing at the door waving. It's so much fun to see those who create these light displays really enjoying the crowds that come by to see them.
The ninth stop/roll-by is at 8007 West Haskins Street in Lenexa. This is my absolute favorite display and that of many who I've visited with as well. There's a lot to see here, much of it fun to see in daylight, too. My favorite part of this display is Charlie Brown, Yoda, Darth Vader and Spiderman roasting marshmallows around a campfire. Or maybe it's the lighted life preserver way up in a tree, many feet about the illuminated sailboat. So much detail in this display! (Note: I've been by this house twice when it has been raining and parts of the display were not working, which is very understandable. Just wanted to let you know to visit when it's dry.)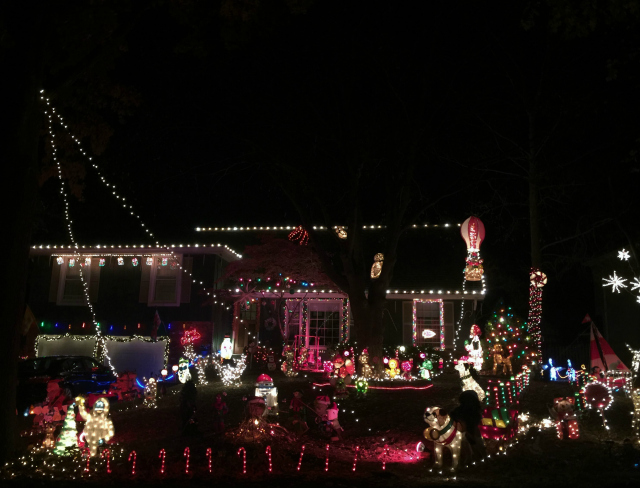 Stop #10 is 8201 West 96th Street. Lots of fun illuminated sculptures in the yard. There's also a photo of a lovely lady projected onto the garage door with a holiday greeting, perhaps it is the homeowner. If you'd like to get a good look at this display, there's a church parking lot across the street.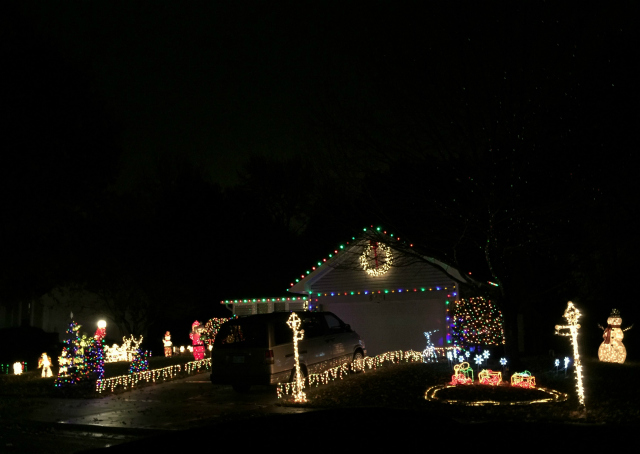 The eleventh stop is Bill & Teddi Gapske's display at 7716 West 98th Terrace in Overland Park. This house has a giant NOEL in the yard. The enormous tree trunk is wrapped with lights more than 12 feet up. Several of the neighboring houses are also well decorated, making this a lovely drive. Mr. Gapske was outside working on his lights well after dark the last time I drove by, in true Clark Griswold fashion blaming the squirrels for chewing on his wiring. All of these light displays are amazing, but the people who create them are the true gems. Be sure to say hi and thank these folks when you see them out in the yard.
#12 on the route is a roll-by on 98th terrace with illuminated HOPE and LOVE signs along with plenty of lights. It's a nice little display.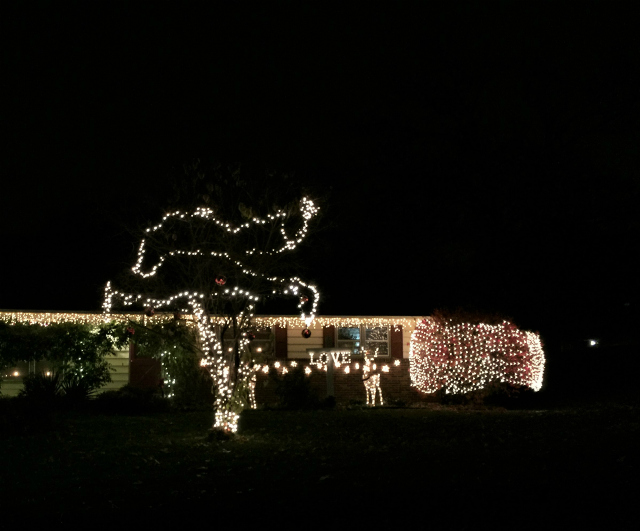 And the thirteenth and final stop: Vince & Associates at 10103 Metcalf Avenue in Overland Park. This year's display includes 175,000 lights synchronized to music that is broadcast on 96.9 FM. Three workers spend three weeks installing this exhibit. New in the past two seasons is a movie screen that shows clips of classic Christmas films. I particularly enjoyed the clip where Clark Griswold in Christmas Vacation is getting ready to plug in all of the lights. The entire display goes dark and then ALL of the lights come on. It's a thing of beauty!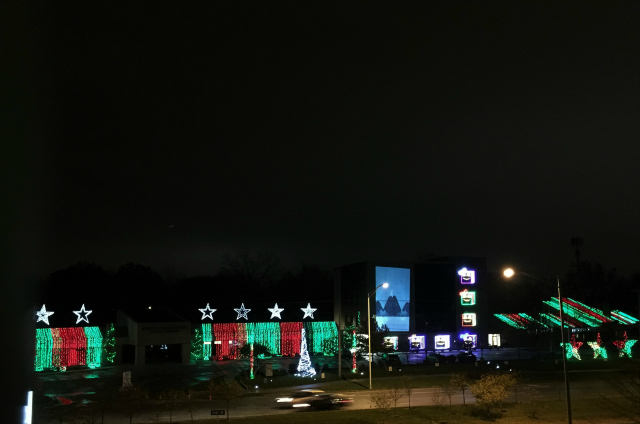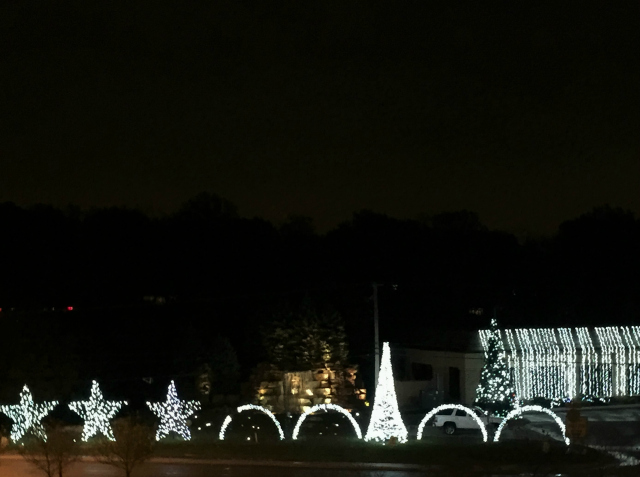 Here is a link to the printable, turn-by-turn directions for the 2016 Christmas Lights Drive. Drive safe and enjoy!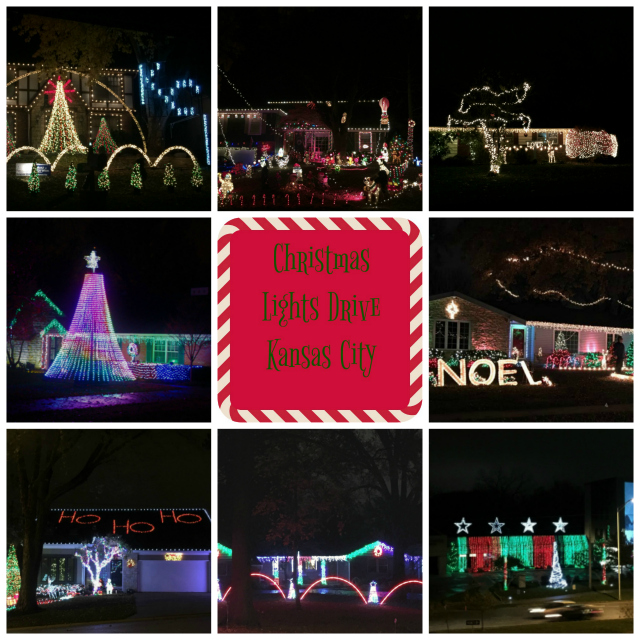 If you know of great Christmas light displays in the Kansas City area, please leave a comment. I'd love to drive by and take a look. I hope you enjoy this route. Merry Christmas!