This post contains affiliate links. See my disclosure for more information.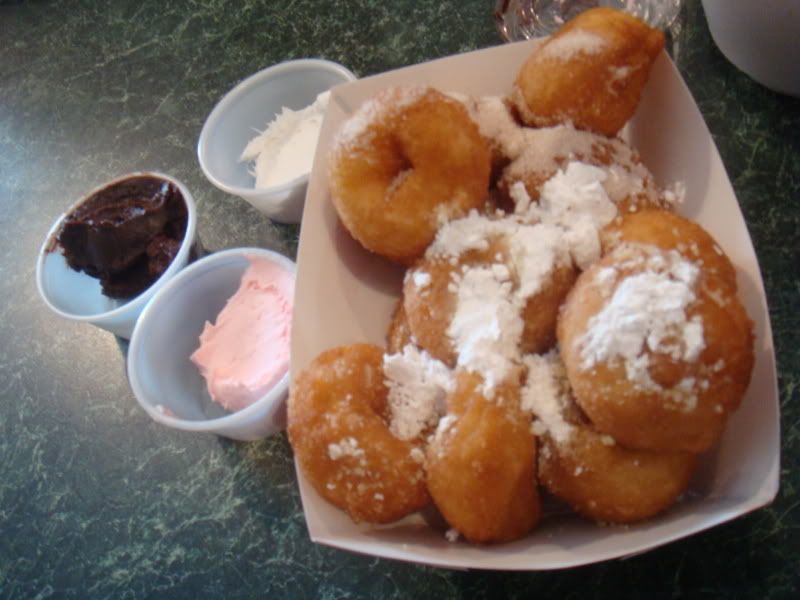 Week 1 of the 52 Donut Project led us to the Skillet Licker Cafe in Kansas City, Kansas. John and I hitched a ride with Em and B for a late breakfast with mini donuts for dessert. Em pointed out breakfast doesn't usually include dessert but should. I agree!
The Skillet Licker, at 501 N. 6th Street, is a small breakfast and lunch cafe with mis-matched plates, cheerful servers and a diner style menu. We all indulged in a large breakfast, which barely left room for the dozen mini donuts we shared.
The mini donuts, served by the half or whole dozen, are fried in a machine that drops little blobs of dough into a trough of hot oil, then a series of paddle wheel type things pop out of the oil pushing the donuts down the trough and finally out of the oil. We ordered ours half with powdered sugar, half with cinnamon sugar and 3 flavors of frosting on the side. I have seen mini donuts at 3 state fairs over the last two Summers, but never with frosting. The frosting was typical cake frosting and made a nice addition to the mini lumps of greasy, puffy dough.
I hope to eat at Skillet Licker again soon, or perhaps as the waitress suggested for 50 of my next 52 donut adventures. Her comment somehow implied there are at least two other worthy donut establishments in the area, so I will seek those out first.
Here are a few pics from our gastronomic adventure: