This post contains affiliate links. See my disclosure for more information.


This week's donut adventure took me away from my familiar donut locale to St. Petersburg, Florida.
With my hubby John along for the ride, we set out to visit the St. Pete Donut House, originally built as a Krispy Kreme in the 50's. I had come across a vintage postcard on the Postcardy blog featuring this donut shop and was excited to check out some authentic Floridiana. Sadly, it is no longer a dedicated donut shop and has become a BBQ spot in the last two years. A sign in the drive advertised coffee and donuts still available, however a smoked donut didn't sound good to me at 8 in the morning…
I had a Plan B and headed north about six blocks to the Donut Connection, which according to my family in the area, was a Mr. Donut for many years.
Donut Connection is a chain with locations primarily in the Northeast and the South. There are two in the St. Petersburg area. The location we visited has a great old sign in the parking lot, advertising the World's Best Coffee. John's opinion is that it isn't the world's best coffee, but is a step above bad gas station coffee.
The shop has a counter and a few booths. It was very quiet inside, but not because it wasn't busy. The stools were all full but there was absolutely no conversation between the donut eaters. We decided to take our box of donuts back to the beach since the scene inside wasn't overly inviting.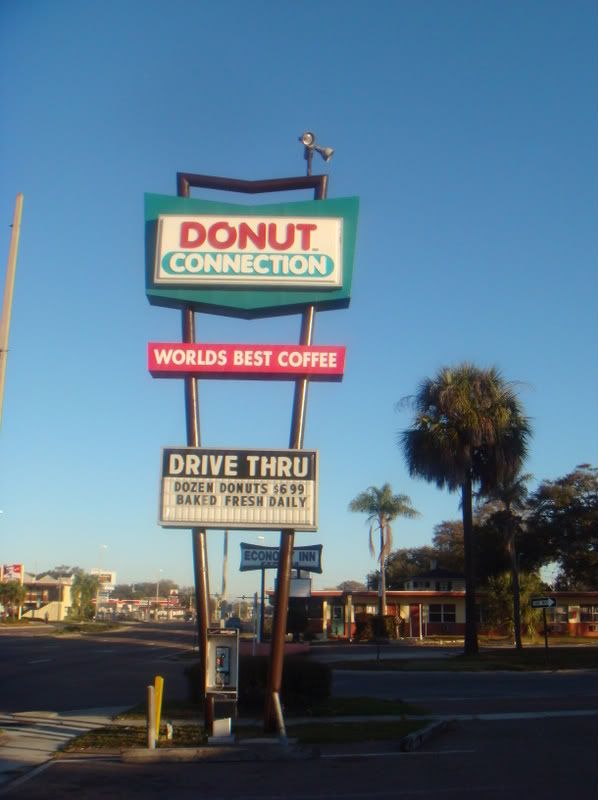 We selected six donuts from the large variety offered. We got a blueberry filled, a honeydew, a honey dipped, a German chocolate, a toasted coconut and a chocolate frosted chocolate cake donut.
The blueberry filled had very little blueberry filling and was very dry. The honeydew didn't taste like honeydew melon at all and was more reminiscent of a sour cream donut. The honey dipped was essentially a glazed raised donut and was quite dry. The German chocolate was a chocolate cake donut with glaze and toasted coconut on top. It was my favorite of those we tried. The toasted coconut was a cake donut with lots of toasted coconut on top. I liked the toasted coconut on a donut. I have only had un-toasted coconut on donuts in the past. The chocolate frosted chocolate cake donut was a disappoinment after last week's visit to Poppy's, which is on top of my list for this particular donut. It would not have tasted chocolate-y without the frosting. The donut part alone had a chocolate color, just not the flavor.
While the donuts weren't incredibly tasty this week, having a donut while watching the waves roll in at the beach was a nice treat this time of year. I'm trying to decide if I would permanently trade in good donuts for a great view…I'll have to get back with you on that one.
The Donut Connection is located at 649 34th Street North in St. Petersburg, FL.