This post contains affiliate links. See my disclosure for more information.


Today's donut adventure probably won't make it into the Top 10 List. I realize not all donuts will be tasty, not all donut shops will be full of character or located in a beautiful area and today's visit hit on all of those.
Em and I headed to Excelsior Springs a little later than we usually do since I had done the Groundhog Run earlier in the morning. In hindsight, I should have snagged the cold Krispy Kreme donuts at the race! We didn't reach Daylight Donuts until after 11 a.m. Located next door to a payday loan establishment, the parking lot was empty except for a couple of other cars. Only one other customer was inside the donut shop. The selection was small but perhaps that was due to our lateness.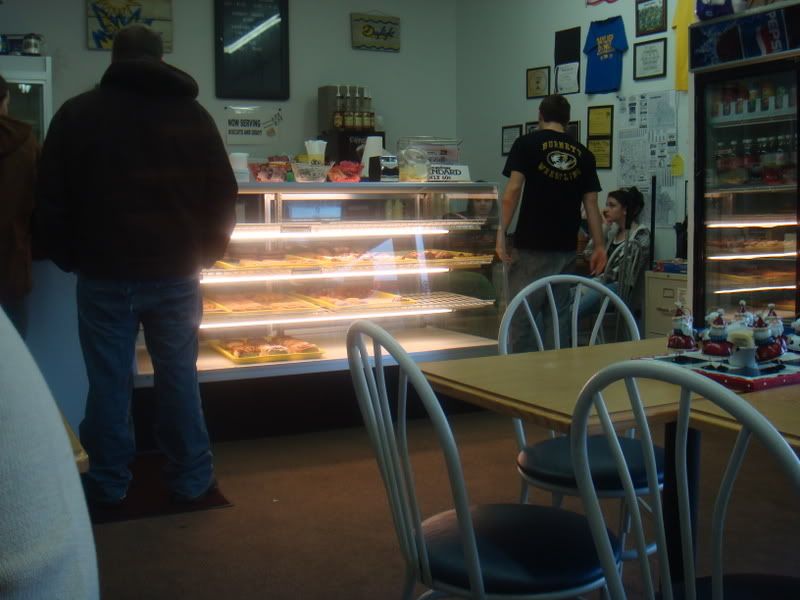 We chatted for a minute with the gal behind the counter (presumably the franchise owner) and she said that particular location had been there for five years. The walls were decorated with crafty-tacky wreaths that were for sale and a few of the tables had snowman themed decorations and games on them.
The donut selection was basic with some interesting additions, including large apple fritters and donuts with pink frosting and red/green sprinkles, some with Christmas tree shaped sprinkles. (Hello? Isn't it late January?) I ordered a chocolate glazed yeast donut and a chocolate cake donut with cookie crumbs on top plus an un-filled long john and a raspberry filled donut to take home to my hubby. Em had a sugared yeast donut and a chocolate with peanuts donut. I think Em said something like, "This would be good if it were fresh," after having just one bite. I was thinking the same thing. My donut was pretty dried out, not like it was made that morning. Sure it was approaching noon, but I've taken home donuts from other shops in the morning and snacked on them in the afternoon and had a fresher donut.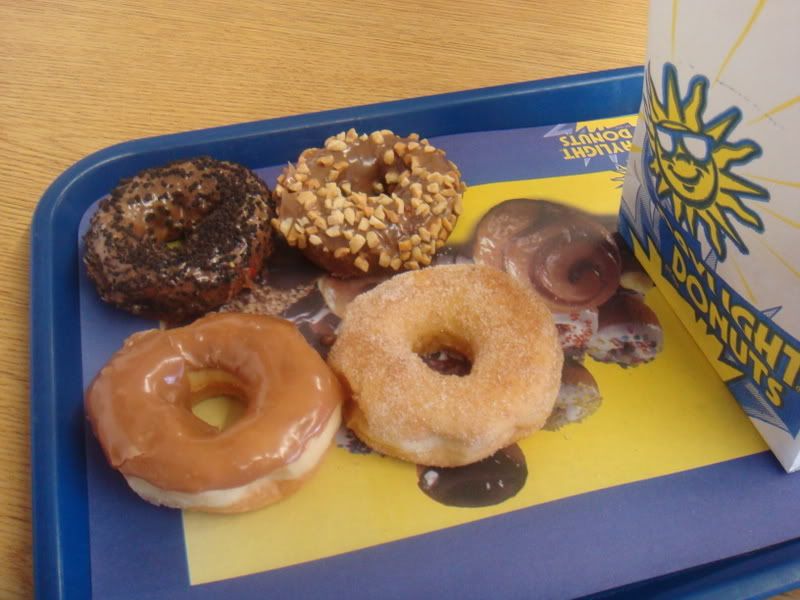 Another observation was the coconut taste in both my chocolate cookie crumb donut and Em's chocolate peanut donut. I'm not sure where the coconut flavor came from. It wasn't bad, just unexpected. The donuts were on the smaller side, perhaps about 2/3 the size of a Krispy Kreme donut.
Perhaps the most interesting part of our visit was the large number of family members and friends of the proprietor that rolled in close to closing time, 12 Noon. One fella walked behind the counter and helped himself to several donuts. I was a little grossed out that someone walked in off of the street and stuck his hand into the bakery case, but I guess that happens at the grocery store and gas station bakery counters and I've still consumed more than a few of those donuts. Several teenagers were loudly conversing near the bakery case and the owner seemed bothered by the only other customers that came in while we were there. Perhaps we had all disrupted her Sunday late morning routine by attempting to buy some fluffy donut goodness.
When I returned home, John opened his donut doggie bag and asked why I had brought two chocolate donuts. He didn't get the raspberry filled donut I ordered, but instead got a chocolate Bismark. I guess it's hard to get the order right when you have no other customers besides us to help. Sigh.
Next week I hope to visit a "sure thing" donut shop, the kind everyone raves about…a local establishment, not a franchise or a chain place. That will require getting up early to ensure a good selection and great people-watching. I'm going to go set the alarm clock right now!
Daylight Donuts is located at 500 St. Louis Avenue in Excelsior Springs, MO.