This post contains affiliate links. See my disclosure for more information.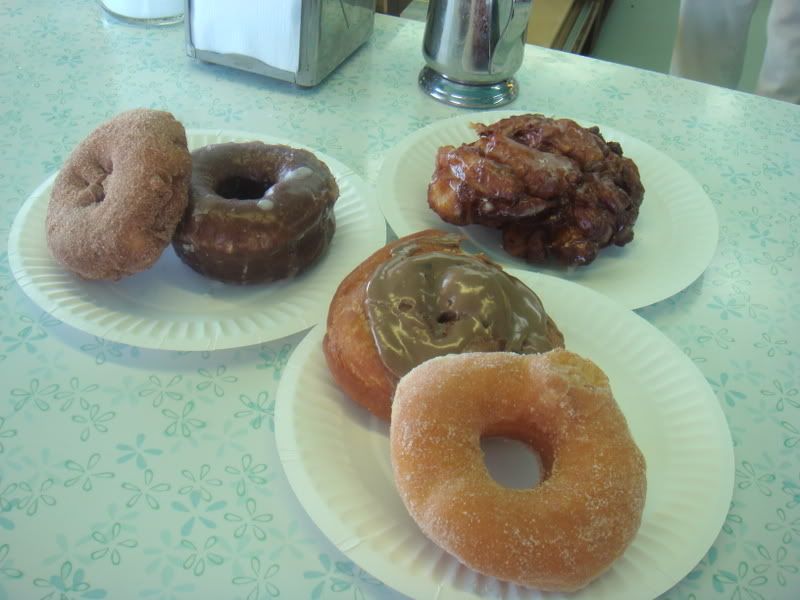 After last week's hum-drum donut experience, I knew it was time to visit a sure thing from the list. I had hoped to make it several months into the 52 Donut project before checking out the donut shops that come with the highest recommendations, but realized it was important to get back on track, to regain some momentum and remember why I like donuts so much! That said, I give you John's Space Age Donuts…
Em and I headed out early, as we had heard John's Space Age Donuts sells out quickly and we wanted to make sure we got a good sampling of the offerings, along with a good people-watching opportunity from the counter. We met up with my hubby John around 8:30 and snagged stools at the corner of the formica-topped counter.
John got a jump on us and had already sampled the chocolate frosted chocolate cake donut and had asked the fella behind the counter for one of his favorite's, which was an applesauce donut. John raved about both and then ordered an apple fritter so Em and I weren't eating alone. It was a big sacrifice for him to have another donut…and boy, did we all enjoy it! The apple fritters came highly recommended and reportedly sell out quickly. It was crunchy on the outside, soft on the inside and oozing with a yummy apple filling. Did I mention it was huge? And only seventy-five cents?!?
Em had a cinnamon sugar donut and a donut I had never tried before–a chocolate raised/yeast donut. It was not a yeast donut with chocolate frosting like most donut shops offer, but instead the dough itself is chocolate and has the traditional glaze on top. It was delicious! I had a sugared yeast donut (watch out Krispy Kreme, these are AMAZING) and a maple cinnamon roll. Yes, I know, it doesn't have a hole in it and might not exactly qualify as a donut but it was delicious! Made with yeast donut dough and topped with a not-too-sweet maple glaze, it was the airiest version of a cinnamon roll I have ever consumed.
The people-watching from the counter was superb. A dad with a little cutie, probably 3 years old or so, came in for a few donuts. The little girl sat on top of the bakery case, getting an aerial view of the donut offerings. A group of older gals sat at the far end of the counter, cackling loudly and taunting the all-male staff. One of the staff members apologized for their loudness to a gentleman seated mid-counter, saying the gals were new there. My guess is that must mean they have been coming there for at least 20 years, since he knew them all by name and chided them about family photos they were perusing. A steady flow of people came in for donuts, many obviously regulars but each and every person was warmly greeted and quickly served. The staff, dressed in traditional whites, is on top of their game and seem to enjoy their jobs. What a concept!
We sat at the counter long enough that the sugar rush was wearing off and decided to split just one more donut–this one a bismark. It is my duty as a donut ambassador to sample an assortment of the offerings and we couldn't slip out of this donut gem without having something cream-filled. It was not a let down, with the yummiest pudding filling I have ever had in a donut. Em snagged the last apple fritter for the day (early folks, come early…) to take home while I snapped a few photos. While the day's supply was dwindling, there was still a nice sampling for photos of all of the flavors I did not get to try…at least not this time.
John's Space Age Donuts lived up to the glowing recommendations that came from many of our donut-eating friends. You can visit them at 8124 Floyd in Overland Park, KS. I doubt we will find enough terrific donut shops to bump this place from the top ten list!