This post contains affiliate links. See my disclosure for more information.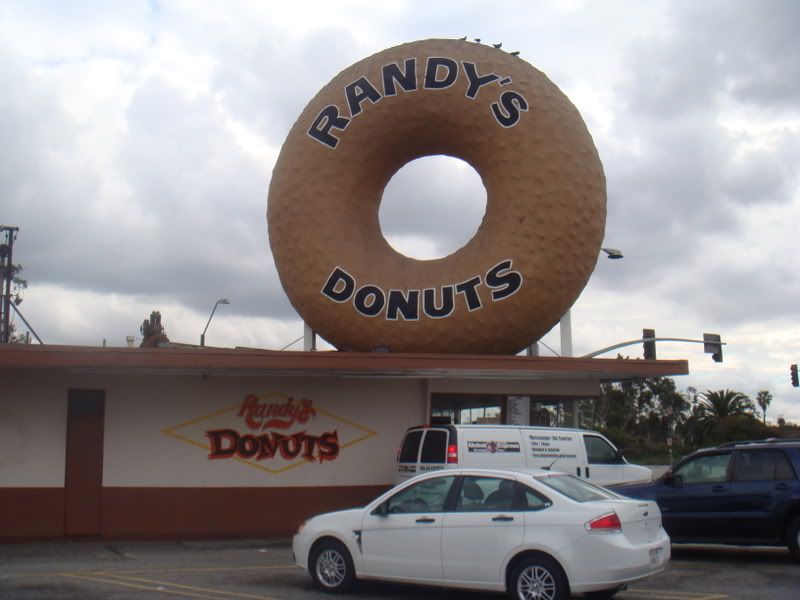 This week's donut adventure took me to the Left Coast. While in L.A. I had the opportunity to take in two donut bakeries, both on my wish list. Here's the first…
Randy's Donuts is one of the last remaining locations of the "Big Donut Drive In" chain opened in the early 1950's. I believe there were originally 10 or so. You might have seen this giant donut while flying into LAX or in the movies–it has been in many!
Located near LAX in Inglewood, California, Randy's is in a neighborhood I probably wouldn't visit alone at night, although they are open 24 hours a day should you have a serious donut craving in the wee hours of the morning. It is a walk-up and drive-thru only donut shop, there's no inside to visit and no counter, however that didn't make it any less of an experience.
I sat in my rental car for a few minutes, watching folks in the drive-thru. First a Lexus with a driver in a suit and tie, next a beat up Hyundai, then a van…donuts really are the universal treat, enjoyed by every cross section of our society. The people watching from the parking lot was almost as good as a donut counter experience.
I walked up to one of the two windows to order donuts and was greeted by this fella: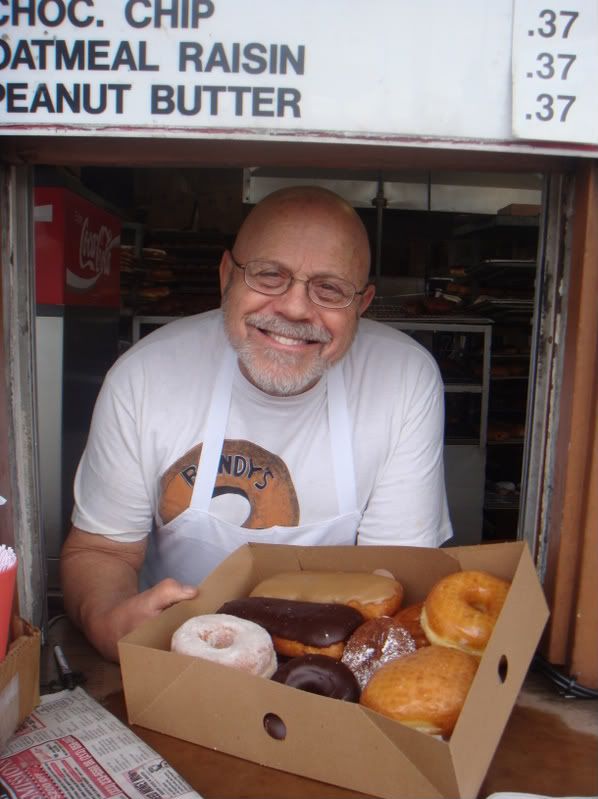 Meet Larry, co-owner of Randy's donuts, along with his brother Ron. I asked Larry to box up a dozen of his favorites, to which he replied, "That's tough. I like them all!" And I believed him. He has a sparkle in his eyes and an obvious love of donuts. You can tell he has a genuine passion for what he does everyday. We chatted for a few minutes about our mutual love of donuts and I headed out with my box of goodies.
I try to schedule each week's donut adventure on Saturday or Sunday so I can enjoy it with a friend, but due to my travel schedule I had to visit Randy's on Thursday. I flew home on Friday and shared the donuts with Em upon my arrival home. I must have been a spectacle, carrying two dozen shrink-wrapped donuts and a dozen cupcakes onto the plane–goodies that couldn't be replicated in the Midwest and must be shared with my fellow land-locked foodies. The travels were successful and everything seemed very fresh and un-smooshed.
I indulged in a glazed raised donut and it was near perfection. Not too much sticky mess on my hands and it was perfectly fluffy yet filling, not leaving me feeling like I had consumed nothing but air and glaze. I also sampled the maple bar, which was a little sweet for me (I don't usually go for something with that much icing) but the maple flavor was good, not an artificial flavor. Em enjoyed the cake donut, describing it as similar to a cinnamon crumb cake and also liked the very finely shredded coconut on another donut. Her accomplice B had the long john and enjoyed it. Em also rated the fritter high on her list. Can you tell we liked Randy's?
My trip to Randy's left me feeling encouraged about the existence of Roadside Americana…a little quirky architecture, a small business owned by friendly folks and delicious fried dough. Stop by for a donut or twelve the next time you are in L.A. You'll love it!
Randy's Donuts is located at 805 W. Manchester Blvd, Los Angeles, CA.