This post contains affiliate links. See my disclosure for more information.


It's finally feeling like mid-November here in Missouri. The temperature has dropped below freezing for an extended period of time and we've harvested what little remained in our garden.
In addition to our little backyard garden, I went on a crazy planting adventure with a friend. We planted 271 kale plants in the early fall. For awhile, that wasn't a huge quantity of kale. And then right before this cold snap, it became a HUGE amount of kale. We harvested all that we could before the extended freeze, which means lots of kale juice, kale chips, sauteed kale, kale frozen for later use and yes, kale in shepherd's pie. If you are looking for a sneaky way to incorporate more dark, leafy greens into your family meals, this will do it!
You'll notice a rather odd ingredient in this shepherd's pie, banana. It's Rachael Ray's fault. This recipe was inspired by her turkey shepherd's pie. I didn't use any turkey and drastically amped up the vegetable content. But the banana is definitely Rachael Ray's fault. It's a nice addition, a little bit of sweetness in the mashed sweet potatoes.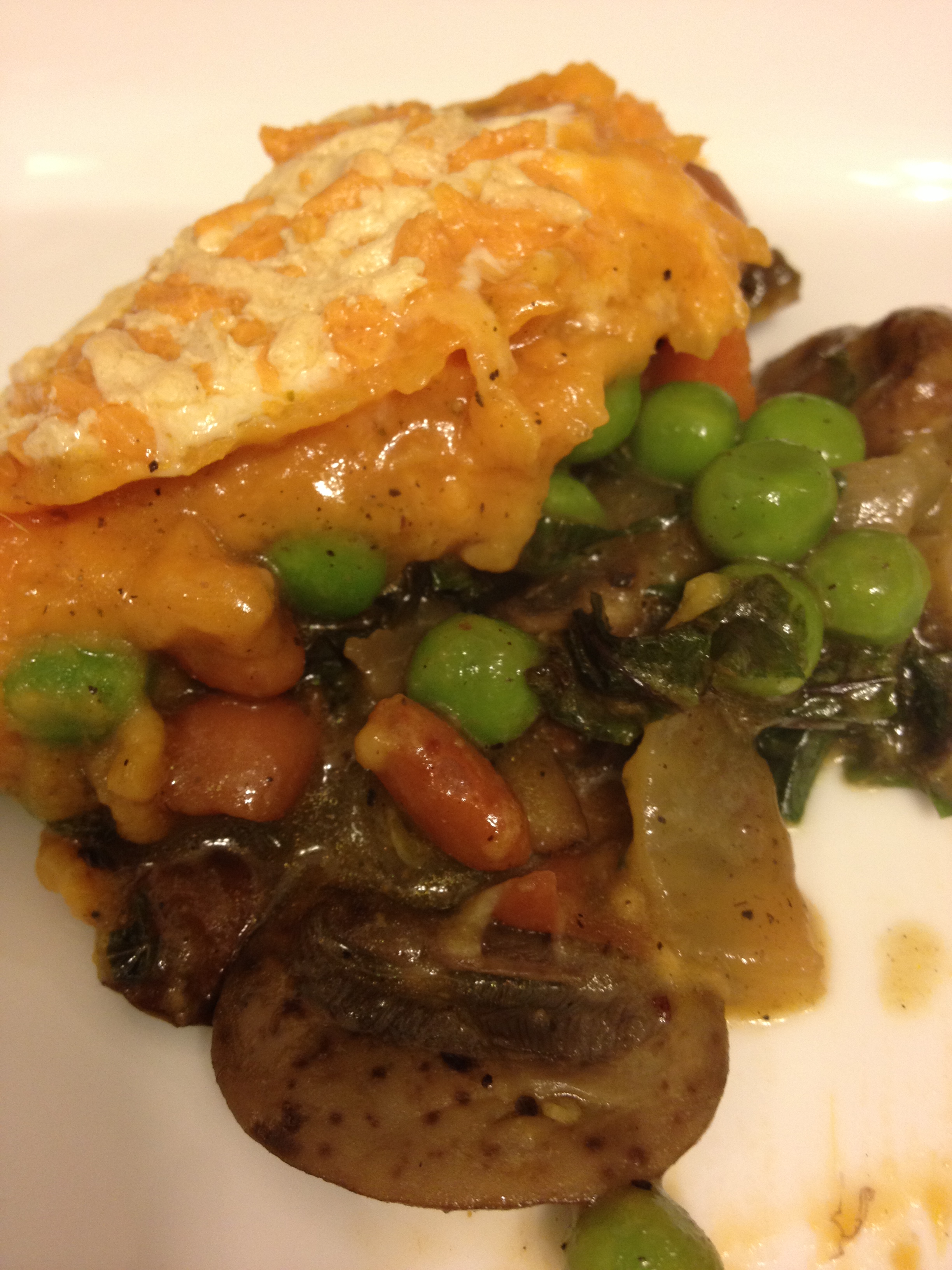 Sweet Potato Shepherd's Pie…with kale
Ingredients
2 1/2

pounds

sweet potatoes

, peeled and cubed

2

T

. olive oil

3

carrots

, peeled and cubed

4

stalks celery

, chopped

1

yellow onion

, diced

2

cups

sliced baby bella mushrooms

8

stems kale

, stems removed and very finely chopped

1-10

oz

. can pinto beans

, drained and rinsed

16

oz

. frozen peas

2

t

. poultry seasoning

2

t

. Bragg's aminos or Tamari gluten-free soy sauce

2

c

. vegetable stock

2

T

. gluten-free flour blend

4

T

. Earth Balance Vegan Buttery-s sticks

, divided

1

ripe banana

, peeled

2

cups

Daiya cheese shreds
Instructions
Preheat oven to 350 degrees. Have a 9 x 13 casserole dish ready.

Place sweet potatoes in a large stock pot, cover with water. Bring to a boil and cook for 15 minutes.

While sweet potatoes are cooking, add olive oil to a large, deep skillet. Add carrots, celery, onion, mushrooms and kale. Cook over medium heat until onions are transparent.

In a small saucepan, melt 2 Tablespoons of the Earth Balance over medium heat. Once melted, whisk in the gluten-free flour blend. Once incorporated, add the two cups of stock and whisk rapidly. Stir in the pountry seasoning and Bragg's aminos or Tamari. Allow to thicken for a few minutes, achieving a gravy-like thickness.

Drain sweet potatoes. Place in bowl of stand mixer with remaining 2 Tablespoons of Earth Balance and banana. Using whip attachment, turn mixer on medium to medium high and mix until potatoes are light and fluffy.

Add gravy mixture to vegetables, stirring in the pinto beans and peas. Place this mixture in the bottom of the 9 x 13 dish.

Top with sweet potato mixture, spreading evenly with a spatula.

Place in oven and bake for 20 minutes. Remove from oven and top with Daiya shreds. I use a combination of mozzarella and cheddar styles. Bake for an additional 10 minutes or until Daiya is melted.

Remove from oven and let stand for a few minutes before serving. Enjoy!
A few more photos of the pie in the making…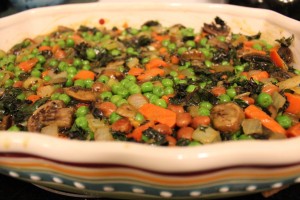 Sweet potatoes being mashed…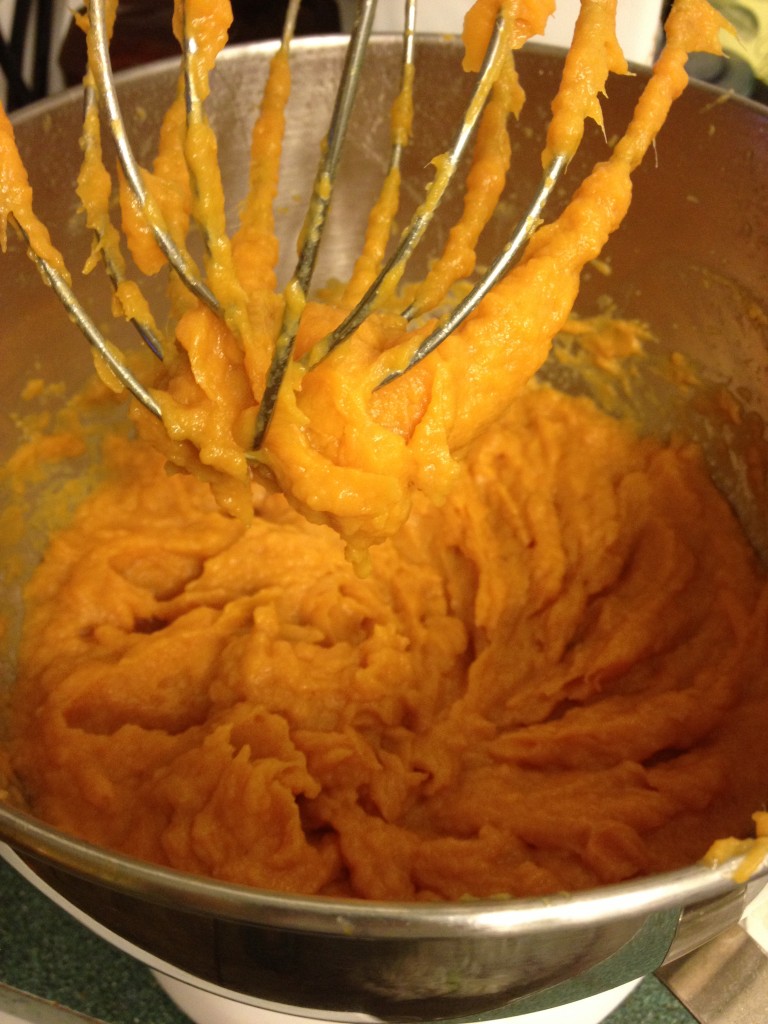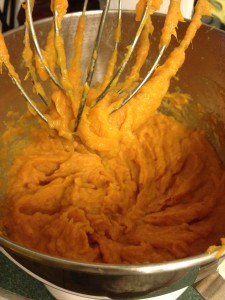 Then spread on top of the veggies…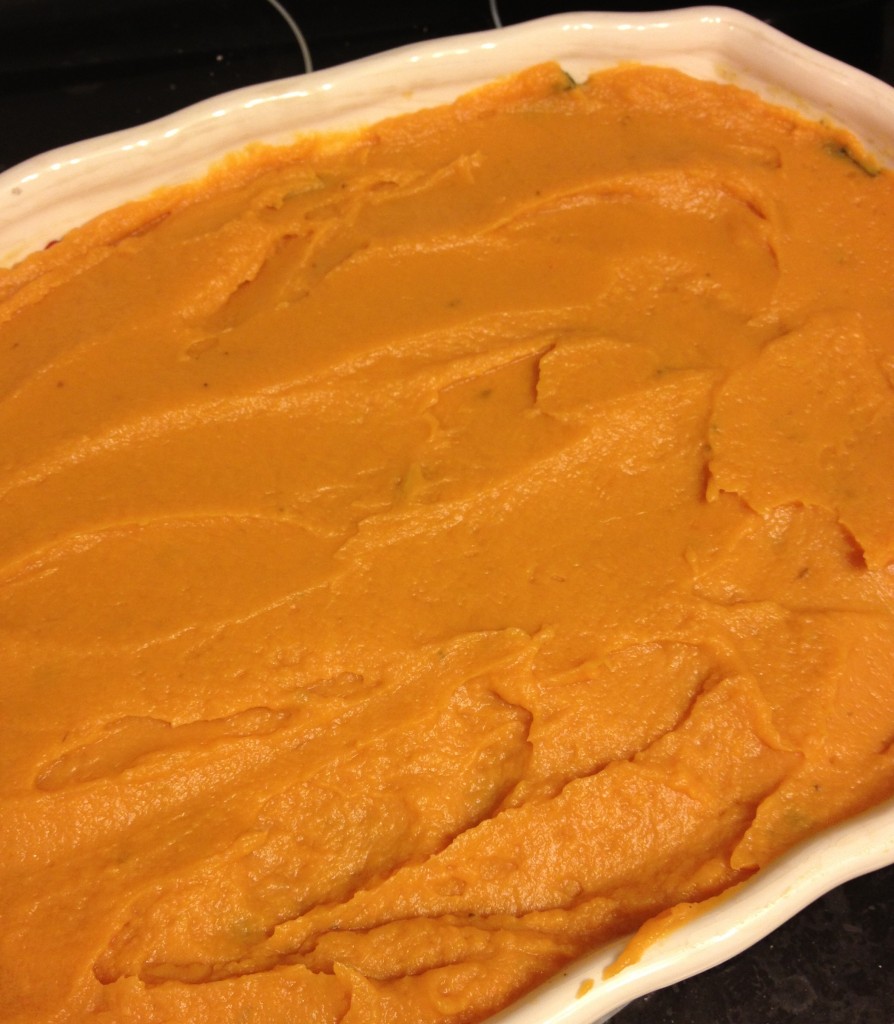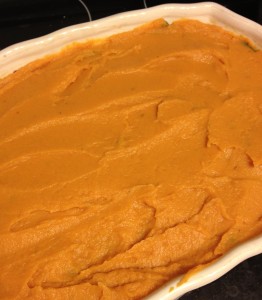 And finally, topped with Daiya shredded cheese…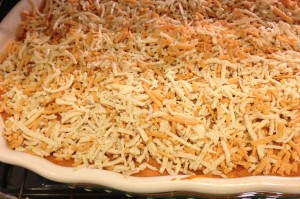 A warm, hearty meal for a cool fall evening. I hope this dish makes you feel nice and toasty!