This post contains affiliate links. See my disclosure for more information.


When I was approached about doing a review of KC Door to Door Organics, my answer was an easy and immediate YES. I've been a customer of Door to Door since their early days in the Kansas City area and love what they offer!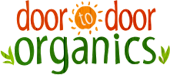 Door to Door Organics partners with farmers to bring fresh, organic produce and natural groceries right to your doorstep. You choose a box size to be delivered to you and you even choose the day of the week! You can choose a mixed box (fruits and veggies) or boxes that are only fruit or only veggies. In addition to the fruits and veggies, they also offer all-natural groceries, including local meat, eggs, dairy, pantry staples, even fresh baked bread. For me, it's possible to do most of my grocery shopping from the comfort of my sofa. Want to shop from your sofa, too? Door to Door is available in Kansas City, Colorado, Chicago, Michigan and more. Check their site to see if your area is covered!
Sneak Peek: If you live in the Kansas City metro area, There's a $10 discount code for you in this post!
Boxes come in four sizes: Bitty, Small, Medium and Large. For our household of two, we get the Small mixed box. Because we eat a heavily plant-based diet, we add to our order. It's nice to be able to add in an extra avocado or two, extra bunches of kale and more bananas. Here's a photo to give you an idea of what's in a Small box: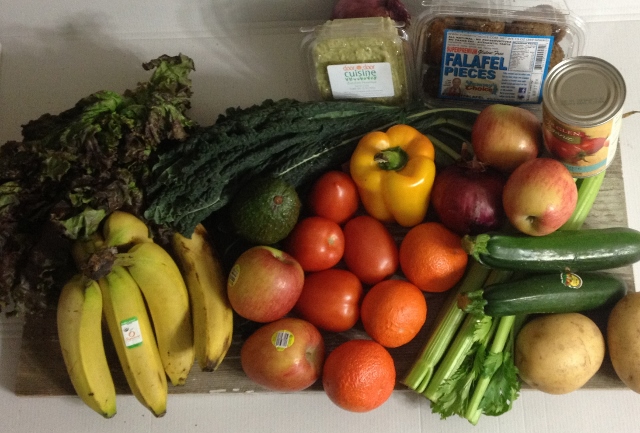 In this week's box, we added zucchini hummus, locally made falafel and a can of tomato sauce. Our total was right around $50 for everything. All of this organic goodness delivered to our doorstep for fifty bucks. Before I finalized the order on-line, I made a few substitutions to what was in our box, making it unique to our likes and dislikes. There is even a spot on the website to choose what produce items we prefer and ones we don't like. Super easy! And did I mention they bring it to your door?
I continue to be impressed with the items being added to the Pantry offerings. I can get chocolate from my favorite local, raw chocolate maker. There's a plentiful selection of local hummus, coffee, salsa and eggs. I can shop more easily from their website than from the supermarket closest to my home!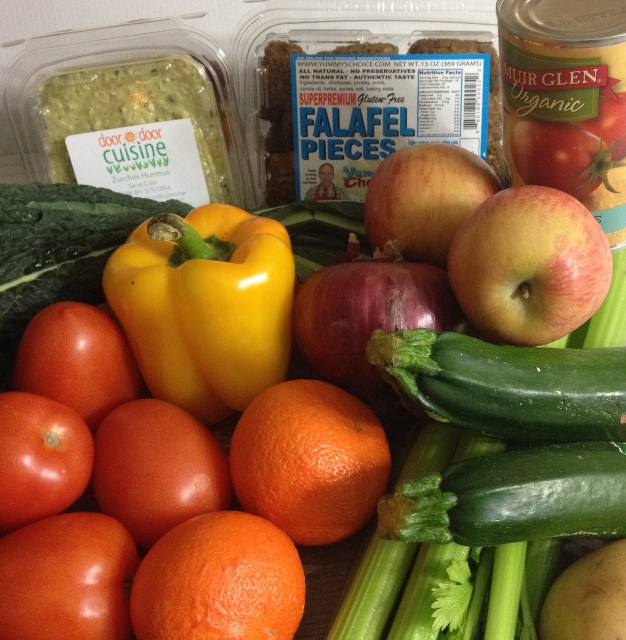 You've probably gathered from my blog that I travel a lot. Sometimes I am away from home for the majority of the month. One feature that really appeals to me with Door to Door Organics is the ability to put my delivery on hold and re-start when it works for my schedule. I can also choose to have a box delivered every week or every other week. It just doesn't get easier to buy organic produce and pantry staples and have them brought right to my door.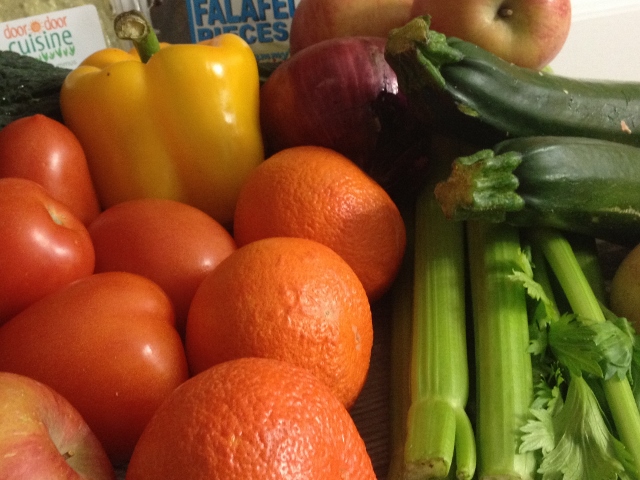 One other tidbit I wanted to mention about Kansas City Door to Door. The box of deliciousness shown in this post was delayed a day due to a snow storm. Not just any snow storm, we got a foot–12 inches–of snow. I received a nice email letting me know that the delivery would be delayed in order to keep their delivery drivers safe. I read their email as a sandwich shop delivery driver was stuck in the snow, attempting to make it up the hill in front of my house to deliver to a neighbor. Obviously not all businesses care so much about their employees. I love that Door to Door postponed my delivery, kept their drivers home safe and brought my box the next day. It feels good doing business with folks like this!
I live in the Kansas City area and my delivery comes from KC Door to Door Organics. You can visit their website to see if Door to Door is available in your area. They are in Chicago, Colorado, and the NE Tri-State area.
Oh, wait ONE LAST THING! I've got a discount to share with you for KC Door to Door Organics! If you sign up to order from Door to Door in the Kansas City metro area, enter Discount Code "johnna" and get $10 off your first order!
Full Disclosure: I was compensated for this review with a delivery credit. Because there is no soulless shilling here, it's important to me that you know I was a Door to Door customer before I was asked to write this post and I will continue to be a Door to Door customer beyond my compensated delivery. I simply love what these folks bring to my doorstep!