This post contains affiliate links. See my disclosure for more information.


There's nothing I like more than a biscuit, a muffin or a scone for breakfast. If it's hot from the oven, even better. These Raspberry Scones are so easy to make that I've got no reason to not enjoy one in the morning. Wanna join me? Come over, let's have scones! We'll break bread together.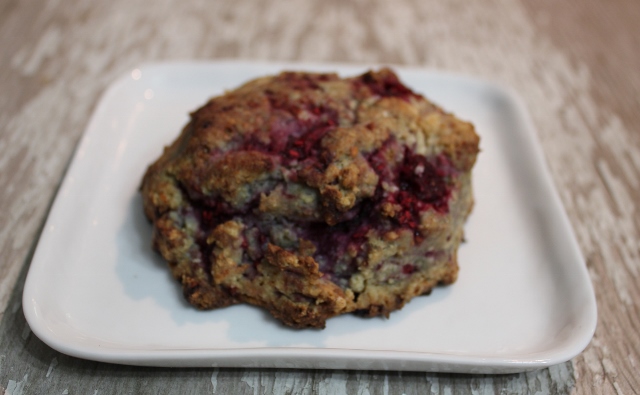 There was a time when I didn't know if I would ever enjoy having a biscuit or a scone for breakfast again. In those days right after being diagnosed with gluten-intolerance (and ultimately Celiac disease), I was lost. I tried lots of store bought bread products that weren't so great, I tried making my own and had horrible failures. A friend said to me, "Oh, I'm so sorry. You literally will never be able to break bread with friends again."
I believed that, but just for a minute. I taught myself how to bake again. I made the acquaintance of wonderful gluten-free folks who helped me figure out how to live my life as fully as before, just with different bread. And then I started looking at "regular" recipes in a different light. Instead of, "I can't have that," I started thinking, "What can I change to make that recipe work for me?"
That is exactly how these scones came to be. My sweet friend Nicole shared her original recipe for "My Lazy Morning Scones." They looked delicious, just the thing to make on a slow, sleepy morning. So I took a peek at the recipe and decided to give it a go.
And just like that, scones! It's not always so easy but this recipe is solid and it modified easily. While we aren't in the same city or even the same state, I felt as though I were able to break bread with Nicole. Pretty much the same scone, just modified to help me stay healthy.
My point is not to get discouraged, dear friends with food intolerances or allergies. It's challenging in the beginning. I'm not going to tell you it isn't. There's a lot to learn. Even as a savvy baker, I was overwhelmed. Sometimes I still get cranky about the challenges, but those days are fewer now. The delicious scones are plentiful and breaking bread with friends has returned. It took patience and practice, but it happened. It can happen for you, too. Breaking bread doesn't to be a thing of the past for any of us!
A big thanks to Nicole for sharing her recipe. This recipe below is modified from her original recipe to be gluten-free, dairy-free, refined sugar-free and vegan.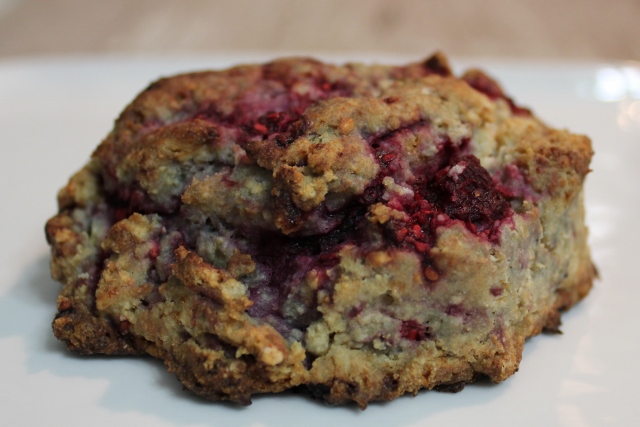 Lazy Morning Raspberry Scones: Breaking Bread with Friends
Ingredients
1

cup

cashew or almond meal

(cashew meal used from Trader Joe's)

2

Tablespoons

coconut sugar

2

teaspoons

baking powder

1

teaspoon

guar gum

1/4

teaspoon

baking soda

1/4

teaspoon

sea salt

3

Tablespoons

softened

, but not liquified, coconut oil

2/3

cup

unsweetened almond milk plus 1 teaspoon lemon juice

(buttermilk substitute)

3/4

cup

frozen raspberries

(do not need to be thawed)

zest of 1 lemon
Instructions
Preheat oven to 450 degrees. Line a large baking sheet with a silpat mat or parchment paper.

In a large mixing bowl, combine all dry ingredients.

Using a fork or pastry blender, incorporate the softened coconut oil until it is in small crumbles within the dry mixture.

Stir in the milk mixture, mixing just until combined.

Gently fold in the frozen raspberries and lemon zest.

Using a 1/2 cup measuring cup or large cookie scoop, scoop out scant 1/2 cups of dough onto baking sheet. Continue making six mounds of dough. These may be slightly flattened or left as a mound.

Bake for 18-22 minutes, until just slightly browned on the edges. Enjoy warm from the oven or at room temperature.