This post contains affiliate links. See my disclosure for more information.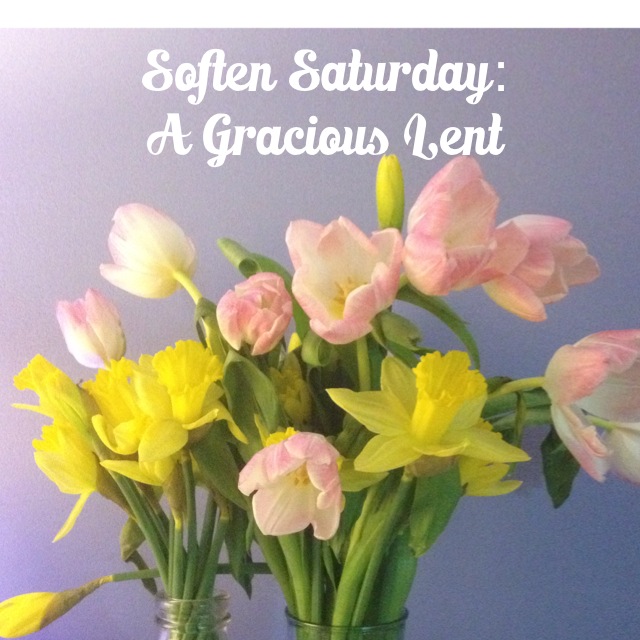 My softer thought for you this week is simply to have an open mind and heart when it comes to Lent. Regardless of your religious beliefs or faith, this is an excellent time of year as Spring begins to blossom to embrace a new practice, habit, an act of generosity. And it's never to late to start. Today could be day 1 of your 40 days.
Lent for many seems to be 40 days of deprivation. 40 days without chocolate in order to be more Christ-like or without caffeine to deepen our relationship with God. It's no surprise I think there is a softer way. Dare I say, a way that may make more lasting and significant change in your life or the life of others…to be gracious to ourselves and others.

My belief is that Lent isn't about abstaining from your chosen sin for 40 days, but rather to use the 40 days as the beginning of a conversion in your life. To use the time to start a new mindful practice or action that lasts beyond Lent. To let go of a sin/fault/bad habit for 40 days and beyond… We often hear, "It takes 21 days to develop a habit." Lent gives us a full 40 to focus on shifting our mindset and moving forward from there. (Or if you go about this like I have many times in the past, to return full force to chocolate on Easter, even making up for lost time.) I'm striving to make lasting, positive change this year during Lent in a gracious manner.
Here are a few blog posts I've enjoyed reading about Lent this week:
My sweet friend Lisa from Back to Allen shares thoughts of Catholic/catholic. If you read nothing else, read the last paragraph of her post.
Need ideas to make a shift during Lent? Bree has a beautiful list of 40 actions you can take during Lent. Any single one of the items on her list could be big in your life or the life of another.
Over at 40 Acts, you can follow along with their Do Lent Generously ideas. You can even sign up to get a daily email reminder of a simple task you can do that day. It's okay to jump in anywhere along the journey…
Ann Marie of White House Black Shutters is again hosting her 40 Bags in 40 Days challenge. Tossing out or donating a bag of stuff every single day feels SO good! I love the idea of doing this during Lent, as you can lighten up your home (do you really need all of that stuff?) while helping someone out who may really need it. Everyone benefits.
Would you like to share how you are observing Lent this year? I would love to hear what's happening in your corner of the world!