This post contains affiliate links. See my disclosure for more information.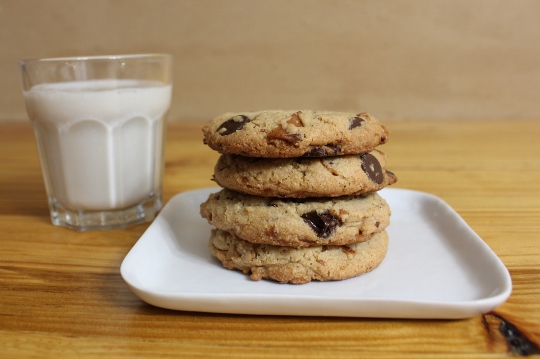 These cookies. Oh my word. Bourbon. Bacon. Chocolate. Plus the cookies are gluten-free, dairy-free, egg-free, grain-free, refined sugar-free*, vegetarian and vegan. That's a whole bunch of food labels when what you really need to know is that these cookies will blow your mind. Slightly crispy on the outside, chewy on the inside. Salty with smoky bourbon and bacon flavors, sweet with chocolate and almond meal. And just a hint of maple.
This cookie perfection occurred to me in a fit of absolute desperation. One of our sweet dogs was overcome with excitement last week when the mail carrier came to our door. Her over-zealous bouncing nearly toppled the fella from our front steps, where he waited to deliver a package. Since then, he has been shoving packages the size of a small car into our tiny mailbox instead of bringing them to our door. The mailbox is across the street. In the snow. So in an attempt to lure him back to our door, I left a box of these cookies in the mailbox for him.
I've used Knob Creek's Smoked Maple bourbon in this recipe. These cookies have just a hint of bourbon flavor, it's not overpowering. Most bourbons will work just fine. But really, you are deserving of a great bourbon even in a cookie recipe. You'll find plenty of recipes on my site to use what's left in the bottle after making these cookies, like Milk Punch, No-Bake Bourbon Ball Cheesecake, Bourbon Maple Bacon Jam and Bourbon Brownie Fudge.
A quick note on the bacon in these cookies: as with most recipes on my site that contain bacon, I use Phoney Baloney's coconut bacon. You could make your own coconut bacon or you could use regular bacon, fried and crumbled. I'm not here to judge you, I just cook with the ingredients that work best for me. If you like the oink in your bacon, have at it. And then drop back by and let me know how it worked in these cookies. I hear "regular" bacon turns out just as tasty.
Update: My sweet friend Ruthanne of Ruthanne Photography made these cookies with "real bacon" and they turned out great. So great that I asked my neighbor to fry up a pound of bacon for me (seriously, y'all, not only do I not eat meat but I don't know how to cook it) and then I stirred it into a batch of cookies. Regular bacon or coconut bacon will work in this recipe, tested twice just to confirm.
Let's get on with it…Here's the recipe for you. Enjoy!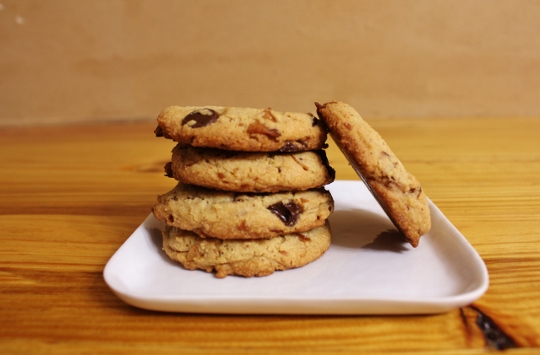 Bourbon Bacon Chocolate Chip Cookies
Ingredients
2 3/4

cups

Almond Meal

1/2

teaspoon

baking soda

2/3

cup

coconut oil

, liquified

1/2

cup

maple syrup

2

Tablespoons

Bourbon

1/2

cup

chocolate chips

1/2

cup

coconut bacon

(or whatever bacon you enjoy, fried and crumbled if not using coconut bacon)
Instructions
Preheat oven to 350 degrees. Line a large baking sheet with a Silpat mat or parchment paper. Set aside.

In a large mixing bowl, stir together almond meal and baking soda.

Add in liquified coconut oil, stirring well to combine. This will create a texture that is almost paste-like.

Add in maple syrup and bourbon, stirring well to combine.

Gently fold in chocolate chips and bacon.

Using a

cookie scoop

, place dollops of cookie dough on baking sheet. You may either leave them in round mounds or you may slightly flatten them with your fingers of the back of a spoon.

Bake for 11 to 13 minutes, until just slightly browned on the edges.

After baking: flattened cookies on the left, mounded cookies on the right.
GOING…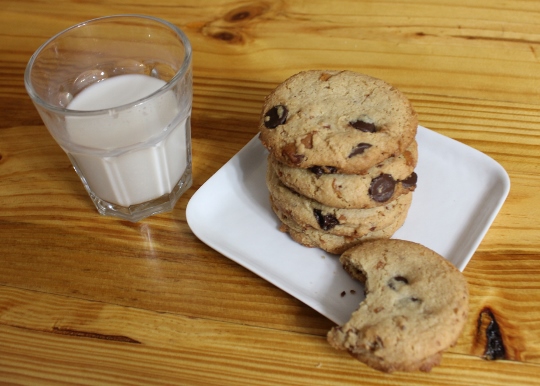 GOING…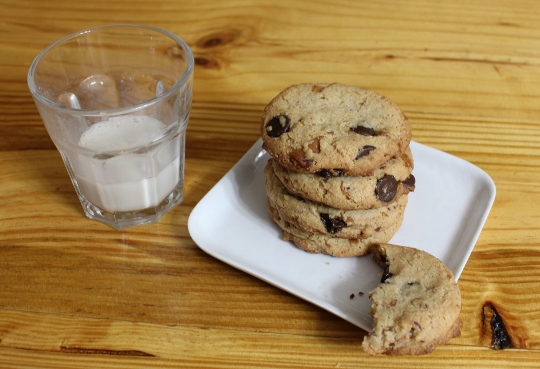 GONE!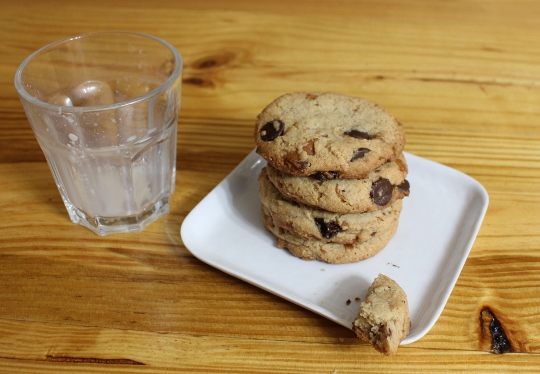 *This recipe is refined sugar-free in my book, however it has been pointed out to me that hard liquor is not exactly refined sugar free. Nor are most chocolate chips. Please keep this in mind when making this recipe. I'm yet to discover the panacea for all sugar ills when it comes to cookies. This is at a minimum less sugar than is typical in cookies.