This post contains affiliate links. See my disclosure for more information.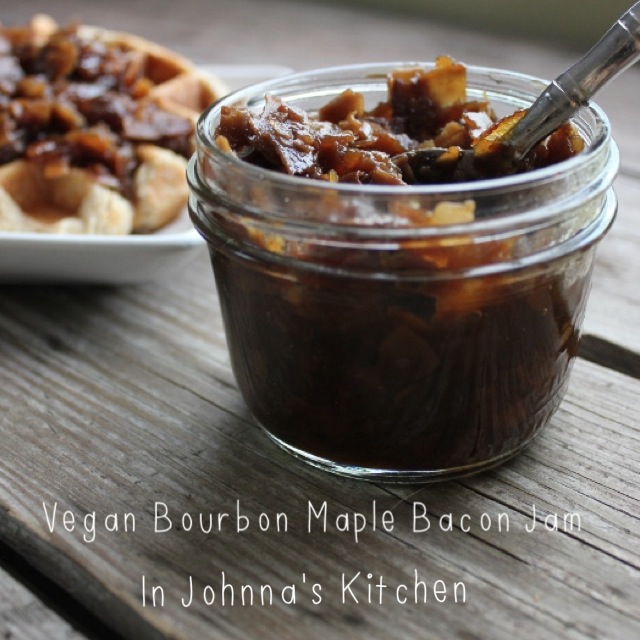 Awhile back, bacon jam recipes were popping up everywhere. A local restaurant started serving sides of it at brunch. Friends were posting pictures of their at-home attempts to make it.
Because I hate missing a food trend, here's my addition. Yep, I'm late to the party, but I've got a tasty recipe to share. Do yourself a favor, make a batch of this and put in on top of a waffle. Drizzle with a little extra maple syrup and indulge in one of the most interesting flavor combinations you'll have on a waffle. It's smoky, sweet, bourbon-y, perfection for breakfast! Or have it on a burger, put it on toast for a crazy variation of the classic BLT. It's good just about everywhere I've tried it, even in oatmeal. Not kidding.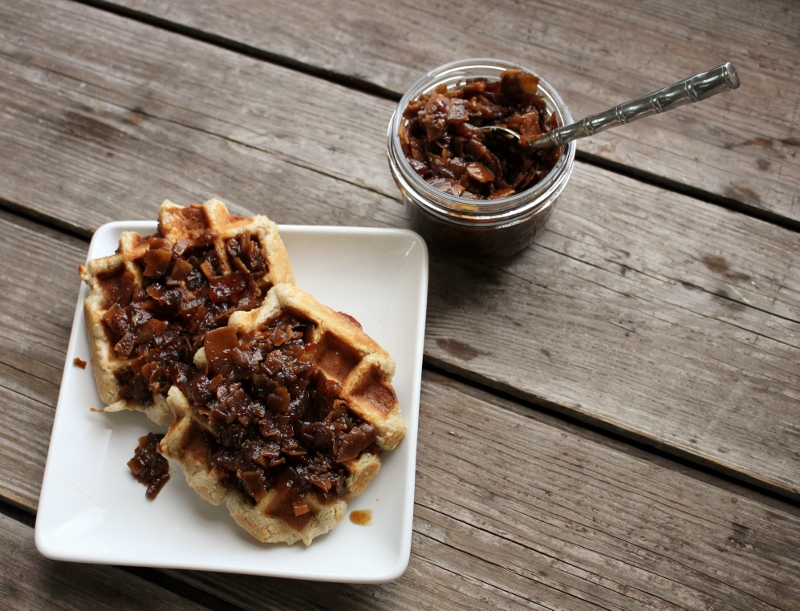 Many of the variations of bacon jam you'll find on-line are processed a bit in a blender or food processor for a smoother texture. You'll notice I've left mine a little chunkier. I tried making it both ways and like the texture of it unprocessed. Nothing changes in the flavor, should you choose to blend it, I just like the chunks of coconut bacon being a bit more, well…chunky.
Oh, one more thing. You'll need a bag of Phoney Baloney's coconut bacon to make this. I'm slightly obsessed with coconut bacon and put it in lots of dishes, including guacamole. It's good stuff, get some! Or make some. Want a recipe to make it at home? Holler if you do and I'll post my version soon.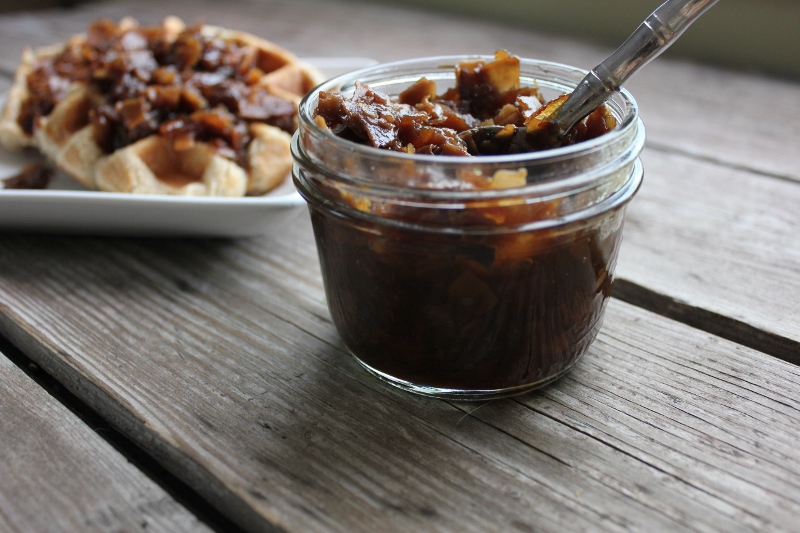 Vegan Bourbon Maple Bacon Jam or Relish
Ingredients
1

bag Phoney Baloney Coconut Bacon

4

cloves

garlic

, minced

1 1/2

cups

diced yellow onion

(about 2 medium onions)

3/4

cup

strong brewed coffee

1/2

cup

apple cider vinegar

1/4

cup

coconut sugar

1/4

cup

maple syrup

1/4

cup

bourbon
Instructions
Combine all ingredients in a small slow cooker/crockpot.

Cook on high for 4 hours.

Remove lid and cook another 4 hours uncovered.

Stir occasionally if you pass by.

Serve hot or cold on dish of your choice.

Store in the refrigerator.
I'm linking this post up with Healthy Vegan Fridays and Wellness Weekend. Check them out for lots of terrific recipes!