This post contains affiliate links. See my disclosure for more information.


Today is the Presidential Election in the U.S. Folks are more divided and vocal about it than I can recall them being in the past 5 presidential elections in which I've voted. The only thing I know that will bring us back together is brownies. And bourbon. Maybe more of one than the other.
This afternoon, I am delivering a batch of these brownies to two campaign offices, one a group of folks I closely identify with and the other group one I don't relate well to but respect for their passion and convictions. While challenged, I am trying hard to approach this from a place of love and understanding, knowing we won't both "win" in this election…except when it comes to eating brownies. Everyone is a winner with a belly full of brownies.
This recipe is inspired by the B-Raw-Nies created by Dreena Burton. I'm so very grateful for what I've learned from her website and cookbooks.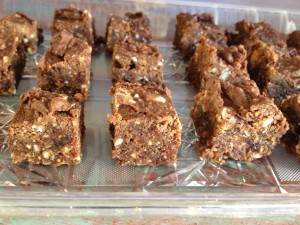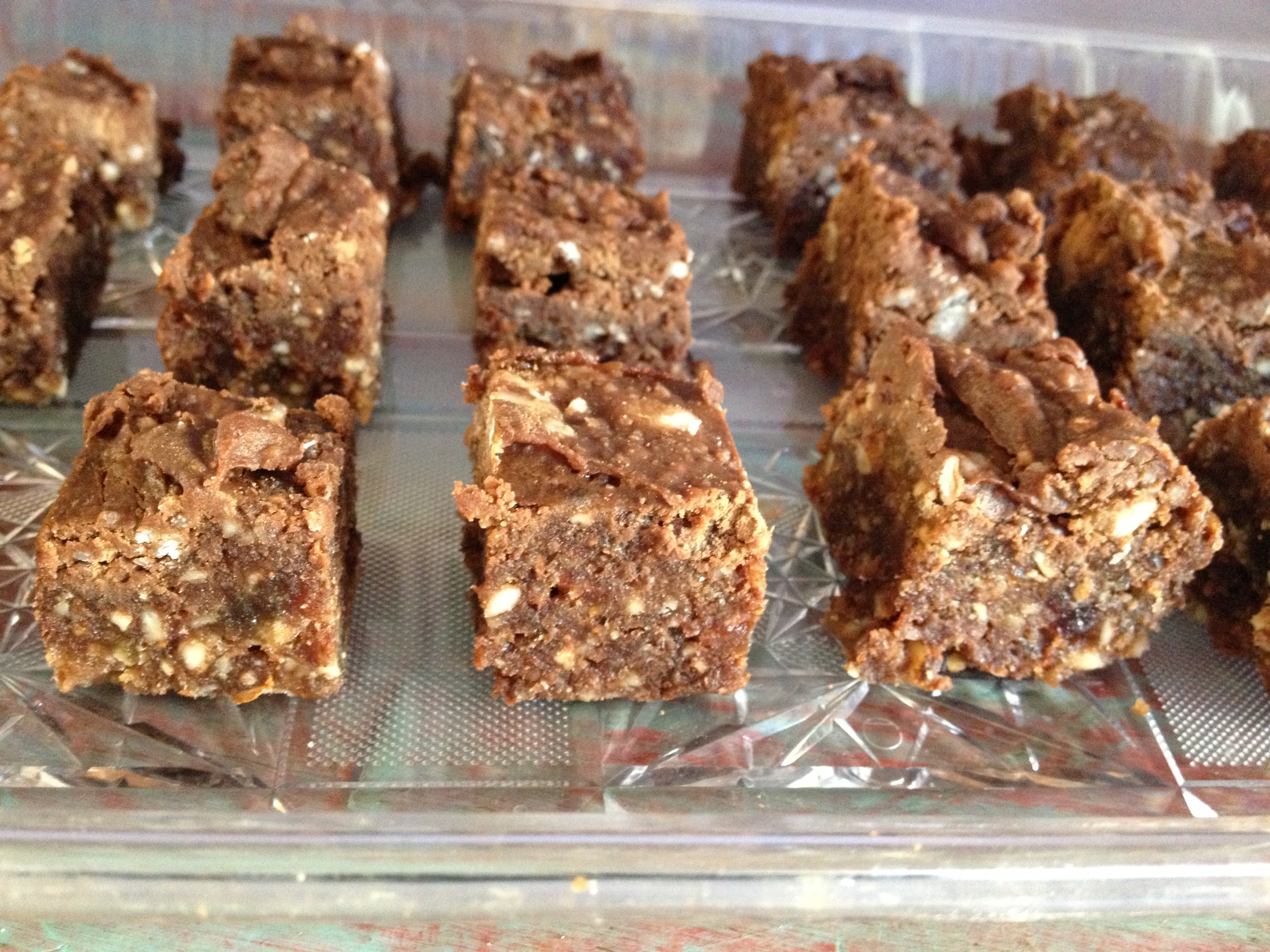 Election Day Bourbon Brownie Fudge
Servings
30
small servings
Ingredients
Fudge:

1

cup

raw almonds

¾

cup

raw cashews

1 ¾

cups

Medjool dates

, pitted

½

cup

dried cherries

, unsweetened

½

cup

of your favorite bourbon

, whiskey or rum

1/3

cup

cocoa powder

1

t

. vanilla bean paste

¼

t

. sea salt

Topping:

¾

cup

coconut butter

(NOT coconut oil, I use Artisana brand)

1/3

cup

agave nectar OR maple syrup

3

Tablespoons

cocoa powder
Instructions
Fudge:

In a small bowl or mason jar, add ½ cup dried cherries to ½ cup bourbon (or whiskey or rum). Let cherries rehydrate for at least an hour, preferably overnight. Drain off excess bourbon, reserving for a cocktail or sipping while making the fudge.

In bowl of the food processor, add almonds and cashews and process until very fine, almost like a flour.

Next add dates and cherries, processing until crumbly but not together in a ball.

Finally, add cocoa powder, vanilla bean paste and salt. Process until well combined.

Line an 8 x 8 baking pan with parchment paper. Press the brownie mixture into the bottom of the pan. Using a small piece of parchment on top may help smooth the mixture.

Refrigerate while preparing the topping.

Topping:

It is important to mix the topping in a bowl by hand, not with a mixer. Overmixing the topping may cause the oil to separate. Mix coconut butter and agave or maple syrup together until very well combined. Just a spoon is needed to do this. Once well combined, add in the cocoa powder. Mix until smooth, then spread over the top of the fudge base. Refrigerate for one hour.

Lift from pan by lifting out the parchment paper. Slice into desired size pieces and serve.

These keep best refrigerated.

A note: If you are serving these to children, you may omit soaking the cherries in alcohol. The mixture will be a bit more dense, however it is still a delicious brownie fudge mixture.
Get out there and vote today. Then reach across the party line and share a brownie or a hug or a glass of green juice. It's gonna be ok, folks. Well, at least as long as the brownie supply holds out…