This post contains affiliate links. See my disclosure for more information.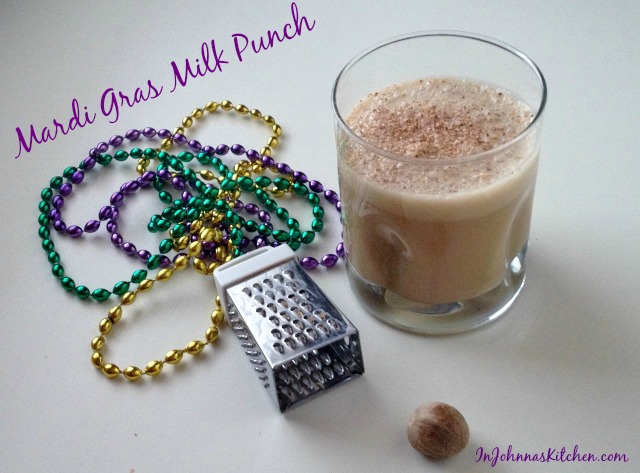 Mardi Gras requires a good cocktail. For some, it's a hurricane or other rum concoction. For me, it's Milk Punch. While some make it with brandy or whiskey, I prefer mine with bourbon. And hold the dairy, please.
My memory of dairy-full Milk Punch is that of a thick, creamy drink with a powerful bourbon kick. I've re-created it without the dairy and it's got the perfect texture, just the right amount of creaminess.
Oh, and I've also eliminated the traditional refined sugar. Some even use powdered sugar to make Milk Punch. I used coconut sugar, which pairs so very well with bourbon in just about any concoction.
Speaking of bourbon, I used Knob Creek's Smoked Maple bourbon. Oh my goodness, this stuff is good! The maple flavor just adds depth to the coconut sugar and bourbon combination. While I'm good with just about any bourbon (that's not true, but my friends in Kentucky have taught me to speak only nice words about bourbon), this one is my current favorite. It's the perfect combination of flavors for winter. Our Mardi Gras is going to be cold with snow on the ground, perfect for this Smoked Maple bourbon. Enjoy!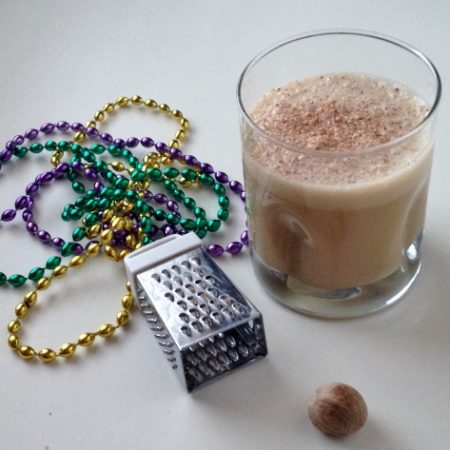 Milk Punch, A Cocktail for Mardi Gras and More! (dairy-free, vegan)
Ingredients
1

can coconut milk

(12 oz.)

1

cup

bourbon

1/2

cup

coconut sugar

1/4

cup

non dairy milk

freshly grated nutmeg
Instructions
Combine bourbon and coconut sugar in a small bowl. Stir to partially dissolve coconut sugar.

Combine all ingredients in high speed blender. Blend on high until well combined.

Pour into four glasses. Top with fresh grated nutmeg.

Best served cold, you may add ice cubes made from frozen non-dairy milk or refrigerate the drink before serving. The drink will thicken considerably when refrigerated, making it even creamier.