This post contains affiliate links. See my disclosure for more information.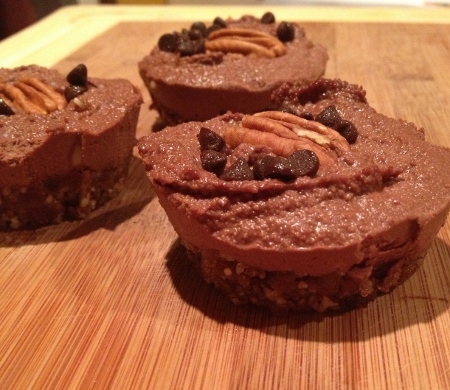 It's that time of year again…the time when I've spent a couple of weeks in Kentucky and have all sorts of bourbon-influenced kitchen ideas.
Some of the ideas don't hold much promise, like the bourbon spiked kimchi idea that came up in conversation with Debi. Admittedly, I had consumed a couple of bourbon drinks when this idea fell out of my head. I decided to call it Ken-Chi. Get it? Ken, like Kentucky, the great state from which bourbon hails? Turns out bourbon doesn't have a place in kimchi. I'm gonna keep working on that idea…
But bourbon ball cheesecake? Oh yes, it definitely was a good idea. A friend commented that you best not drive after eating these, not safe and not a chance you would pass a breathalyzer. While I could not confirm the breathalyzer part (not for lack of trying to locate a Kentucky state trooper who would indulge me), I did include instructions in the recipe for adjusting the bourbon to your liking.
So you say you don't like bourbon? Really?!? Well, ok. Then I'll make a confession. I tested this recipe with Sailor Jerry rum, too. It was just as good as with bourbon. And then I decided to make it yet again, this time booze-free for my teetotaling friends. Turns out it makes a delicious dessert without any alcohol. I like a versatile dessert recipe.
All of that said, guess what the very first thing was I bought in Kentucky? Nope, it wasn't kale. It wasn't zucchini either. It was BOURBON! The Trader Joe's I frequent at home doesn't have a liquor section, so I took a peek into the one in Louisville. I had no idea they had private label booze. So here it is, Trader Joe's Bourbon. I like it. That's all. 🙂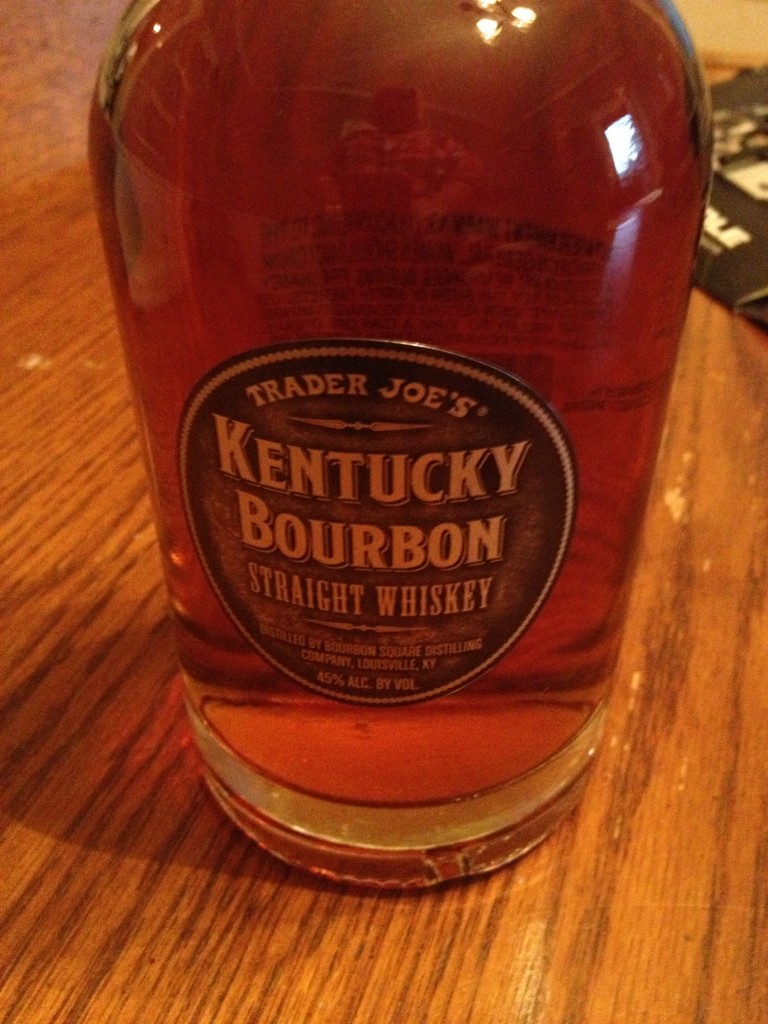 P.S.–This recipe is gluten-free, dairy-free, egg-free, almost free of refined sugar depending on your stance on alcohol. If you want this to be raw vegan, eliminate the booze and chocolate chips. If you want this to be grain-free, also eliminate the booze and chocolate chips. Basically, I'm saying this works for many folks. Don't be afraid to modify to make it work for you!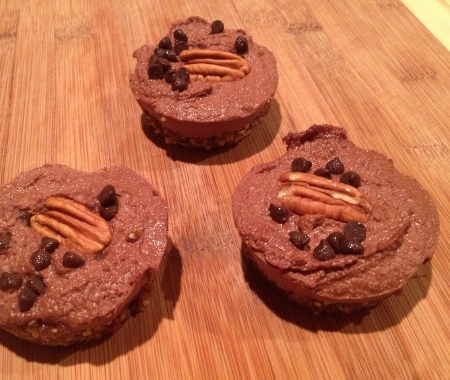 Mini No-Bake Bourbon Ball Cheesecakes
Ingredients
For the Crust:
2

cups

chopped pecans

15

large medjool dates

, pitted
For the Filling:
2

cups

raw cashews

, soaked overnight

1/2

cup

coconut oil

, liquified

1/2

cup

maple syrup

1/2

cup

Bourbon

, Rum or water (use 1/2 cup total liquid, adjust proportions water to liquor to your liking)

1

T

. vanilla bean paste

, vanilla extract or one scraped vanilla bean

3/4

cup

raw cacao powder or cocoa powder
For Topping (optional):
Mini Chocolate Chips

(I use Enjoy Life)

Pecan Halves
Instructions
You will need two cupcake tins. This makes 18 mini cheesecakes.
For the Crust:
Place pecan pieces in food processor fitted with "S" blade. Process until pecans are a meal, a coarse flour.

Add dates. Process until mixture comes together in bowl.

Pat mixture into bottom of each of 18 cavities of cupcake tins.

Refrigerate while you make the filling.
For the Filling:
Drain cashews.

Place all ingredients in bowl of food processor fitted with "S" blade. Process until very smooth and creamy.

Pour on top of crusts.
For the Topping (optional):
Sprinkle a few mini chocolate chips on top of each mini cheesecake, along with one pecan half.

Freeze for 3 to 4 hours.

Invert entire pan and give the back of the pan a good whack with a wooden spoon. Cheesecakes will pop out.

These are best served slightly cold. Store in the refrigerator.