This post contains affiliate links. See my disclosure for more information.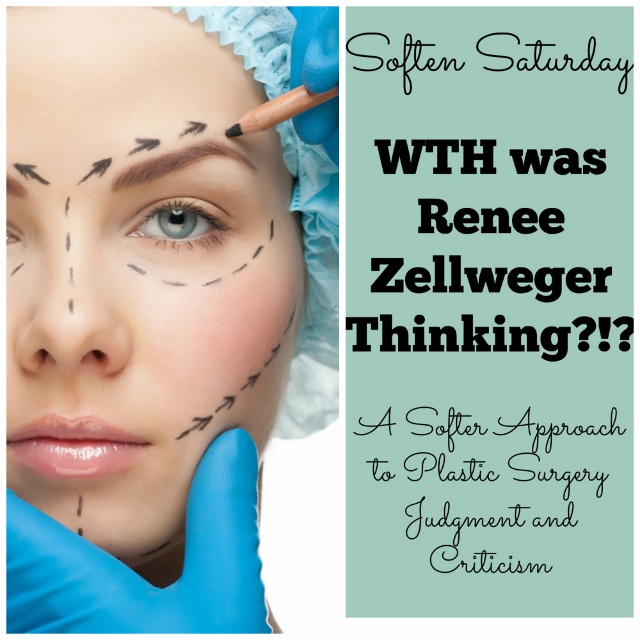 Unless you live under a very large rock or deep within a cave, you've seen all of the media chatter this week about Renee Zellweger's new look. The assumptions that she had plastic surgery, the pointed comments that she looks older than when she was last seen, the comments that she is unrecognizable.
I read one journalist's comments saying that her former "pudgy, squinty-eyed appearance" is gone. With people saying things like that about your appearance, it could be easy to understand why you would want to change it. But yet, here she is with a changed appearance and that's not right either. Now some say she looks older, not like herself. No matter how she looks, it isn't right, good enough, satisfying to the media OR the public. I saw comments from friends including, "Her new hair color is so much better," and "Plastic surgery is intended to correct scars. This is ridiculous!" So much judgment.
It would be short-sighted to think this only happens to celebrities. Wanna know how I know this? I've had plastic surgery. (Next time you see me, I'll expect to get the once over while you try to figure out what "work" I've had done.) I've done Botox more than once. And I regret none of it. What I do regret is not speaking up when a friend said to me after I had surgery, "I could never have plastic surgery. I just don't get it, women who can't just be okay with who they are."
So today I will do just that. I will speak up and ask that you, all of you, consider being softer to those who have chosen to have plastic surgery. Or those who have chosen not to. See, it's not your body. It's not up to you to decide what is right for them. And it's sure as heck not helpful or encouraging for you to judge their choices or criticize their appearance. How about you try only love or acceptance as your reaction? If you really love them or accept them as they are, you'll love them with surgery, without surgery, pumped full of fillers, Botox'd to the hilt, aging naturally without wrinkle creams or magic potions.
If we want to change how society treats women and their appearances, we have to take action. A big action step would be not judging women who choose to have surgery as well as those who do not. Judging a woman's appearance is the same in both cases. It's still judgmental, lacking in acceptance. And this may be more a reflection on those of us who choose to judge than those we are judging.