This post contains affiliate links. See my disclosure for more information.


It's not often I feature a chain restaurant here, focusing instead on locally owned establishments. But Bonefish has long been a favorite of mine. When the good folks at Bonefish Grill asked if I would like to drop in to sample their Fall Crush menu, I jumped at the chance for a couple of reasons. First, the food is excellent at Bonefish. Second, I wanted to share tips with you on eating out at a chain restaurant when you have dietary restrictions.
If you've been a reader here for awhile, you'll remember my take on Bonefish Grill's Bang Bang Shrimp. I created Bang Bang-inspired tofu. That came about because of trips with girlfriends to Bonefish for dessert and cocktails. Several times when meeting for dessert, friends would order Bang Bang Shrimp instead of dessert. While they have shrimp, I have the gluten-free Macadamia Nut Brownie with raspberry sauce.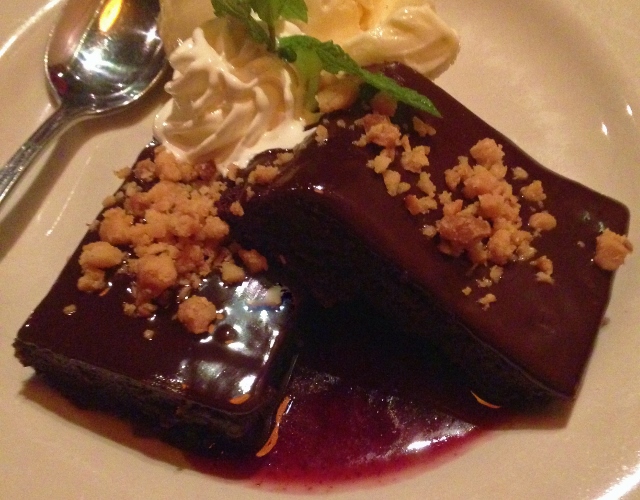 This brownie is very shareable. In fact, it's probably too rich to eat on your own. Probably…or maybe not. Oh, forget it. Don't bother trying to share it. You'll want to eat it all. It's warm, gooey and one of the richest desserts I've ever had. You know that dessert when you think you've had enough, you put the spoon down and then mere seconds later you are digging back in? That's this brownie, except I never manage to put my spoon down. So good.
Oh, but back to dinner. I was invited here for dinner! My favorite fella joined me, so I'm going to share with you what he had to eat first. He eats gluten away from home and started off with warm ciabatta with house-made pesto.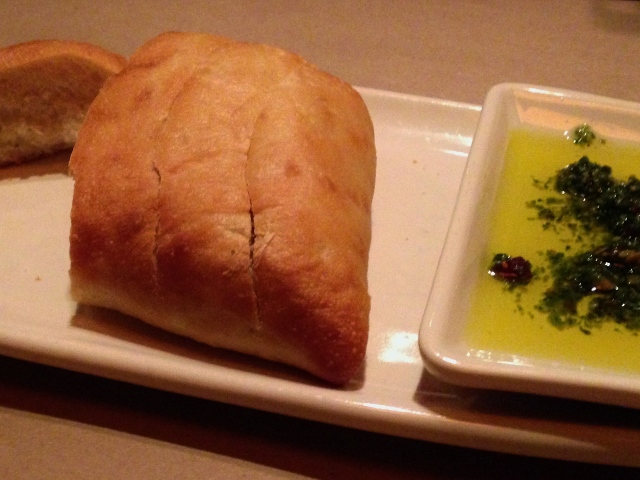 For dinner, he ordered the Pumpkin Ravioli, which is part of the Fall Crush Menu. This is a full entree on the fall menu, served with swordfish. Since my fella doesn't eat fish, he ordered it without the swordfish. It's so nice that it is also available as a side dish, three plump pillows of pasta filled with pumpkin. Topped with feta, crispy sage and a browned butter sauce, this was his favorite of everything he sampled at dinner.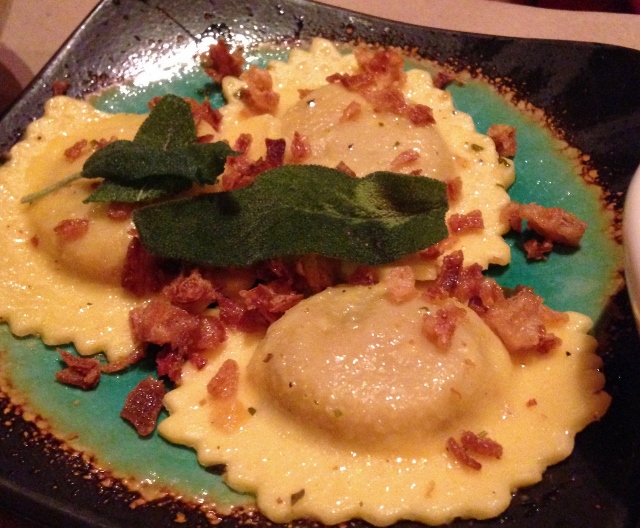 For my dinner, I chose the Florida Cobb Salad with avocado, mango, tomatoes and an herb vinaigrette that has a slightly spicy kick, perhaps from garlic. This salad was plentiful and would have been enough for dinner, but I also ordered an assortment of gluten-free side dishes to sample as well.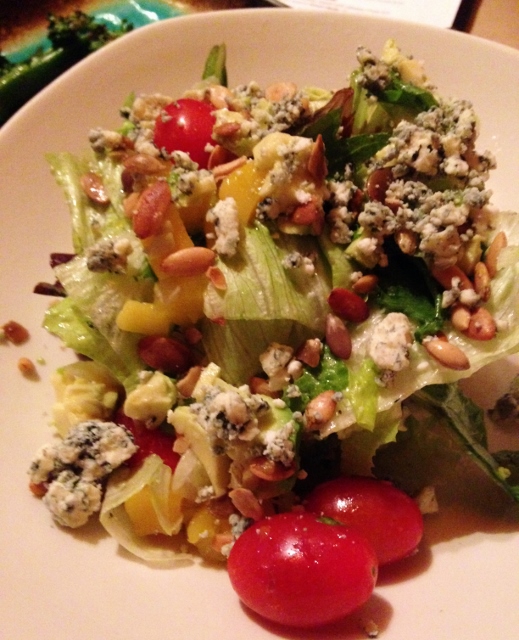 The sides I chose included Garlic Whipped Potatoes, French Green Beans and Wood-Grilled Broccolini. I could eat the Broccolini every single day. The flavor is buttery, smoky and sweet. The green beans were perfectly cooked, still with a good bit of crunch to them and the garlic whipped potatoes? Well, just divine. Every Sunday dinner should include these. Or lunch on a Wednesday. Really, these would be good with any meal in my book. Light, fluffy, perfect amount of garlic.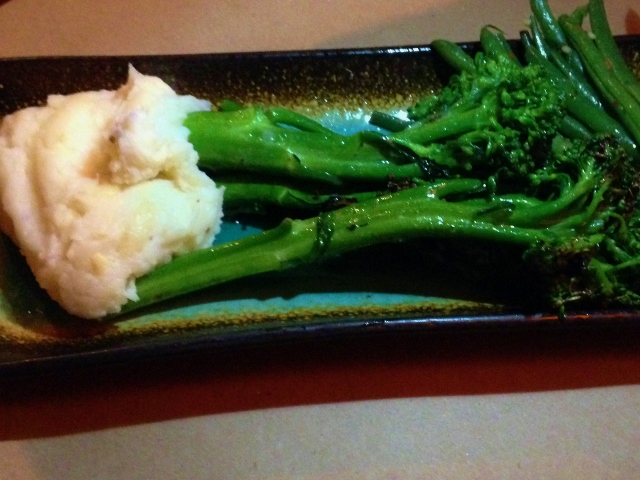 After eating all of that, we should have skipped dessert. But we just aren't good at skipping dessert. So we had the brownie I mentioned earlier, along with the Pumpkin Creme Brulee, which is featured on the Fall Crush menu. I've mentioned here many times that creme brulee is my absolute favorite dessert. This one did not disappoint. A lovely sugar crust on top, light custard with a nice amount of pumpkin beneath the sugar. While I love pumpkin pie, I would gladly trade my Thanksgiving slice for Bonefish Grill's Pumpkin Creme Brulee.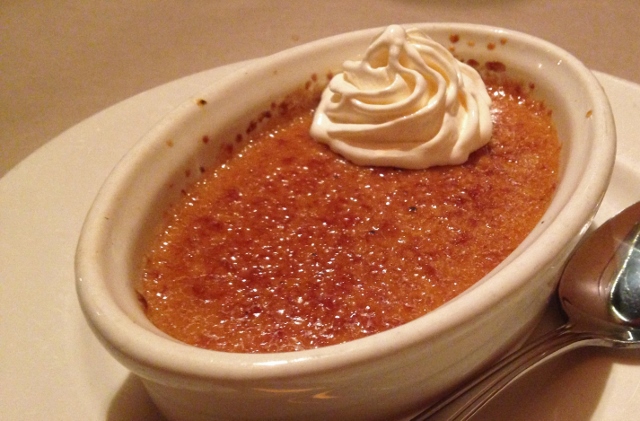 Each of the items on the Fall Crush menu has a suggested wine pairing. We elected to have cocktails instead. My fella had the Fresh Apple Martini, which includes fall apples soaked for 3 days in vodka with at touch of honey and sprinkle of cinnamon. Our server describe it as apple pie in a glass. I had Patron's Perfect Cucumber Margarita. Patrol silver with fresh lime, English cucumber, a touch of St. Germain Elderflower liqueur and a salt and pepper rim. I love a peppery cocktail. Combined with the clean flavor of cucumber, this was a nice addition to our meal.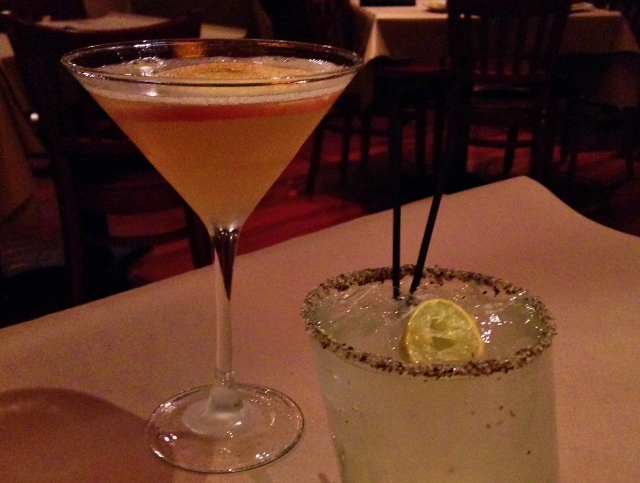 Now that I've told you all about our indulgences, I wanted to share with you some tips on safely dining out at a chain restaurant when you are gluten free.
1. Eat at an off time. Don't go during the busy lunch or dinner rush. Going at an off-peak time allows the kitchen to focus on your meal more easily than when they are bombarded with many other orders. You might also receive rock star treatment from your server if they have no other tables to tend.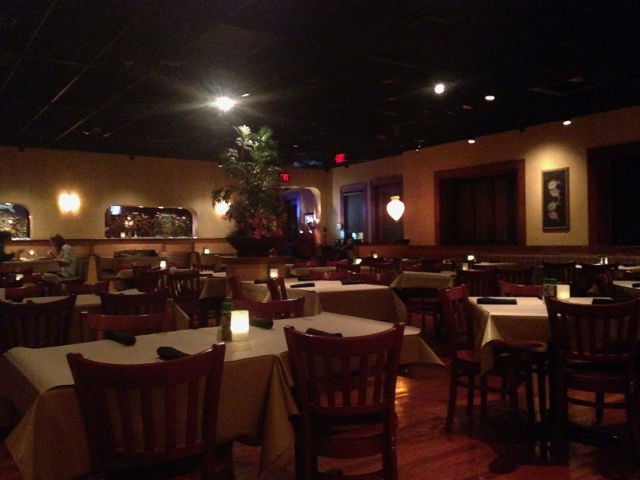 2. Choose a restaurant that has a dedicated gluten-free menu. Bonefish Grill has a nice selection of gluten-free choices on a separate menu. To me, this indicates an introductory level of knowledge, a good foundation. I feel better eating at chain restaurants that have a dedicated menu as a starting point.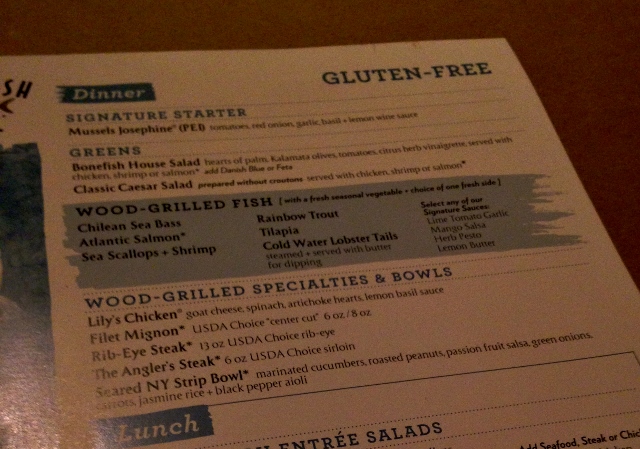 3. Don't hesitate to ask for a manager or to speak to the chef. If they refuse this, it's probably best to skip this meal. The dinner featured above at Bonefish was exemplary, with the server noting on her first visit that I had the gluten-free menu. She even made gluten-free dessert recommendations as we finished our dinner. In this case, I didn't feel like I needed to speak to a manager or the chef. But if there is any hesitation or if I feel unsure, I simply ask.
4. Reach out! Writers like me want to help you dine out safely. Search our blogs for restaurant recommendations. Right here on my blog, I have a Travel and Dining Index where I list the restaurants I have visited with a link to my post. Easy! It's more than okay to reach out to folks like me and ask. And if we don't know of a place to eat where you are headed, we may know of another writer in your area who does.
So there you have it. A lovely meal out at Bonefish Grill, safe for this gluten-free eater and her gluten-eating vegetarian fella. It's not only possible but delectable to dine out together!
The Bonefish Grill featured in this post is located at 6334 N. Lucerne Avenue, Kansas City, MO 64151, 816.746.8179.


Johnna's I Ate Here series is not intended as a restaurant review, rather a summary of Johnna's experience dining out. You may or may not have a similar experience. Menu prices, items and ingredients featured were current at the time of writing. Please read the menu carefully and ask your server for assistance in ordering if you have dietary restrictions. It's a good idea to call ahead and let the restaurant know of your food needs.
Full Disclosure: I was offered a gift card to visit Bonefish Grill and try the new Fall Crush menu. The gift card covered approximately 50% of the cost of dinner and gratuity. I was not asked nor required to write about my dining experience. As always, opinions expressed are my own.