This post contains affiliate links. See my disclosure for more information.


I want to introduce y'all to the newest resident of my driveway…much to the chagrin of my neighbors, I'm sure.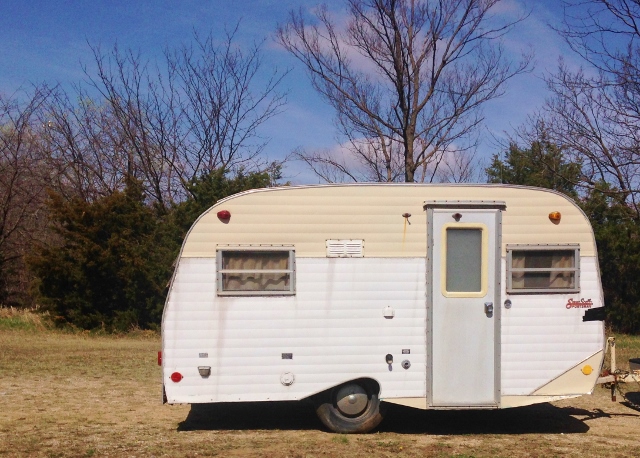 This is Mabel Leigh. She was made in Bristow, Oklahoma 40-some years ago. A lady doesn't reveal her actual age, you know.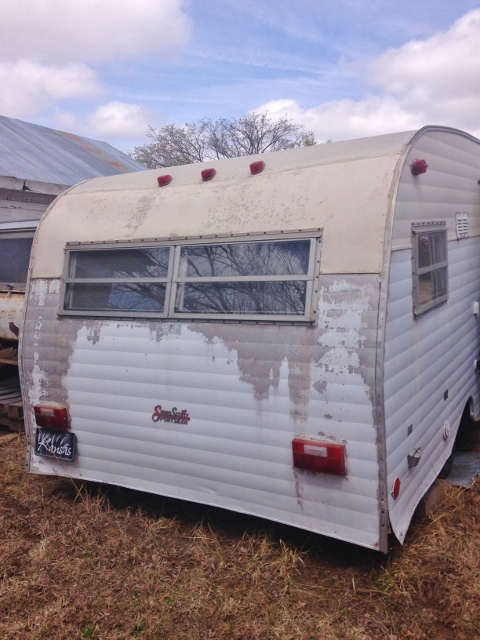 Mabel Leigh is a 15 foot long Serro Scotty. A Gaucho model to be exact. And just like this 40-something writer, she is a hot mess. But we're gonna fix her up nice, maybe make her into a guest cottage or actually travel a bit with her (even though you know I love a snazzy hotel).
Do you remember when Pinterest was new? I didn't really know how to use it or what it would evolve into. Nowadays I'm supposed to use it to promote my recipes, my food and travel recommendations. I rarely use it anymore to pin ideas that strike my interest in home decorating or backyard decorating. In the beginning, I sure did. I was all about pinning fun stuff I enjoyed. I should get back to that. You see, the very first thing I pinned was a vintage travel trailer. I've wanted one for years. The second thing I pinned was a nifty little hack to keep zippers that refuse to stay up on jeans in place. But anyway…
I've been looking and looking for a trailer. A cute little bubble of a trailer. A canned ham, they call them. I had this vision of finding one for a real steal. Or crossing paths with someone who wanted to pay me to haul one away. And then they became trendy. See Miranda Lambert's Facebook post from last week.
Vintage trailers were often more expensive to buy than a new travel trailer with all of the modern amenities. When I would find one for sale, often by the time I contacted the seller it was long gone, on the road to its new home. I was starting to get discouraged.
So I joined a Facebook group dedicated to vintage trailers for sale. It is a bit of a compilation page, folks from across the country share for sale ads found on Craigslist and other sources. Well, I got thrown out of that group a month ago for defending a newbie who had the nerve to ask a question. You see, the group isn't for chat, it's for ads only. The moderator got cranky with the poor fella and I suggested she could maybe try to be nice. She kicked me out of the group!
On Easter Sunday, I decided I would try to re-join that group. Lo and behold, they approved my request. And just like that, this fella Ray shared a Craigslist ad for a trailer that looked interesting to me, fit my budget and was an easy daytrip from home. I sent an email to the seller. By sunset the owner had called me back. And by sunrise, we had concocted a plan to drive 3 hours away to take a look.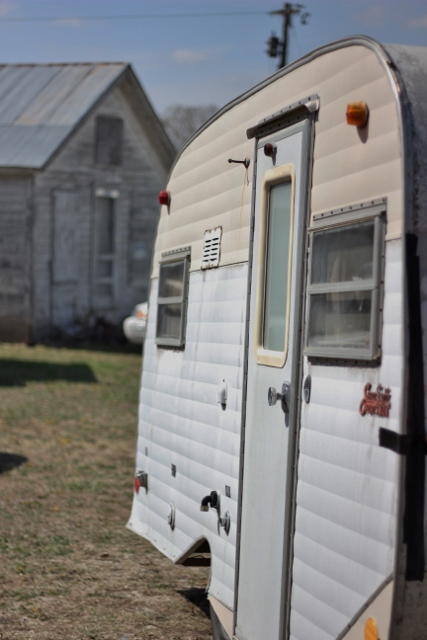 On the relatively quick interstate trip to see the trailer (75 MPH speed limit!), we had all sorts of discussions. Most of them were centered on me agreeing to not fall in love with the trailer if it was an absolute mess, not salvageable. Then I would interject things like, "I wonder how we can color match the original Serro aqua paint?" And the conversation would be redirected to, "Remember, there are other trailers out there. It's okay if this isn't THE ONE." But what about the aqua paint?!?
At exactly 2:22, we pulled off a country road onto a dirt driveway. And there she was, nestled against a barn and a pile of stuff. You know the kind of stuff, treasures buried in it surely.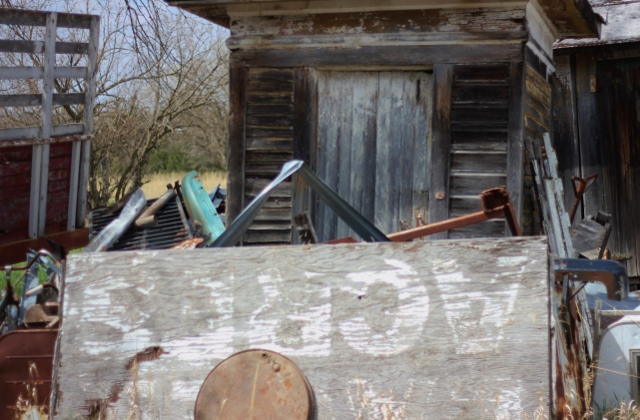 It didn't take long for me to know this trailer, this 40+ year old hot mess of a trailer, was indeed THE ONE. Three feet longer than my dream trailer, but yet the size seemed just right to me. All original inside, even though that didn't matter to me. Air in the tires, so surely we could get her home.
And then I did it, I named her Mabel Leigh. She was coming home with us.
While my favorite fella and the gentleman who sold us his uncle's trailer got her hooked up and ready to roll, I took our pooch Kohl for a walk around the property and took a few photos. Isn't he handsome?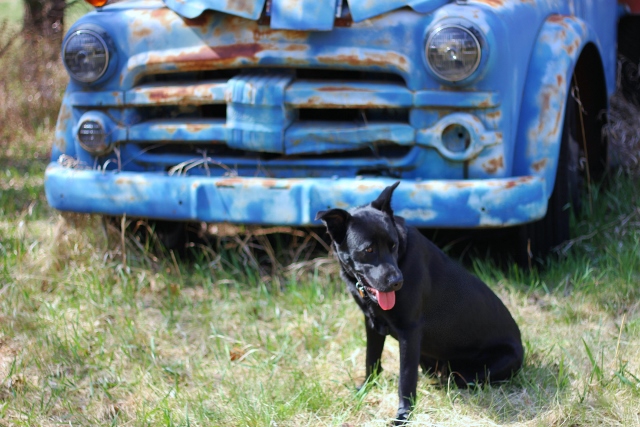 The drive home was s..l..o..w. It took six hours on the backroads. SIX hours to go about 200 miles. You see, Mabel Leigh hasn't been on the highway in many years. She moves slow, like less than 50 MPH. A trip to Tractor Supply was necessary, it took lots of duct tape to hold her together. (I have days where I feel similarly…)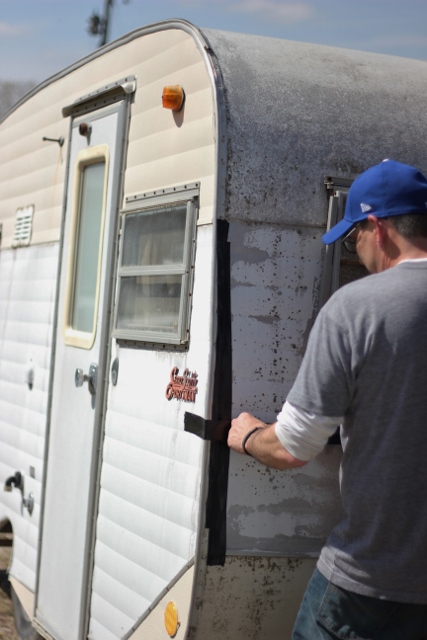 Plus we had to stop at a groovy donut shop.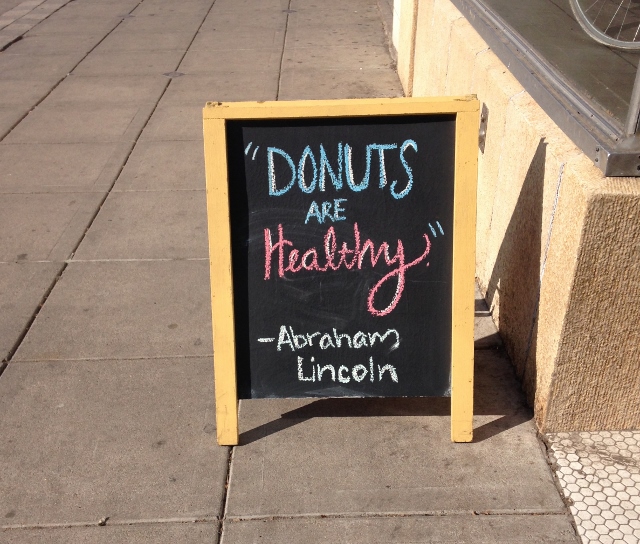 And then a Casey's General Store to refuel and catch the sunset.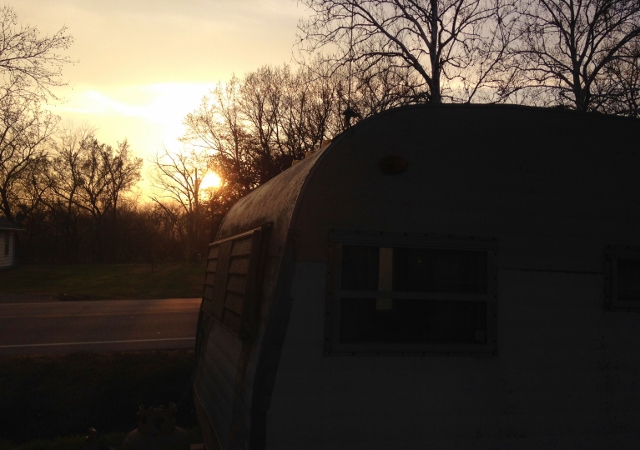 Well past bedtime, Mabel Leigh found her spot in our driveway. My fella has already threatened to stand in the driveway in the morning, wearing a bathrobe and trooper hat, ala Cousin Eddie in Christmas Vacation.
I'll pop in once in awhile to keep you posted on Mabel Leigh's progress. I'm sure excited to have this fun, new project!