This post contains affiliate links. See my disclosure for more information.


I wanted to drop in today to remind you Spring Into Healthy Eating begins in just two weeks. Have you signed up yet? I would love for you to join us. For the first time, my program is being offered on-line. I'm super excited about bringing all of this information, all of these delicious recipes and healthy eating tips your way!

Want to know more? All of the details are here. I've worked hard to keep the program affordable and am confident you will complete the program feeling like it was worth every penny and more. And for the first time, this is a virtual program. You can do it from anywhere, you don't have to be in my city!
Here is what is included in my program:
Over 60 original recipes, all single-serve
Detailed shopping lists each week
Full menu plan with three meals and two snacks
Unrivaled support from me and a community of your peers
Bonus materials from leaders in the healthy living community
Daily e-mail pointers and challenges
My program is plant-based and gluten-free. It is also free of six of the top 8 allergens, with minimal soy included and nuts. That said, if you have food intolerances or allergies beyond what I've mentioned, let's talk. I have successfully modified the program for many folks and would love to help you, too.
Want a peek at what a day looks like with Spring Into Healthy Eating? The photo below shows all of the goodness from one day's menu. I'll share with you how to prep fresh foods in advance, how to pack a lunch, how to have a snack on the run, how to cook healthy dinners your entire family will enjoy. And it's all healthy!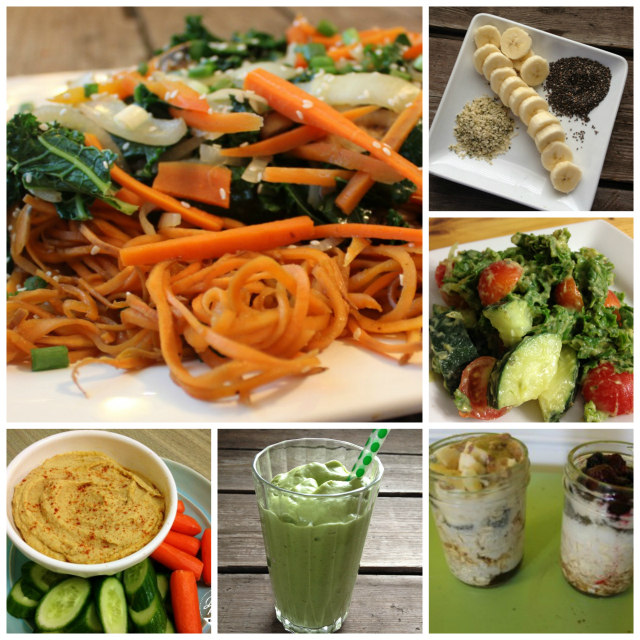 Ready to sign up? Click here for registration options. And if you have questions, I'm here to help. I'm ready. I hope you are ready. Let's Spring Into Healthy Eating together!