This post contains affiliate links. See my disclosure for more information.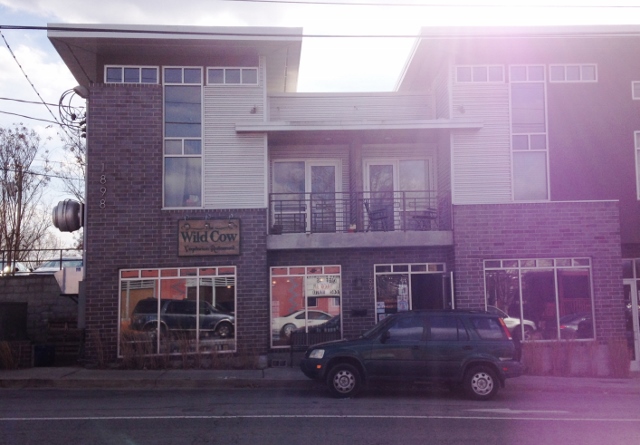 While I enjoyed every single meal I ate while in Nashville, The Wild Cow was particularly enjoyable. Wanna know why?
Because I could eat nearly every single thing on the menu. Everything is vegetarian* and so many dishes were gluten-free or could be adapted to be gluten-free. Bliss.
The Wild Cow is located in East Nashville. Most of their sauces, dressings and even soup stocks are made in-house, there's no microwave and no freezer. Just wholesome goodness in a relaxed and fun setting. There's a nice little bakery counter at the front with lots of options, including some that are gluten-free. The seating is comfy, the servers are friendly, the food delicious.
The menu is clearly labeled for those who eat gluten-free. Plus, near the top of the menu is this notation: "Items marked "GF" are naturally gluten free and are appropriate for those who choose to avoid gluten. However, if you have a gluten allergy, please let us know and we'll take special precautions to avoid cross contamination."
How swell is that? Our server was so nice when I told her I do not eat gluten free by choice, even thanking me for letting her know so they could do everything they could to make sure my meal was prepared carefully. This, I SO appreciate it. I want restauranteurs to know that. I really, really appreciate it. And I'm so grateful when a restaurant is willing to go the extra mile for me. I'm even willing to pay extra for it, but that's maybe something to talk about another time…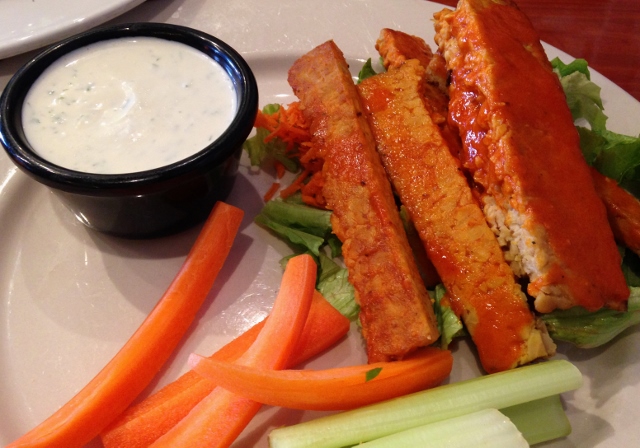 We started with the Buffalo Tempeh strips, which were served with carrots and celery and housemade ranch dressing. I am not a ranch fan, never have been. But this ranch? I'm a fan now. And also now obsessed with Buffalo tempeh. I've attempted to make this many times since returning home. If you live in my part of Kansas City and can't find tempeh at the grocery store, it's my fault. This was a terrific starter and so filling I probably couldn't have skipped an entree. But I didn't…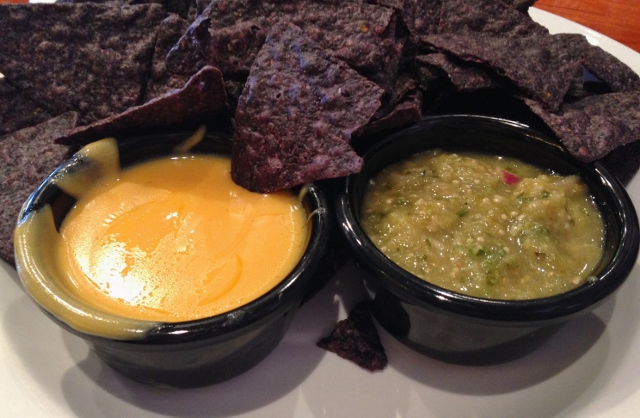 We also tried the Vegan Queso Dip with homemade salsa verde. You would never know this was a dairy-free queso. Good stuff!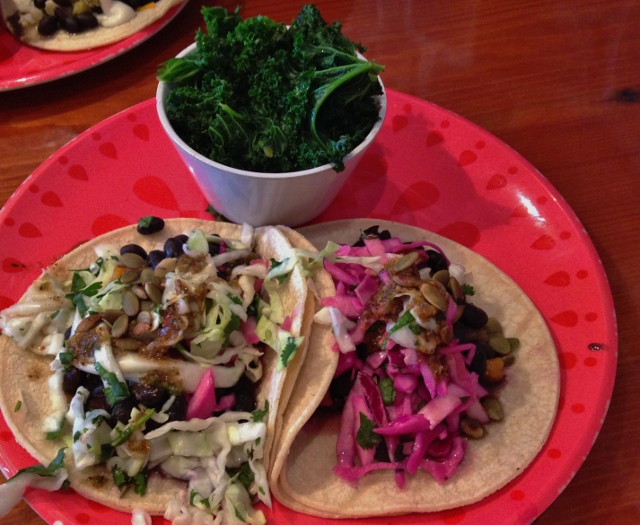 I had the Sweet Potato and Black Bean Tacos. This was the second restaurant in Nashville where I had tacos with sweet potatoes. And the second time in Nashville I wanted to shout loudly, "This town has THE BEST tacos!" The sweet potatoes and black beans were joined with a lime cabbage slaw, toasted pumpkin seeds and homemade jerk sauce. I got a side of Garlicky Kale. Best cooked kale I've had out. This might be the dish that converts the kale haters out there.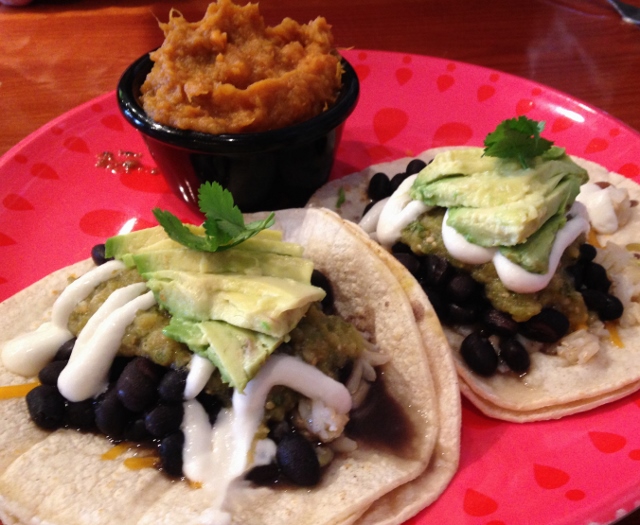 My favorite fella had the Black Bean and Rice tacos, topped with avocado, homemade vegan sour cream and cheese. He got mashed sweet potatoes for his side. Whatever they are doing with their mashed sweet potatoes needs to be on everyone's table at Thanksgiving. Better than any sweet potato casserole I've ever had. Put some Dandies vegan marshmallows on top and this would be amazing.
We weren't able to clean our plates here. We probably should have stopped with just appetizers, but when you are presented with a menu that has more than one or two options you can eat, well… But then our server asked us if we wanted dessert.
I asked to at least hear about the gluten-free options. When she said donuts, I asked her to clarify. Surely there weren't gluten-free donuts sitting on their bakery counter. Yep, four kinds of them, freshly made by Vegan Vee. You know I got all four, right?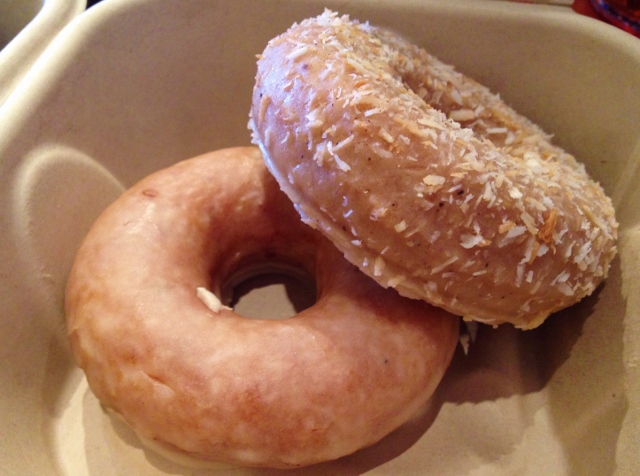 We didn't have a chance to visit Vegan Vee even though it was on our list. So it was just one more happy surprise on our Nashville trip to get to enjoy sweet treats from there. I eat gluten-free donuts just about anywhere I can find them. These were really, really good. We ate two in the middle of the night with coffee (and no, it wasn't even decaf; Nashville did a number on us with the amount of fun available) and ate the other two on our flight home.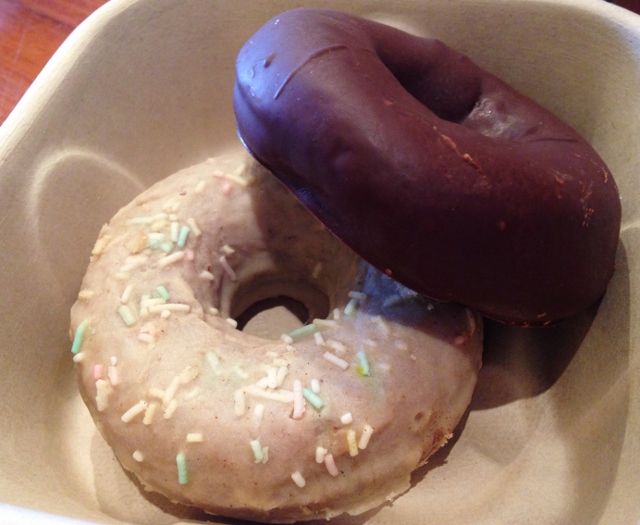 If you are a carnivore, I challenge you to have a meal at The Wild Cow and tell me afterwards you are still hungry or that you missed meat. Filling meals, well designed dishes and nothing lacking in protein here. This is a vegetarian restaurant where I would feel most comfortable taking a hardcore meat eater to dinner.
*I mentioned everything here is vegetarian. All dishes are available vegan by not choosing dairy cheese. Simple choose the dairy-free cheese alternative. Easy!
The Wild Cow is located at 1896 Eastland Avenue, Nashville, TN, 37206. 615.262.2717. We parked on the street and there was also parking in a lot nearby.

Vegan Vee is located at 306 46th Avenue North, Nashville, TN 37209.


The I Ate Here series is not intended as a restaurant review, rather a summary of my experience dining out.* Menu prices, items and ingredients featured were current at the time of writing. Please read the menu carefully and ask for assistance in ordering if you have dietary restrictions. It's a good idea to call ahead and let the restaurant know of your food needs.
*Writing bad reviews doesn't feel good. Only in extreme cases (a total of two in five years) where gluten has been apparent in my food or the handling of my food restrictions was of great concern do I share anything less than a recommendation. I'd rather share a good recommendation with you. I hope that's what you are looking for anyway, recommendations on where to dine. Thanks for understanding.