This post contains affiliate links. See my disclosure for more information.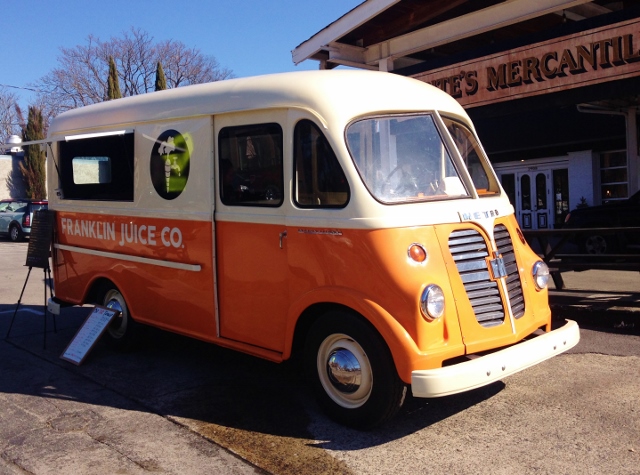 Franklin Juice Company makes cold pressed juices with only organic ingredients. I've written at length about why I think juice is a great addition to my diet. That's never more important than when I'm traveling. Whether I've over indulged or am just worn down from flying, jumping time zones or dancing 'til the wee hours, finding a good juice is essential fuel for my wanderlust.
I tracked down the Franklin Juice Company's vintage truck parked outside of White's Mercantile. My favorite fella and I each grabbed a juice plus one of the best nut milks I have ever tried. I had the Morning Dirt juice with carrot, apple, lemon, celery, romaine, green leaf, dandelion greens, parsley, cilantro and Hawaiian spirulina. My fella had a Sweet Beet juice with carrot, apple, beet, lemon and ginger. (My opinion here: if you need a good liver detox from being overserved the night before, a juice with beets is a great place to start.) Next time I hope to have one of their Acai Bowls. Nothing beats starting the day with a nutrient injection created with organic ingredients.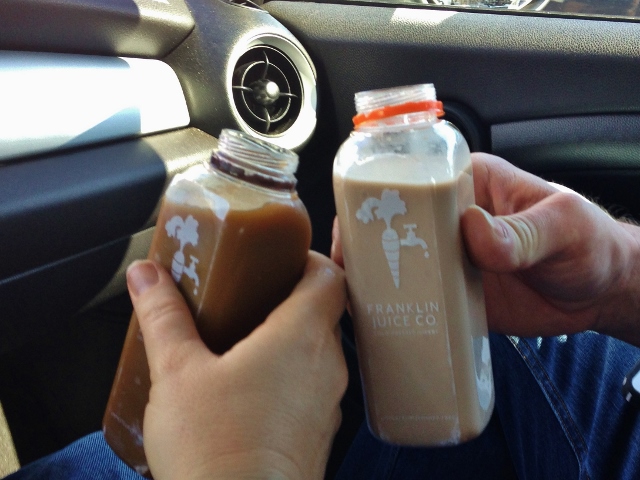 Franklin Juice Company makes cold pressed juices in the best, truest form of the term. No pasteurization, high pressure or otherwise. Only juice made my masticating the produce and then using a hydraulic press to get all of the goodness out of the fruits and veggies. They also offer nut milks (try the cashew) and cleanses plus those yummy Acai Bowls I mentioned before. Only the good stuff here!
And about that juice truck: it's a restored International Metro. Pretty groovy.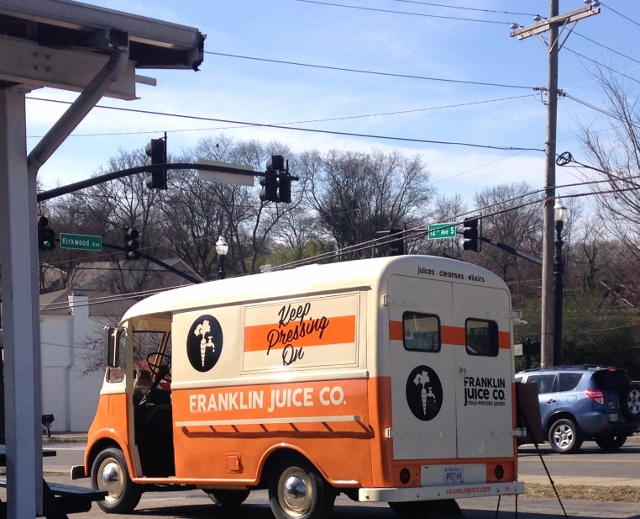 You can find Franklin Juice Company at 230 Franklin Road, Franklin, TN. Follow them on Twitter to keep tabs on where their fun juice truck is parked. Or call them and ask about delivery. I'm envious, Nashville. I need frequent juice deliveries of juice made the right way!


The I Ate Here series is not intended as a restaurant review, rather a summary of my experience dining out.* Menu prices, items and ingredients featured were current at the time of writing. Please read the menu carefully and ask for assistance in ordering if you have dietary restrictions. It's a good idea to call ahead and let the restaurant know of your food needs.
*Writing bad reviews doesn't feel good. Only in extreme cases (a total of two in five years) where gluten has been apparent in my food or the handling of my food restrictions was of great concern do I share anything less than a recommendation. I'd rather share a good recommendation with you. I hope that's what you are looking for anyway, recommendations on where to dine. Thanks for understanding