This post contains affiliate links. See my disclosure for more information.


There's an expectation of fair and festival food: fried, on a stick, not healthy, definitely not gluten-free. Guess what? That expectation is WRONG. Hangout Fest did an incredible job showing that folks like me, folks like you, can indeed eat at a festival.
That's a real worry, I hear it from folks all the time. Some people think they simply can't travel because of a food restriction, an intolerance or an allergy. It's not true. You can travel. You can eat well. You can stay healthy while on the road. You can experience all of the good vibes at a music festival.
Hangout is a three-day music festival held directly on the beach in Gulf Shores, Alabama. Truthfully, they had me at music and beach, but the possibility of good eats sealed the deal. Just look at this. That's an enormous stage on the left, the Gulf of Mexico on the right. Further to the left of the stage: lots of eats and drinks, truly something for everyone.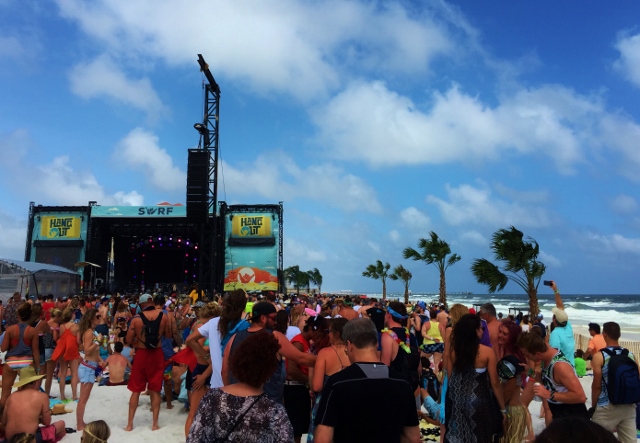 How did I know about all of the eats? Hangout has a smartphone app that lists the food options. I did my homework, scouting out the vendors that looked like a potential option. Then I did the legwork, contacting the food vendors prior to the festival to ask what would work for me. I got plenty of responses, enough for me to know I wasn't going to go hungry and that the food folks care. They want to feed people.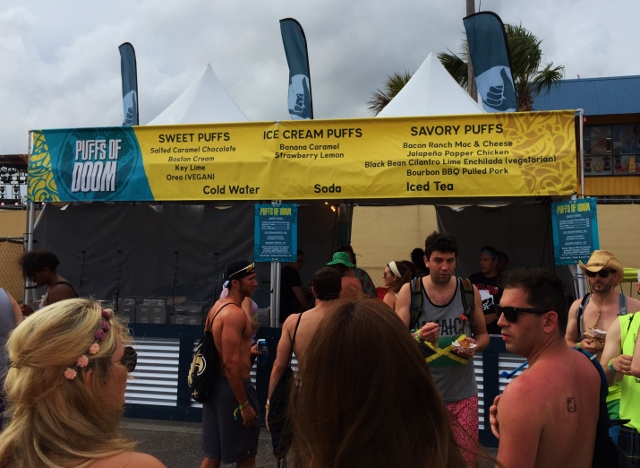 On the first day of the festival, I hightailed it to Puffs of Doom. I had contacted them prior and got the inside scoop from Rebecca that they would be offering a gluten-free Banana Coconut Nutella Puff.* You would head there first, too, right? I've got zero shame in telling you I had at least one of these every single day of the festival. I hadn't indulged in a cream puff in almost six years. So good. (*Rebecca is quick to share that the gluten-free Puffs are carefully made in a shared kitchen. I appreciate her concern, which gave me reassurance as opposed to those who make no mention.)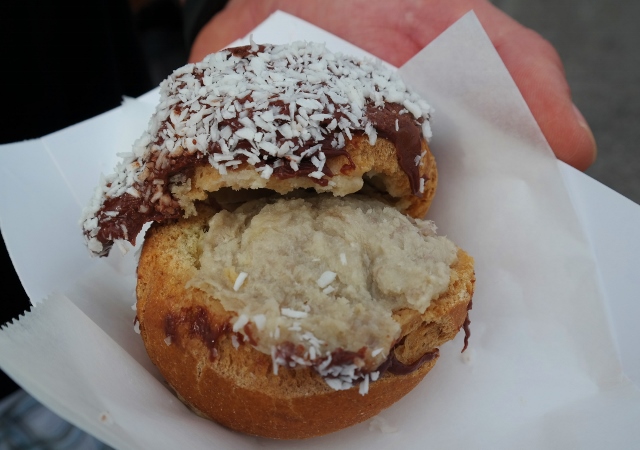 Another one of my favorite finds came from The Taco Tent. There were several locations of The Taco Tent scattered around the festival (the planning of this festival is top notch, food and beverages were never far away even though this is a huge festival), making it easy to grab food whenever hunger hit. Tacos are not an option at The Taco Tent if you are gluten-free, as their tortillas are flour but they will make a taco bowl for you. All I had to do was ask! The guy who made my taco bowl by the Palladia stage was darn tootin' terrific. He was legitimately concerned that I have a good meal that worked for my "food deal." Plus he was grooving to Macy Gray and Galactic. You know I think food is better when a dance party is involved.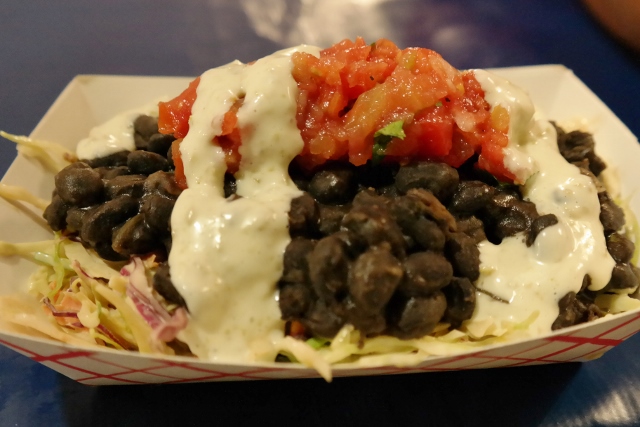 My absolute favorite food find at Hangout was paella from Man & Pan. Should you be lucky enough to find these guys at a festival, I have a warning: everyone who sees you with this gorgeous plate of paella will want to know where you got it. Don't bother getting a plate to share. My favorite fella and I got such a plate, he had one bite and then disappeared. I spotted him back in line, he was getting his own plate!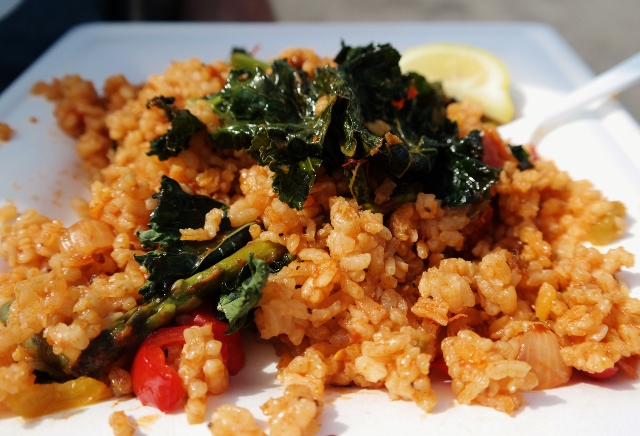 Two options from Man & Pan, the vegan shown above and the one below with seafood. Our festival mates got the seafood option which had shrimp, calamari and chorizo. While my vegan paella was being plated up, I asked if the greens were kale. "Yes, ma'am, superfood! Want some extra? Heavy kale coming up!" I met my festival food soulmates, y'all.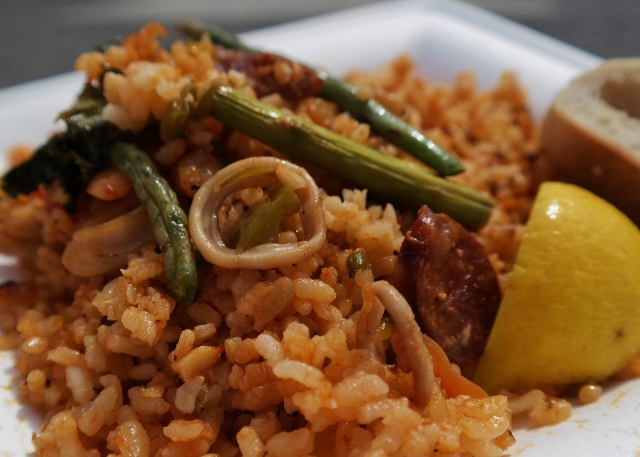 Ever been to a festival where the only booze option was beer? I was at one such festival last summer. Never mind that festival had zero in the way or healthy or gluten-free eats, this girl couldn't even get a cocktail. That was definitely not the case at Hangout. The beer stands at Hangout offered Johnny Appleseed hard cider. A couple of times I had to venture past one beer tent to another because they were sold out of Johnny Appleseed, which just speaks to high demand. Not a big deal to walk to the next stand. Beyond that, there were bars offering more than the typical festival adult beverages in several spots, plus a glorious full bar near the Salt Life stage.
So you don't think I was only boozin' it up all weekend, I have to tell you about the free water stations. Sure, there was $3 bottled water aplenty, but why bother? Camelbak sponsored free water stations, just bring your own empty container into the fest and get it filled. Last week I mentioned this water bottle and now I'm even more sold on it. It keeps water cold throughout the day and doesn't sweat. The loop on the top is easy on-and-off so you can attach it to whatever you are carrying or a belt loop. Don't fill it with ice and expect to have water a couple hours later, you'll still have ice. Perfect for a festival. (If you have Costco near you, a two pack of these will cost what one bottle is elsewhere.)

Another fun (and free) beverage option was samples of Lipton's new Sparkling Iced Tea. I tried the lemonade, which was like a carbonated Arnold Palmer. I usually steer clear of beverages like this because of artificial color, flavors, sweeteners…but I'm good with this one. As soon as I can find it near me, I'll buy a few cans for a special treat.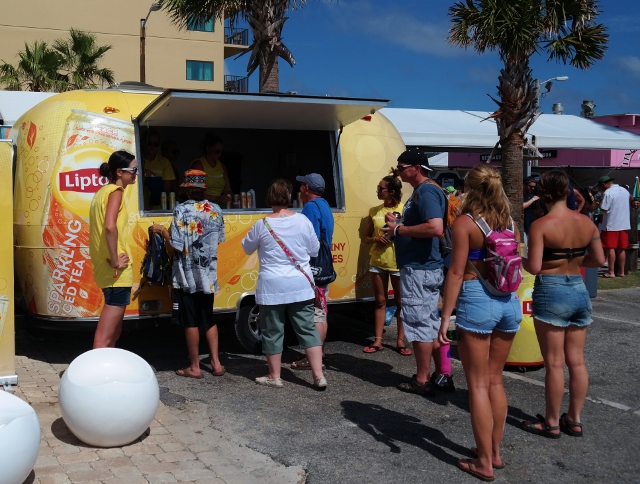 One afternoon I got a smoothie from The Freshest/Hippie Dips Fresh Fruit & Smoothies. Not only did they have smoothies, they were selling wedges of watermelon, salads with fresh berries, good-for-you food.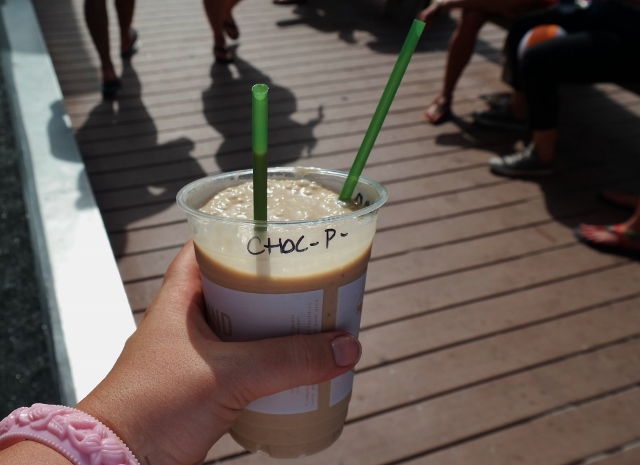 If gluten isn't an issue for you, you'll enjoy the fruit and yogurt parfait in a waffle cone from Hippie Dips. Our festival mates said it was great.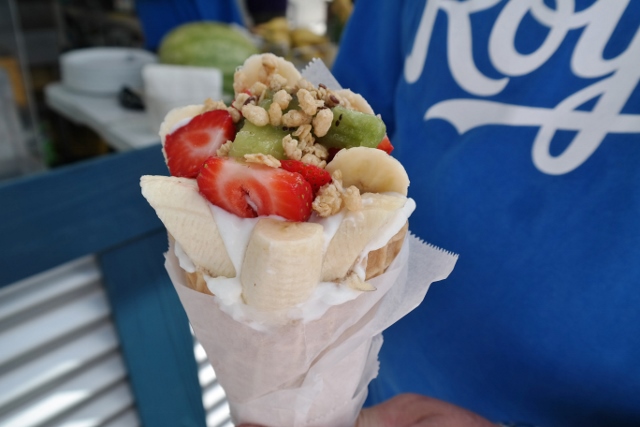 I have this crazy idea floating around my head about a festival fruit and veggie stand; Hippie Dips is the closest to making this happen that I have seen. And if the lines around their stand are an indication, folks want healthier options at festivals.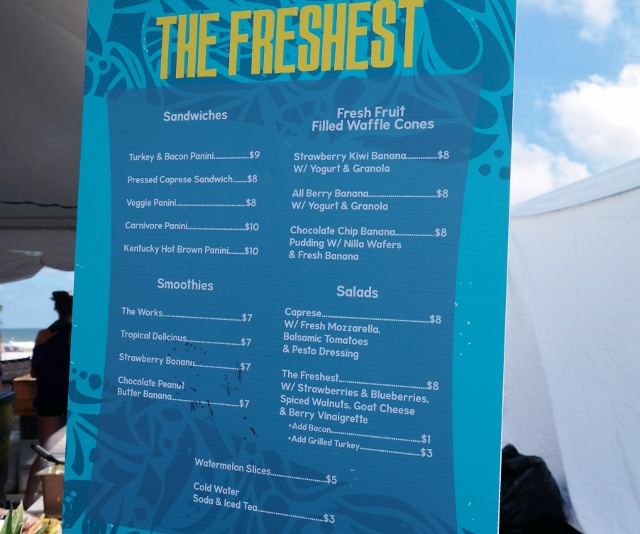 If all of this goodness isn't enough to tempt you into going to Hangout, one of the shuttle bus stops is near a Publix. I loaded up on healthy eats for our condo and was never once hungry, even at 1 in the morning after the festival and the grocery store were closed. My point in all of this: don't let your food issues keep you from hitting the road, dancing your ass off at a music festival. I've just shown it's a non-issue.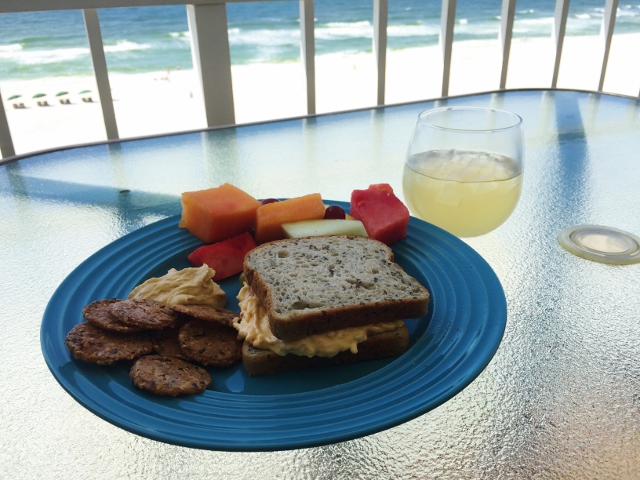 In the next few days, I'll share a bit more about Hangout. I'm still processing all of the fun I had, all of the great music, all of the great memories made. But I simply couldn't wait another day to tell you about the food, in hopes that you, too, would hit the road or skies to check out a music festival soon. Thanks for joining me for the fun.
Disclosure: All opinions are my own. I attended Hangout Fest as a member of the media. However, prior to being approved for a media pass, I purchased a festival pass at full price. I paid for my own lodging, transportation, festival shuttle pass and food/beverages featured here. When I say "all opinions are my own," I mean it. No soulless schilling, not even on a trip to the beach. My full disclosure policy is available here.