This post contains affiliate links. See my disclosure for more information.


Did you see all of the gorgeous photos I shared while vacationing last week from the balcony of our beachfront condo? Well, just in case, here's another…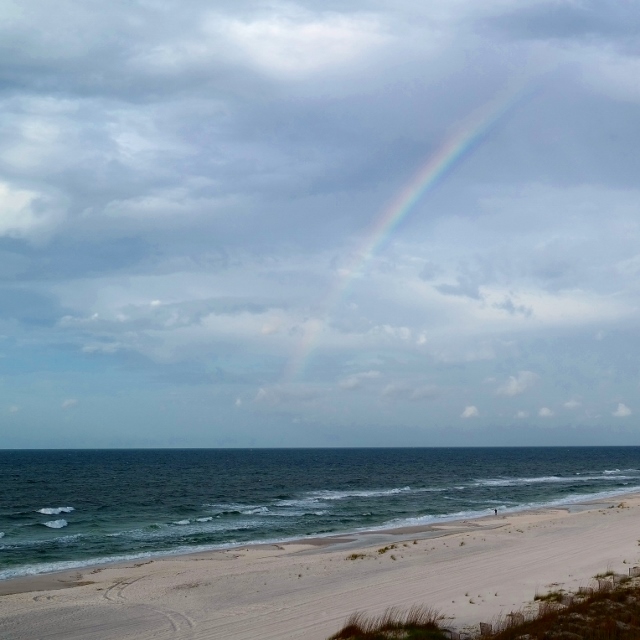 What I didn't share was the wonderful experience with the condo rental agency, Luxury Coastal Vacations. Way back in January, we decided we were going to Hangout Music Fest with friends. I immediately went to work trying to find a place to stay. That's when the challenges started.
I'm a savvy traveler, having stayed in everything from tents to treehouses, economy hotels to swanky penthouse suites. I felt confident I could find a suitable place for two couples to stay. I've never had so many challenges finding a place to stay as I did in the Gulf Shores area.
All of my typical paths to finding lodging failed me. Hotels were already booked solid, with rates approaching $300 a night at economy spots. I could write a book about why a popular vacation rental-by-owner website isn't a good plan when trying to book accommodations during a busy time. I never heard back from many of the owners. Between my favorite fella and I, we contacted no fewer than ten property owners who maintained their own websites. We never heard back from most of them.
Then I discovered Luxury Coastal Vacations. On their site, I was able to look at availability in real time. No worries after giving them my credit card number they would send me an e-mail 24 hours later telling me the property wasn't available after all. (That happened with the "other" site I mentioned.) Because I was leery of booking online after my other attempts, I phoned Luxury Coastal Vacations. Guess what? A real, live person answered the phone and I had a confirmed reservation in less than ten minutes, complete with an e-mail confirmation that outlined everything I needed to know. Easy!
A week prior to our arrival, I got another e-mail with check in details. The day of our arrival, I got an e-mail with tips and pointers on where to eat, what to do, while visiting. But after seeing the condo, most of that was skipped over. They could have simply said, "Walk across the street to the grocery store, stock up and enjoy the condo." I would have been fine never leaving. We had access to an outdoor pool, an indoor pool and hot tub, exercise room and the beach. And this balcony…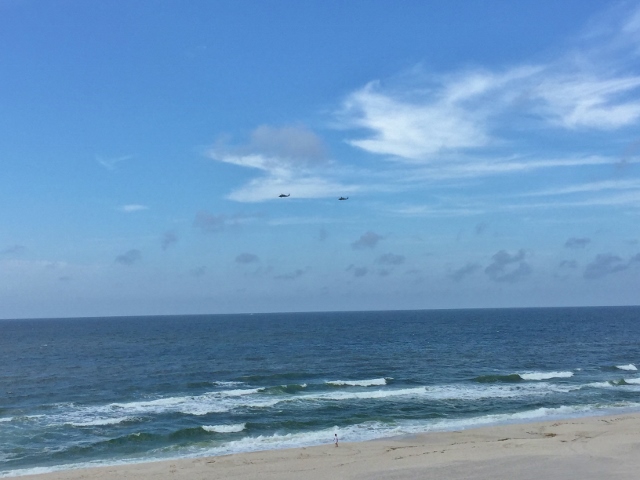 I woke up to views of the beach every morning, the kind of views that you don't even have to get out of bed for, through a sliding door that opened onto the balcony. I had morning coffee on the balcony, lunch on the balcony, middle of the night cocktails on the balcony. Glorious.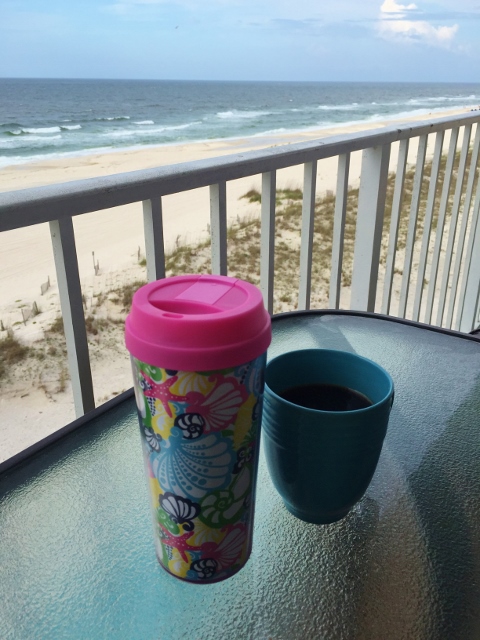 You wanna see the inside now that I've teased with the beach views?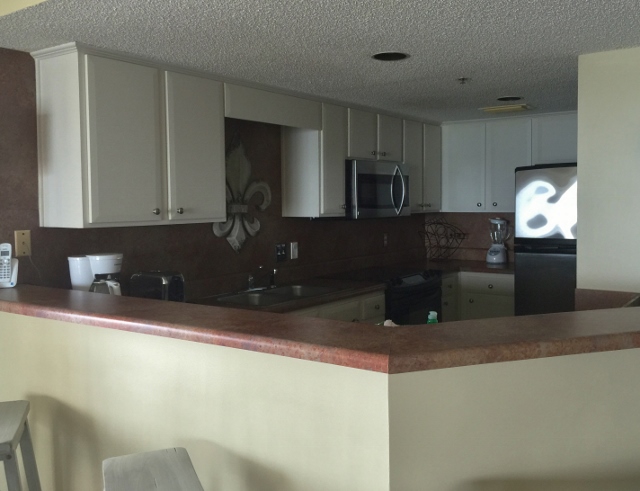 The kitchen didn't get extensive use, but I did enjoy it. Well stocked with everything we needed. I really enjoyed the icemaker installed in the wet bar.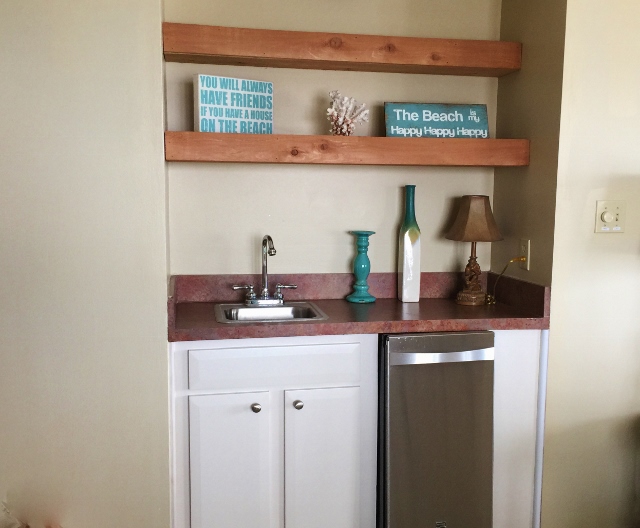 The living/dining area was comfortable with thoughtfully placed pillows and a throw blanket.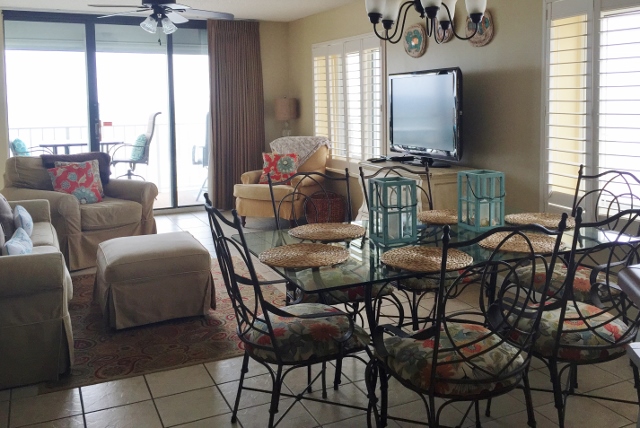 Plenty of lamps for reading and a nice collection of books to browse. There was also a large TV, but I have to tell you the TVs in the condo weren't turned on during our stay so I can't tell you about the cable channel selection. The view outside was entertainment enough.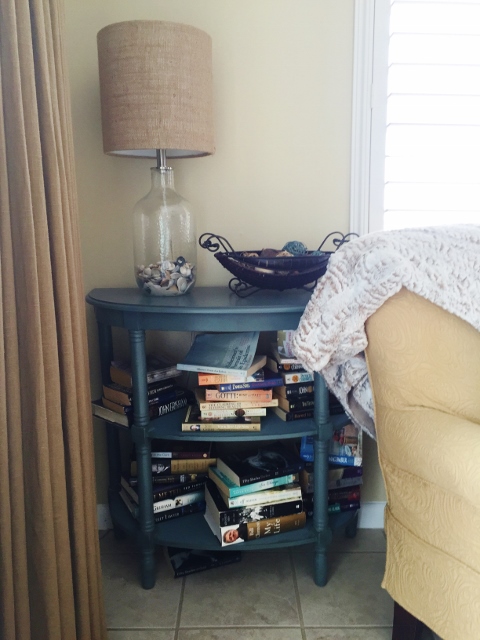 We slept in the master suite, which had a very comfy bed. I slept so well here. A huge walk-in closet provided plenty of space for our luggage. And the bathroom, oh my goodness. A large double vanity provided more room than I've ever had in a shared bathroom. So much storage and even more in the separate shower area. One of our friends commented the shower was large enough to have a party in. There may have been a dance party for more than one beneath the waterfall shower. The details of that shall remain a secret. 😉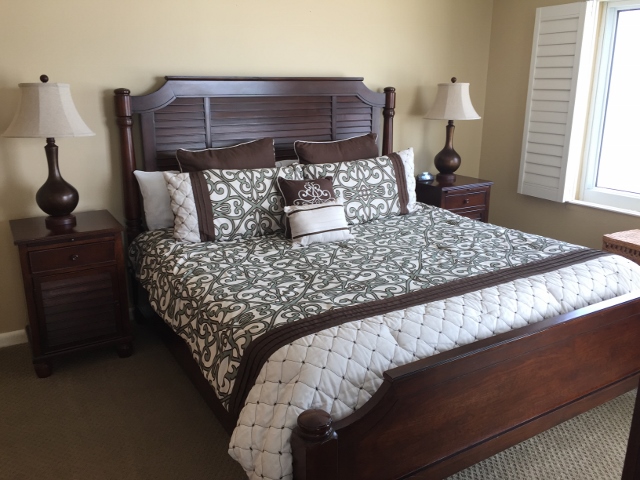 The other two bedrooms were decorated every bit as nicely as the master bedroom. Everything in this condo was thoughtfully done, every thing in perfect working order. I felt right at home and may have threatened to not leave. I've already been looking at the availability on Luxury Coastal Vacation's website to plan a getaway.
One last thing–this post is not sponsored. We paid for our stay here. I asked Charlene the owner about early check-in because we needed to be at the Hangout Music Fest earlier than check-in time. In our conversation, she shared with me she has built her business on word-of-mouth. I, too, have built the two businesses I own by word-of-mouth. I believe that is the absolute best recommendation you can get. So here is mine. Call Luxury Coastal Vacations the next time you are planning a vacation in Lower Alabama or the Pensacola area. Tell them I sent you…
P.S.–While I'm sharing word-of-mouth recommendations, the folks at Sail Orange Beach are fantastic. We enjoyed an early morning sail with Ryan. Perfect for four folks needing a little Vitamin Sea.