This post contains affiliate links. See my disclosure for more information.


I had the best spring rolls on my recent vacation and they came with a dipping sauce that was green. I was fascinated and then wondered why I had never put anything green in my dipping sauces. I surely put green ingredients into about everything else I eat. Why not dipping sauce? Allow me to introduce you to Cilantro Peanut Dipping Sauce…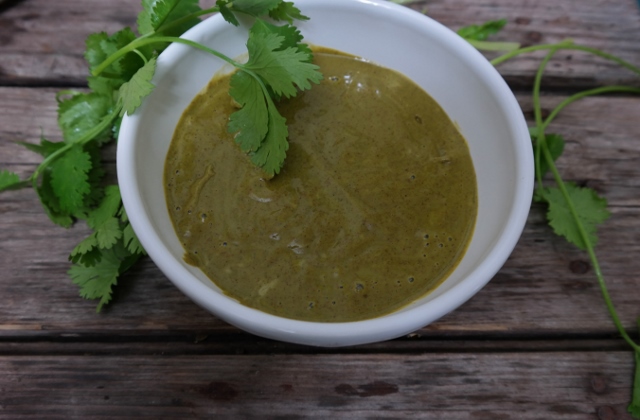 We eat spring rolls often. They are one of my favorite lunches to pack and I've even traveled on a long flight with them. Sometimes I pack handy little packets of gluten-free soy sauce, but most of the time I make some sort of dipping sauce. This one is going to be my go-to for many months, as long as the cilantro holds out in our herb garden.
And about the peanuts…if peanuts aren't your thing, you can use almond butter or cashew butter or sunbutter or Wowbutter or whatever kind of nut or not-nut butter you like. In the batch I photographed, I used raw almond butter. Make this work for you, it's very adaptable.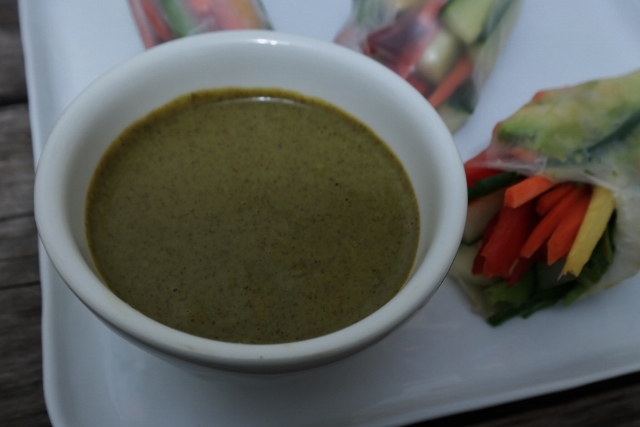 Need some guidance on making spring rolls to go with this sauce? I've got a recipe here. Just like the sauce, make the spring rolls yours. Use vegetables that you like. I often put steamed brown rice in ours, but lately have been skipping that in favor of more veggies. If you've got lots of cucumbers growing in your garden, you can add lots of cucumbers. If you don't like bell peppers, skip them. See? Easy!
Alrighty. Here's the recipe. Enjoy!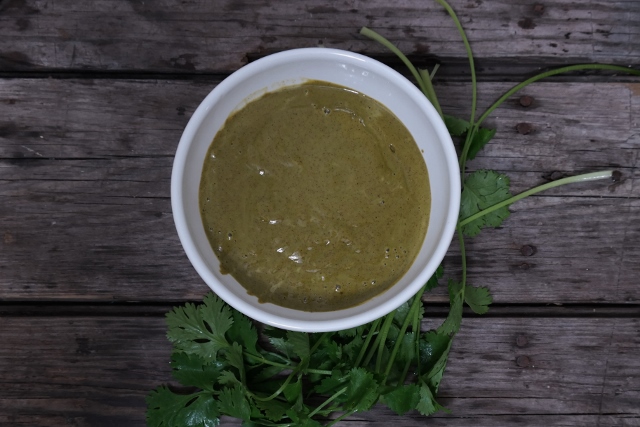 Cilantro Peanut Dipping Sauce
Ingredients
1/2

cup

Peanut Butter

, nut butter or nut butter alternative of your choice

1/2

cup

packed cilantro

, stems and all

3

Tablespoons

gluten-free soy sauce

, Tamari or Bragg's Aminos

2

Tablespoons

lime juice

1

Tablespoon

coconut sugar

1

" piece of ginger root

, peeled

1

clove

garlic

1

teaspoon

red curry paste

optional--water to thin
Instructions
Combine all ingredients in high speed blender. Blend until smooth. Mixture may be quite thick depending on the consistency of the nut butter you choose. You can add water, just a Tablespoon at a time, and blend until desired consistency is achieved.

Refrigerate until ready to serve.
Full Disclosure: This post contains affiliate links for ingredients/products I use in my own kitchen. Should you make a purchase via a link in one of my posts, I may make a small commission. Affiliate links offset the cost of maintaining this website and allow me to continue providing you with recipes, dining and travel information at no charge. I am grateful for your support. You can read my full disclosure policy here.