This post contains affiliate links. See my disclosure for more information.


Are you a fan of subscription boxes? I definitely am, but have steered away of most of the food ones because the food doesn't fit my needs. Well, until now. The Love With Food Gluten-Free Box is perfect for me…and hopefully for you, too!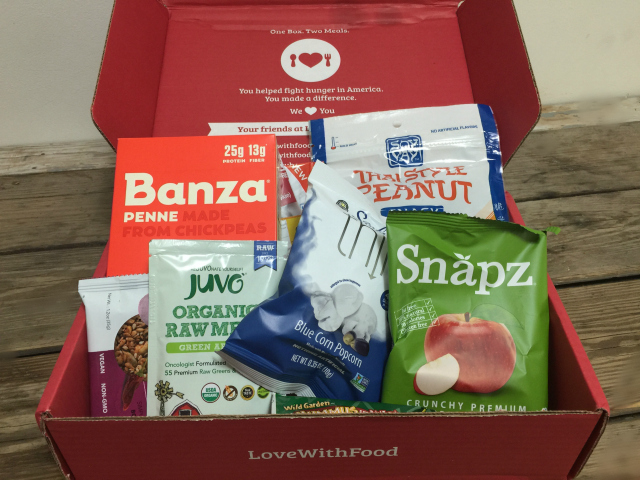 The Love With Food box comes with 8-12 snacks each month. All of the snacks are free of artificial color and flavor, msg, trans fat, high fructose corn syrup and hydrogenated oil. Many of the snacks are also GMO-free and each box has a pamphlet detailing which snacks are appropriate if you are also dairy-free, vegan, etc… PLUS with each box purchased, Love With Food donates two meals to a food bank. Isn't that terrific?!?

I also enjoy the coupons, discount codes and recipes that are in the bottom of each Love With Food box. This month there is a pasta recipe from Banza that is definitely going to happen in my kitchen. And you know what else is great? No shipping charge. I have belonged to a few other subscription services where I paid shipping on top of the cost of the box and it really put the box out of my budget. So glad that is not the case here; one price, upfront, so you know what you are getting yourself into from step 1.
Instead of many photos showing you what is in the June box, I made a video. You can watch it below. (I'm guessing 82.7% of you are going to watch is and say, "Ooooooh! So that's how you pronounce her name!")

If getting a Love With Food box in the mail every month sounds good to you, you can subscribe here. For the month of June 2016, you'll get 50% off of your first box plus a complimentary one year subscription to Good Housekeeping magazine. What a deal!
Do you already subscribe to the Love With Food gluten-free box? I would enjoy hearing what your favorite snack discoveries have been so far. If I had to pick just one from the June box, it would be the Snapz Crunchy Premium Apple Crisps.

Disclosure: I received a complimentary box from Love With Food and also receive a commission for each sign-up to the subscription. As always, I want to be transparent and let you know when I may receive a bit of compensation for sharing my opinion. I appreciate your ongoing support of products and services I endorse; every few pennies I earn helps me to offset the expenses related to maintaining this website and providing original recipes along with travel and dining recommendations at no cost to you. Thanks!