This post contains affiliate links. See my disclosure for more information.


Last last month I went to Cultivate Festival in Kansas City. I ate great food, heard fantastic music, learned a lot about where food comes from and had a great time with friends. I thought I would give you a peek into Cultivate…
Cultivate is Chipotle's annual festival. This is the second time Kansas City has been one of the stops. The other two cities this year are Phoenix (which was in April) and Miami, which isn't until November. Make plans now to go in Miami! Have I mentioned yet that it is FREE to attend? How crazy is that?!?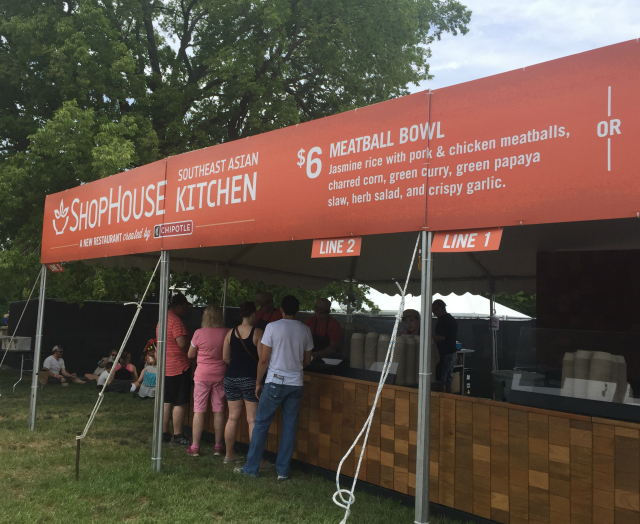 I've been to so many music festivals over the last year. You've probably read about the food I've scoped out at many of them. Never is it easier to find eats than at Cultivate. This year I have a tofu bowl from Shophouse. I really wish Shophouse would expand into the Midwest. I've really enjoyed their food both times I've attended Cultivate. This year I took my teenage carnivorous friend E along to the festival and he tried their meatball bowl. He said it was very good AND it was very filling. (Coming from a teenage guy who eats and eats, this is a good endorsement.) I had the organic tofu bowl and it was every bit as flavorful as I remembered it being last year. I really have to get myself into a Shophouse somewhere soon!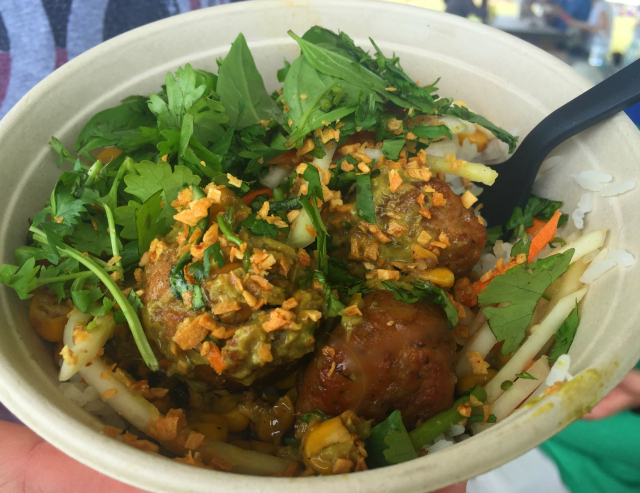 Other gluten-free options this year included burrito bowls from Chipotle and chips with salsa also from Chipotle. So nice to be able to get a full meal at a festival, not try to piece together something that works from multiple spots stretched out across a huge festival. So easy!
There was an extensive selection of beer, but no hard ciders or gluten-free beer that I could find. There was wine and a margarita station. I had a margarita, perfectly tart and cold. It was crazy hot for Cultivate again this year, heat index over 100 degrees. Lots of water was probably the best option and there was a water bottle refill station.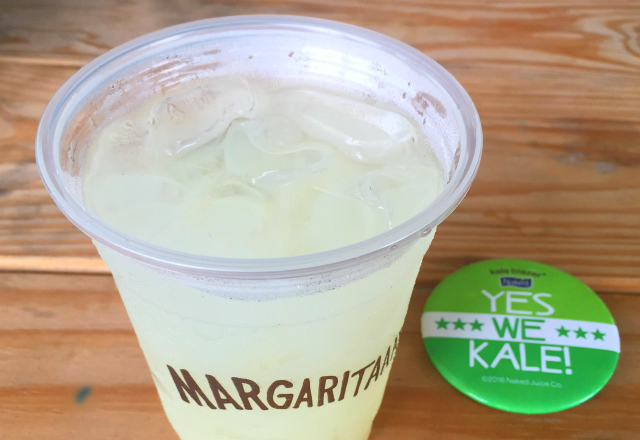 Six bands and a DJ kept the festival atmosphere rolling throughout the day. I caught a bit of one of my favorites, The Mowgli's. Too hot to venture into the crowd, but many were dancing and having a good time.

I spent most of the day in the shade at a picnic table under one of the huge tents they had thoughtfully installed for the festival. There were mister fans, too!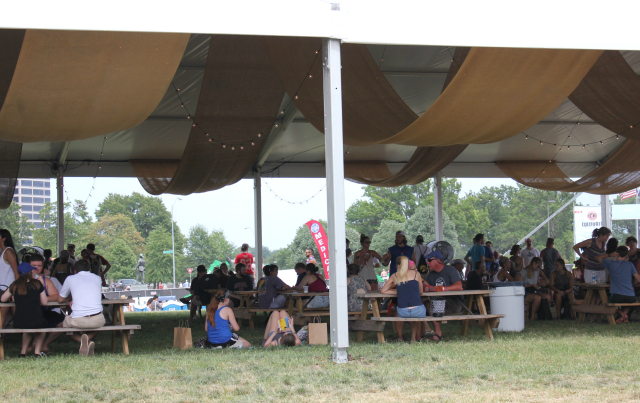 It's not really a festival until someone is playing hacky sack. Even if it's over 100 degrees…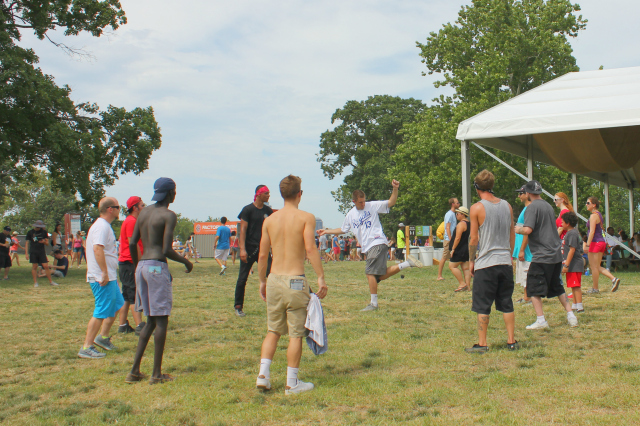 Or has on a t-shirt that makes you laugh…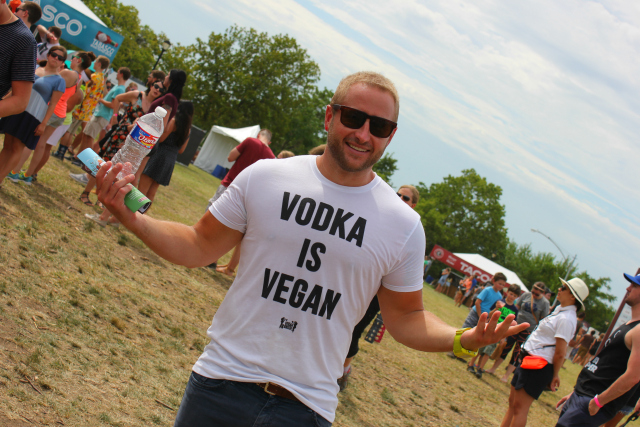 When we entered the festival, we got a passport. Visit 3 of the 5 education stations and get free coupons for food. I got coupons for free chips and guac, a free burrito bowl and Izze soda and a free pizza at Pizzeria Locale (which I passed along to a gluten-eating friend as I am not comfortable with how their "gluten-free" pizza is prepared.) I went to one station to learn how their guacamole is prepared, another to see how factory farmed animals are raised and to their cinema to watch a few short films about food, food sourcing and ethically raising farm animals.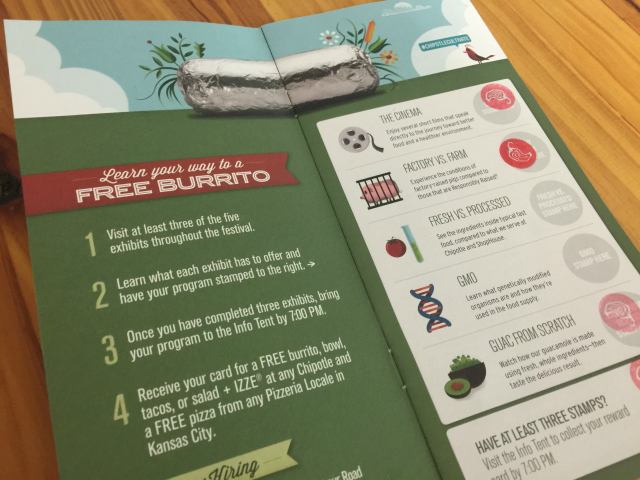 There were also several celebrity chefs doing demonstrations throughout the day, including some local chefs! I caught just a bit of Andrew Zimmern's demonstration, given to an enormous crowd. I really admire his quest to try as many different foods from as many different cultures as possible, but his adventurous tastes go far beyond mine. He said this little tidbit early one and it really struck a chord with me. I'm paraphrasing… "What's more important than food is people…" I agree with this so much. Part of the reason I love food so much is it is a way for me to care for people, those around my kitchen table and those who read along right here. How great is it that there are kiddos down in front watching?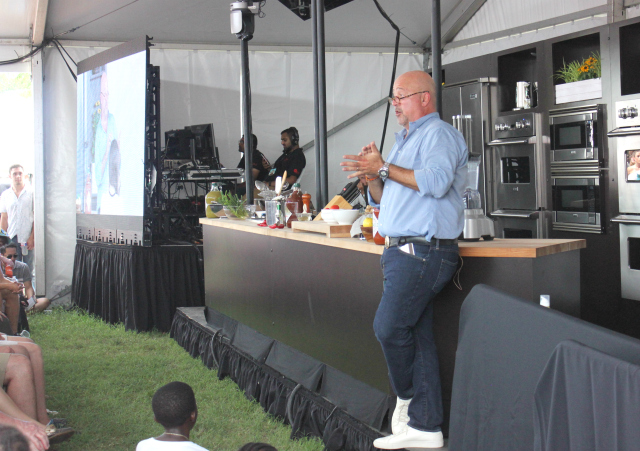 Add to all that I've already mentioned lots of booths to visit with sponsoring companies offering all natural sodas, green juices, smoothies and fun games. There was also a kids area with all sorts of fun activities including a tshirt making station. So much to do at this festival!
Chipotle Cultivate Festival was held in Kansas City on July 23rd, 2016. There is one Cultivate Festival remaining this year in Miami on November 12th. Go, it's a great time and I know you'll eat well, hear terrific music, catch some impressive chefs talking about food and so much more!
Disclosure: There is no admission charge to Cultivate Festival, however I did have a press pass which was accompanied by a coupon for a free meal. I used that for a Shophouse bowl. All other food and beverages mentioned in this post were paid for by me. I was not asked nor required to share my experience attending this festival.
My travel and dining series is not intended as a review, rather a summary of my experience.* Menu prices, items and ingredients featured were current at the time of writing. Please read the menu carefully and ask for assistance in ordering if you have dietary restrictions. It's a good idea to call ahead and let the restaurant know of your food needs.
*Writing bad reviews doesn't feel good. Only in extreme cases (a total of two in six years) where gluten has been apparent in my food or the handling of my food restrictions was of great concern do I share anything less than a recommendation. I'd rather share a good recommendation with you. I hope that's what you are looking for anyway, recommendations on where to dine and fun places to visit in your travels. Thanks for understanding.