This post contains affiliate links. See my disclosure for more information.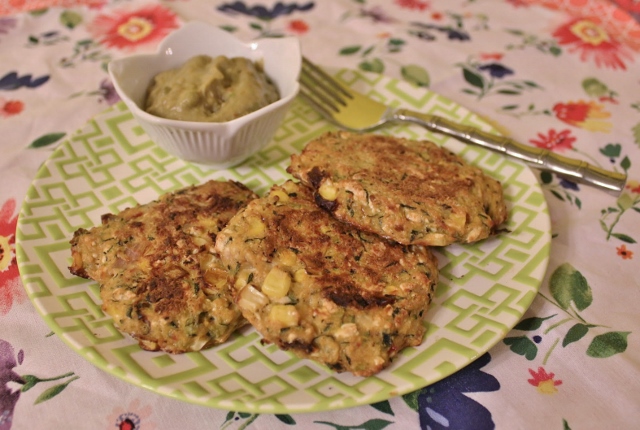 We have an abundance of zucchini and yellow summer squash from the garden right now.
Well, not exactly our garden. See, I plant zucchini and several varieties of squash every year in our raised bed gardens. Every single year they take off like crazy, producing many gorgeous, golden blossoms. Some even start to produce, teasing me with baby zucchini and squash. And then, poof! Overnight the whole plant looks sad, droopy and the beginnings of vegetables turn into yellow sadness. One by one, all of the plants do this. I've searched for squash beetles, combed them over for any signs of pests but find nothing. Perhaps my soil isn't deep enough for their roots? Perhaps I'm not meant to grow them. My best luck growing zucchini has been with the volunteer plants that pop up near the chicken coop, seeds planted by the hens.
Thankfully, friends and neighbors have given us plenty of zucchini and squash to keep me busy in the kitchen. Two of the ones we received weighed over four pounds each. Enormous!
Speaking of enormous zucchini, every recipe I've ever used for zucchini fritters calls for a number of zucchini, such as "3 medium zucchinis." I'm not sure what medium is and being more skilled as a baker than a cook, I need a measurement or a weight. Yeah, I know, cooking tends to require less accuracy than baking. Because I'm fairly sure these 4+ pound zucchinis I have don't qualify as medium, I've included information in this post on the weight and measurement of the zucchini I used.
Southwest Zucchini Fritters, fried
Southwest Zucchini Fritters
Makes approximately 12
3 pounds zucchini, shredded
2 t. salt
3 egg, lightly beaten
3/4 cup almond meal
1/2 cup fresh corn, cut off of the cob
1/2 cup chopped red onion
1/4 cup Daiya Mozzarella style shreds
2 T. sundried tomatoes in oil OR slow roasted cherry tomatoes, finely chopped
1/2 t. chili powder
1/4 t. cumin
1/4 t. smoked paprika
1/8 t. black pepper
2 T. olive oil
Shred the zucchini using your preferred method. I use a box grater to get in a little exercise. A food processor works, too. By hand, give the shreds a good squeeze, forcing out water. Place in a colander with 2 t. salt. Toss well, the salt will help draw out more moisture. Let sit in the sink for at least 30 minutes.
After 30 minutes, squeeze out as much additional water as you can with your hands. You can also lay the zucchini out on paper towels or place it in cheesecloth and squeeze more. I end up with about 1 1/4 pounds AFTER removing the water, approximately 3 1/2 cups of shreds.
Mix all ingredients except almond meal together in a large bowl. Once ingredients are combined, mix in the almond meal about a tablespoon at a time.
Frying vs. Baking:
I have cooked/fried these on the stove top and have also baked them. I will share both methods and photos of the results with you. I think frying them results in a more fully developed flavor, however I am more a fan of oven-baking my food. Calorie-counting is a hard habit for me to kick.
Frying: Place 2 T. olive oil in a large skillet. Heat over medium. Once oil is hot, scoop batter by 1/4 cup into the skillet. Use the back of the measuring cup to flatten. Cook for 3 to 4 minutes, until browned. Flip and cook on other side until brown. Remove from pan and drain on a paper towel-lined plate.
Southwest Zucchini Fritters, baked
Baking: Line baking sheet with parchment paper. Scoop 1/4 cup batter out onto sheet, using measuring cup to flatten the top. Bake at 350 degrees for 15 minutes, flip and cook an additional 15 minutes. If, after 15 minutes, you find the patties don't easily flip, cook them longer before flipping. They will flip easily when it's time.
Avocado Yogurt Dip
You may look atthis recipe and think it makes a lot. It does make a generous bowl full of dip. I tried making half of this recipe (it does easily halve) but it wasn't enough for us. We like our dip!
2 ripe Avocados
2-6 oz. cups of So Delicious Greek Style cultured coconut milk
2 T. sundried tomato jalapeno Majestic Garlic Spread*
Mash the avocados in a bowl, add the cultured coconut milk and Majestic Garlic. Stir well to combine. Refrigerate for 30 minutes before serving.
*If you do not have Majestic Garlic handy (but really, you should, it's AMAZING), you can use two cloves of minced garlic, a bit of very finely diced jalapeno and sundried tomato.