This post contains affiliate links. See my disclosure for more information.


Last week was Cultivate Kansas City's Urban Grown week. Our city was abuzz with many fun events, everything from beekeeping workshops to a wine dinner with a celebrity chef. My favorite part of the week was the Urban Farms and Gardens tour, the nation's largest urban farms tour with more than 60 spots to visit!
Perhaps the most attended event of the week was an appearance by Mark Bitttman. Over 800 people came to hear him speak.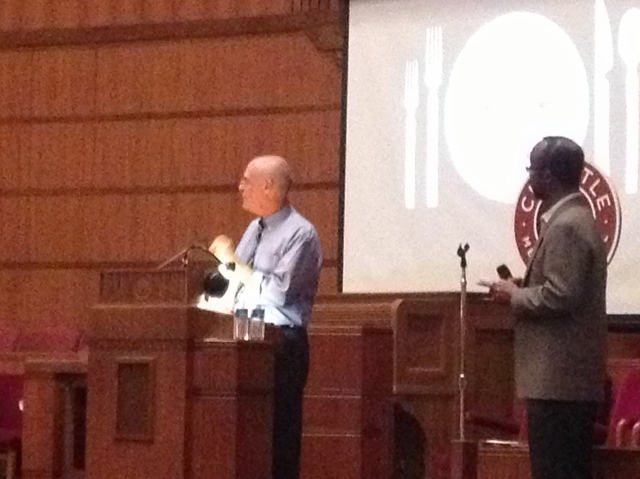 Before Mark Bittman spoke, Chipotle offered tasty nibbles and margaritas. I was excited to try their new Sofritas, a gluten-free tofu. I'm hoping it comes to our local Chipotle soon. It's SPICY!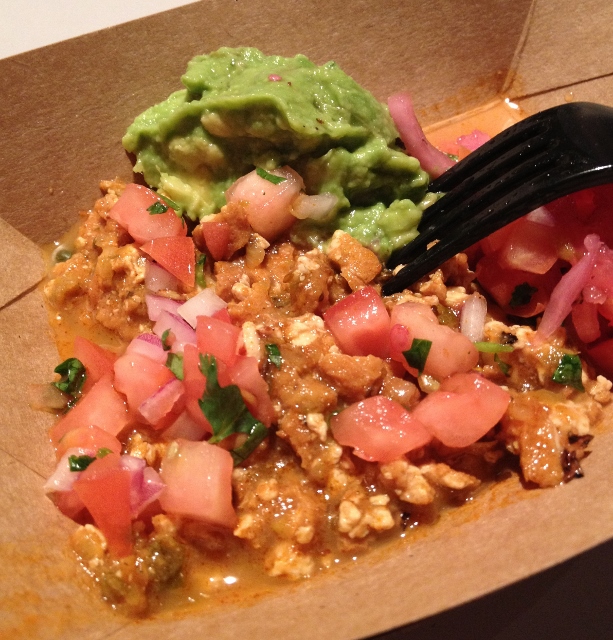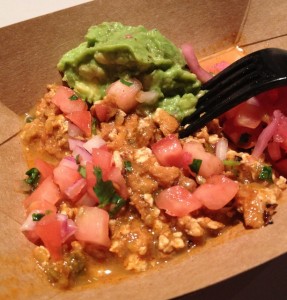 I have to tell you, it was exciting to see Eden Alley, KC's original veg restaurant, overflowing with people.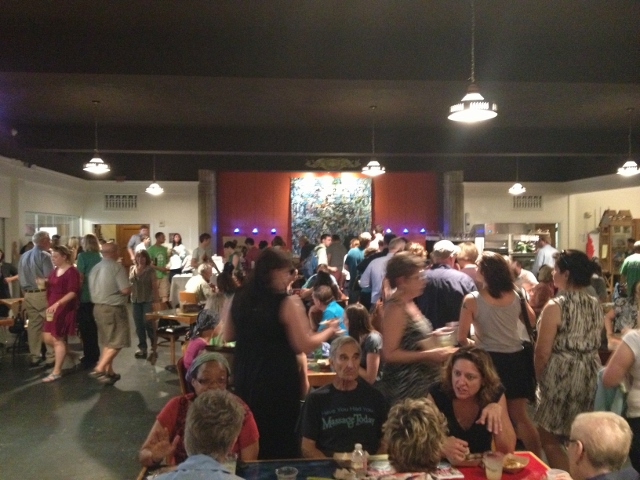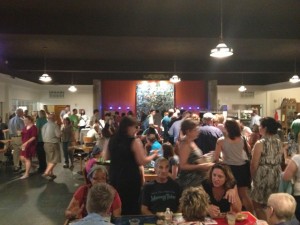 So back to Mark Bittman…He spoke about his new book, Vegan Before 6. Just last week I wrote about tossing out labels and finding what's healthy for you. I stand by that yet I understand why the label appears on this book. Would "Eat more plant-based food all day" be as sexy? Folks wanna slap a label on things and no doubt it will help to sell this book. The concept is to eat plant-based food for breakfast and lunch and then animal products with dinner. But this book is so much more. I hope you'll look beyond the title and read it. Plus I've got a signed copy to give away below!
Here are my top five takeaways from hearing Mark Bittman speak:
1. The most important thing to do to change our diets is to favor plants over meat.
2. Develop a personal food policy. (Notice this says personal. My food policy is not your food policy. And that's ok!)
3. You changed your lightbulbs to CFLs, change your diet to include a freaking salad!
4. 60% of the food we eat already is vegan. (I say the same about gluten-free!)
5. Think about foods using a traffic light system: red light foods (desserts, treats) rarely, yellow light foods occasionally and green light foods often.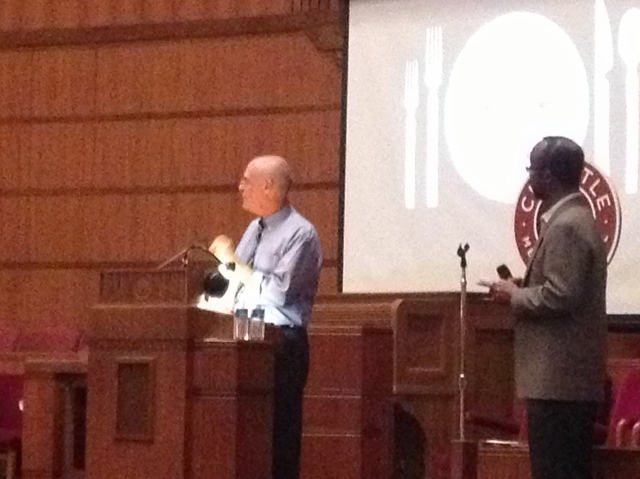 A similar list of take-aways from the book could be written, but it would be much longer. The book includes some terrific nutritional comparisons of things like diet bars and candy bars. It also has great tips for pursuing health, not just a number on the scale. Oh, and recipes! There are more than 60 recipes to help include more plants in your diet. About those recipes…
I attended a second event with Mark Bittman on Friday, a luncheon hosted by the KC Chapter of Les Dames d'Escoffier. Check out the beautiful plant-based lunch prepared by Chef Matt Arnold and crew at Webster House, featuring recipes from the book: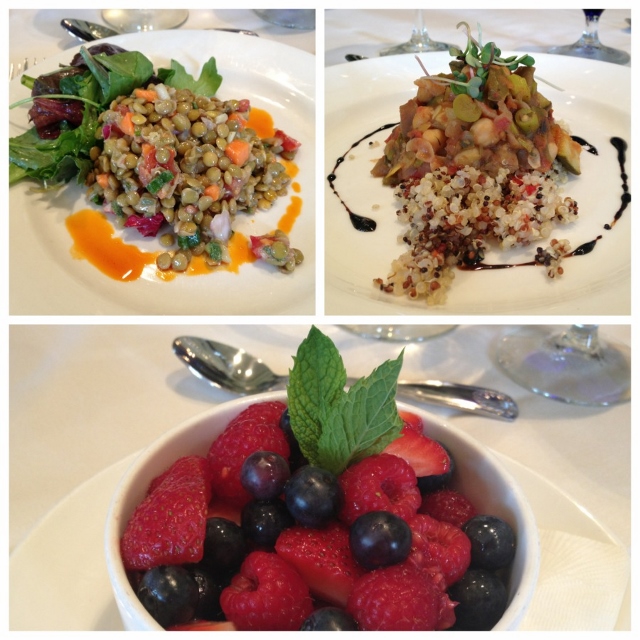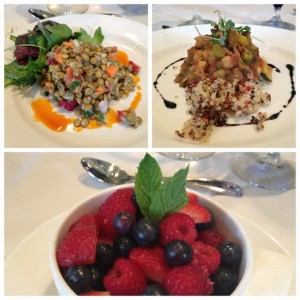 While not all of the recipes in the book are gluten-free (and not all are vegan either, surprise!), many are easily modified. Switch out pasta for gluten-free, make sure stock is gluten-free, use gluten-free bread crumbs, etc… The chickpea ratatouille served at lunch was delicious and naturally gluten-free, as was the lentil salad.
After the luncheon, I had the chance to ask Mark Bittman what one thing he would encourage people to do to stick with dietary changes. His response: eliminate refined sugar. From personal experience, I can say this is very helpful. While I have reduced, not completely eliminated refined sugar (I drink Kombucha), I do know that if I eat sugar, my body wants more sugar. And I get more puffy and cranky and less likely to eat food that is good for me. So there you have it, get rid of the refined sugar!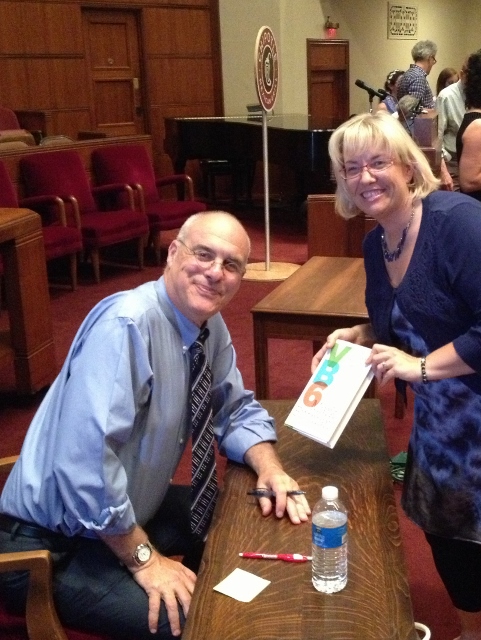 So enough about all of that, you want to win a book, right? I've got a signed copy of Vegan Before 6 to give to one lucky reader. I personally got this signed for you, so it's legit. 😉 Just use the Rafflecopter entry below to enter. I'll choose a winner on July 2nd and give the winner 24 hours to respond before choosing another winner. Good luck and happy reading!
a Rafflecopter giveaway

Disclosure: This post contains affiliate links. By clicking on links in this post and making purchases, Johnna may make a bit of money, which allows her to continue providing free content to you on this site. Thanks for your support!