This post contains affiliate links. See my disclosure for more information.


This week's Soften Saturday is a guest post from Iris of The Daily Dietribe. I first knew of Iris as the co-author of The Essential Gluten-Free Baking Guide and have enjoyed learning about her other skills, including her health coaching and hypnotherapy offerings. She's a savvy gal with a great perspective on healthy body image. I'm excited to have her guest posting here! –Johnna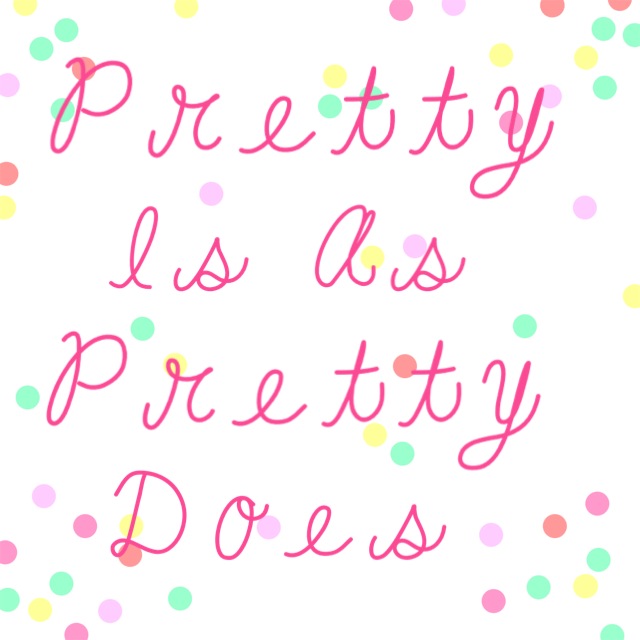 Pretty is as pretty does.
Really? So what does pretty do?
Pretty is quiet. Pretty fits in. Pretty does what she's told. She is smart. She gets good grades. She gets married and has children and lives in a house in the suburbs. She stands up for herself, but only just enough to let people know that she's a strong woman. Not too strong. Just strong enough.
Not like those feminists that hate men.
Pretty is liked by other women. She is that girl next door that you want to be and you also want to be friends with. She is the girlfriend every guy wants because she'll play the part perfectly.
Pretty does not make waves.
I have spent my life trying to be pretty. I'm not going to lie. It wasn't hard. I had everything I needed. Nice features, long curly hair, white skin… I was quiet, demure, intelligent, well-liked. Normal.
Inside I was a mass of quivering nerves and anxiety. My stomach hurt all the time because I was working so hard to fit in that I couldn't express myself. I stuffed my emotions inside as surely as I stuffed food in late at night. I exercised frantically to burn the calories from late night bingeing episodes, all in the effort to maintain that I was normal. I was pretty. I was okay.
I have always found something wrong with my body, something I could obsess over. When I looked at the women in magazines, I knew there must be something wrong with me. They had no hair on their bodies. Anywhere. They never sweat. They were much skinnier than I was. And how the heck did their breasts get so big without ever getting stretch marks? Seriously, there must be something wrong with me.
I think I spent the majority of my teens and early twenties thinking I was different from other women, that I had to hide my flaws so no one would know just how un-pretty I actually was.
And then I realized what a game it all was. Just a big game of advertising. Those women I saw in the pictures weren't perfect. Or let me rephrase that. They were perfect until they were photoshopped into oblivion.
I spent my life hiding who I was. Now I work with women to teach them how to stop hiding. Here's what I know now: Women get stretch marks. Women sweat. Women have hair on their bodies. Women have bellies. Women are not pretty. Women are spectacular. Every single hairy, sweaty, stretch-marked, soft, muscular, amazing inch of them.
Pretty is as pretty does. And pretty fits in. I don't want to fit in anymore. I'd rather be spectacular.
What about you?
You can read more from Iris here and also on Pinterest and Facebook.
About Soften Saturdays: Soften Saturdays features posts from me and others I admire on the topics of healthy body image, healthy living, being kind to ourselves and more. Saturday is an especially great day to think about being soft with ourselves!