This post contains affiliate links. See my disclosure for more information.


Summer has arrived and I've got a million reasons to need a few grab-and-go snacks. You, too?
Taste Guru to the rescue!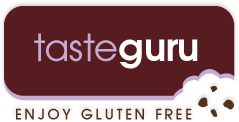 Like the many other box-a-month clubs that are popping up like crazy, Taste Guru is a monthly delivery right to your home. What's different about Taste Guru is that all of the products are gluten-free! Every month you get 7-10 products and you'll save at least 20% off the retail price. They also tuck in a recipe card each month with a custom creation from the Taste Guru Chefs. Plans start as low as $25 a month, shipping included.
To give you a better idea what's included, last month's box had Gratify pretzels, Flamous falafel chips, Rocky Mountain popcorn, KIND granola, Coco Cafe Latte, Canyon Oats Oatmeal Cups, Glutino Toaster Pastries and corn pasta from Le Veneziane. Lots of goodies for not much $.
But to make this an even better deal, I've got a special offer for you! You can get your 1st month for only $12.00 shipping with the coupon code below. (Subsequent months include free shipping.)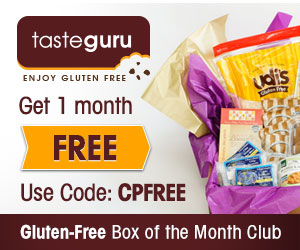 I'm not a mathematician, but that's a pretty good deal. Less than $12 for more than $25 of gluten-free goodies delivered to your doorstep. I think I'll go sign up now…
Disclosure: This post contains affiliate links. By clicking on links in this post and making purchases, Johnna may make a bit of money, which allows her to continue providing free content to you on this site. Thanks for your support!