This post contains affiliate links. See my disclosure for more information.


Major excitement ensued last week when a friend said someone had mentioned on Facebook that Trader Joe's now has Gluten-Free Joe-Joe's. A quick phone call confirmed that indeed, Gluten-Free Joe-Joe's had arrived earlier that very same day. Off across town I went to find these cookies…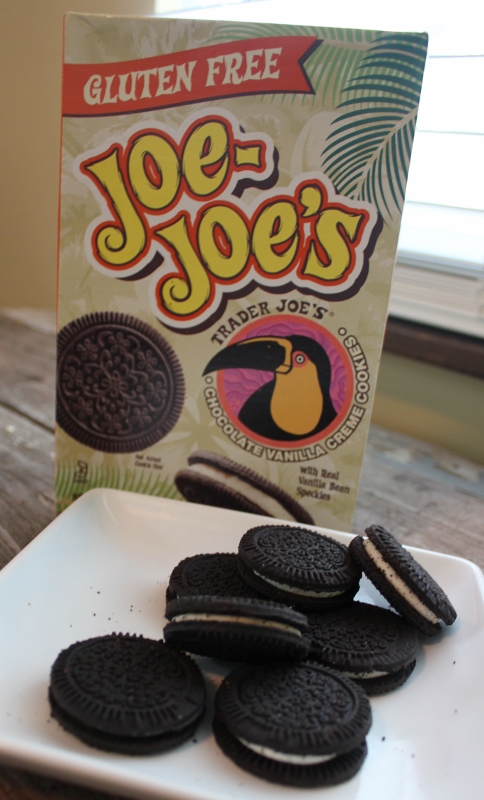 I should explain the excitement. See, I'm not a huge fan of Oreo-like cookies but I will eat them. It's my favorite fella that causes such a commotion about chocolate sandwich cookies. Ever since his first trip to a Trader Joe's on the West coast several years ago, he has had a Joe-Joe obsession. "These are so much better than Oreos," he tells me. "See the vanilla flecks in the cream filling?" During the holidays, he has paid to have boxes of Candy Cane Joe-Joe's shipped here. The problem is that we try to keep our kitchen gluten-free so any Joe-Joe's that he eats are kept in the basement, like some sort of illicit substance that must be secretly consumed under cloak of darkness.
So a Gluten-Free Joe-Joe could be a great solution. He could eat cookies with wild abandon in the kitchen, I wouldn't have to worry about cross contamination. But how would these stack up?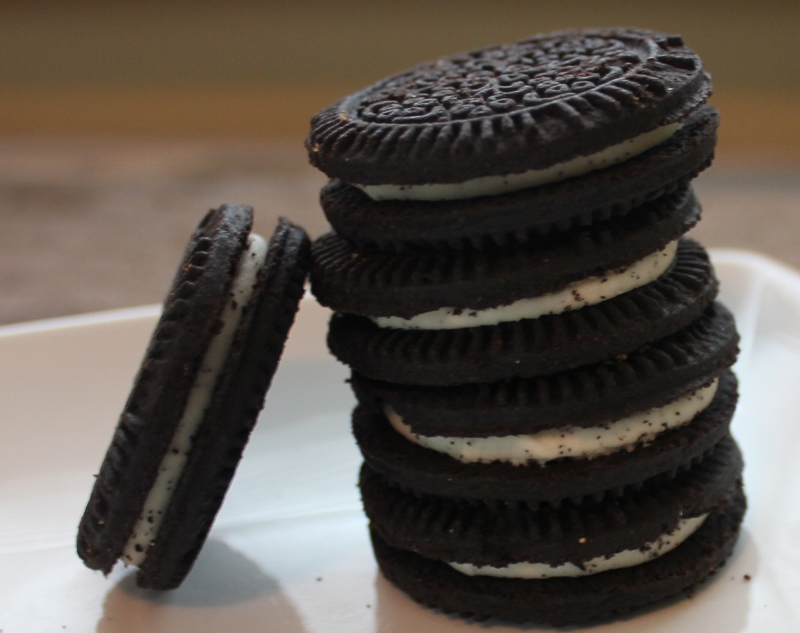 Well, they certainly aren't the same as regular, gluten-full Joe-Joe's but they are a good sandwich cookie. The vanilla bean specks are present in the filling. The big difference for me is that the gluten-free version contains eggs. While I do eat eggs, I'd much prefer not to eat eggs that come from chickens I've not met. (I know, I've got issues, but I really like the idea of only eating eggs from hens that are happy.) The regular version of Joe-Joe's is free of both dairy and eggs, the gluten-free version is only dairy-free. The cookies are crispy and they get paste-y in your mouth just like any chocolate sandwich cookie. As for comparing them to other gluten-free sandwich cookies, they are just as good as any I've tried and at $4 a box, a pretty good deal.
Sometimes it's possible to figure out who is manufacturing products sold at Trader Joe's. The gluten-free JoeJoes are manufactured in Canada but the ingredient list doesn't match up with any of the gluten-free sandwich cookie brands I could locate in my area. If you've got a guess as to who is making them, I'd love to hear it!
Here's a quick snap of the ingredient label: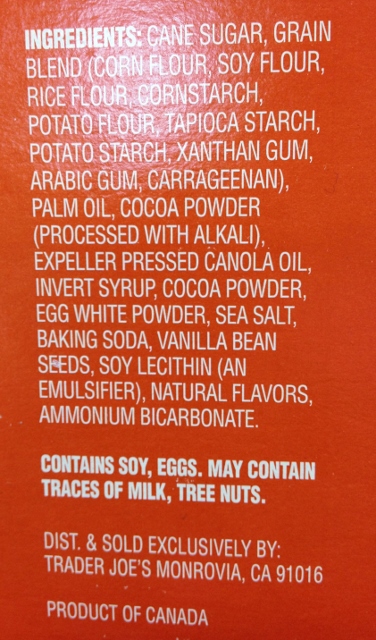 While at Trader Joe's to buy the gluten-free JoeJoes, I bought a selection of gluten-free cookies from their current offerings. They have a good sized collection of gluten-free cookies!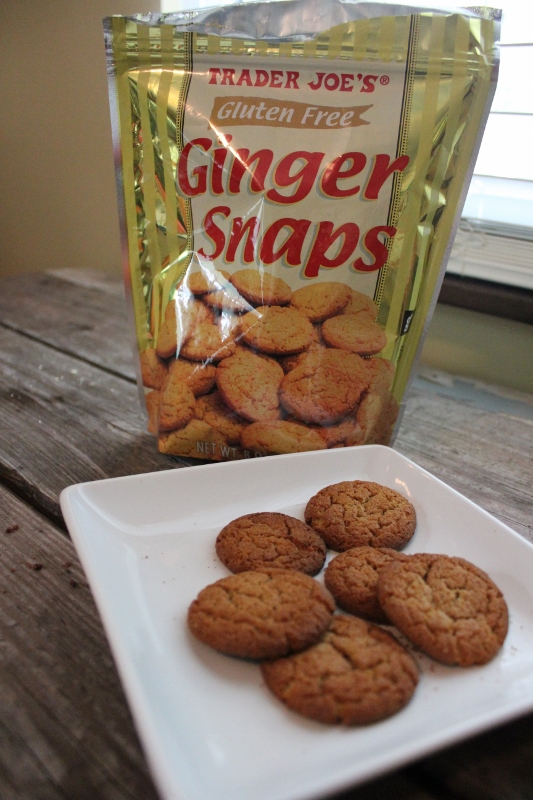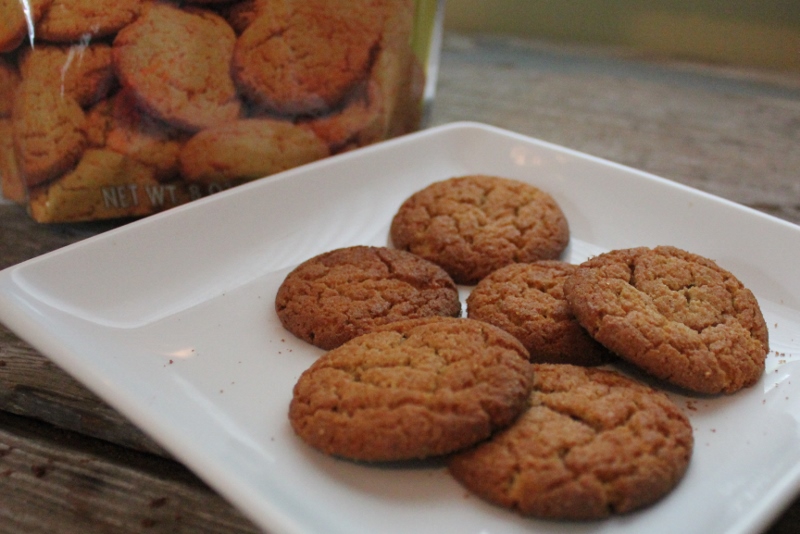 First up, a tried-and-true favorite for me. Gluten-Free Gingersnaps. I've seen these at Trader Joe's as long as I've been shopping there. Crunchy with just the right amount of ginger. I like using these for pumpkin cheesecake crust.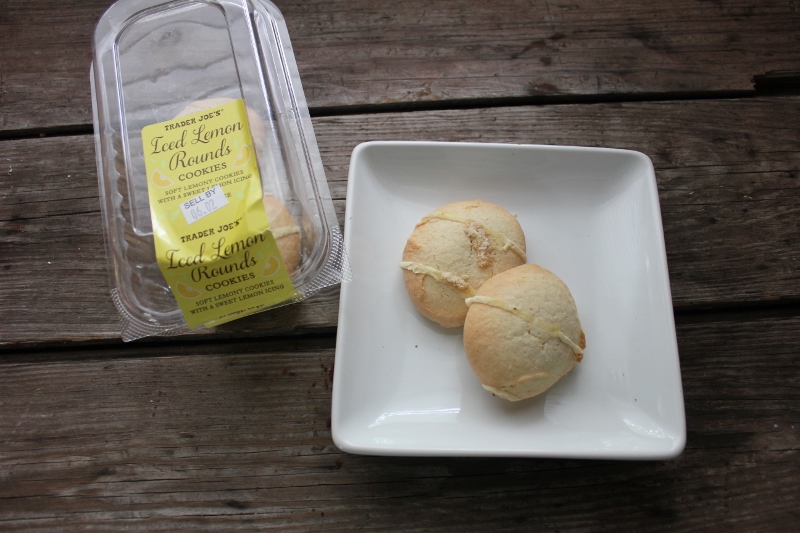 Next, a cookie I had never tried before: Iced Lemon Rounds. I found these in the bakery area, where loaves of bread are kept. There are seven soft cookies in the clamshell case. These contain milk and eggs. The flours used in the cookies include brown rice flour, potato starch, white rice flour and almond flour. They are lemon-y without having an excess of pucker power.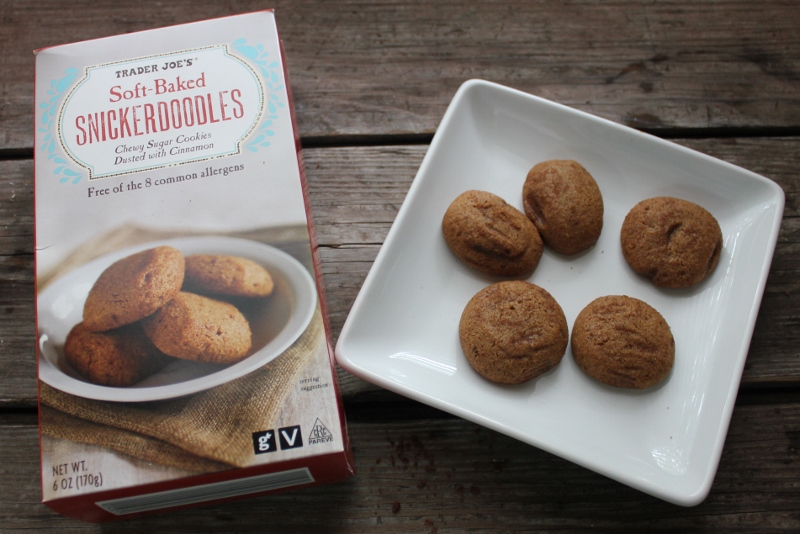 Up next, the Soft-Baked Snickerdoodles. This cookie is free of the top 8 allergens. It reminds me of the Enjoy Life Snickerdoodle. Hmmm…. There are 12 little cookies in the box and they are very soft. For someone concerned with how a gluten-free product is manufactured, these cookies would be high on my recommended list. While none of the cookies offered at Trader Joe's claim to be made in a gluten-free environment or are certified gluten-free, this cookie is the one that I would guess could be made in a gluten-free facility.*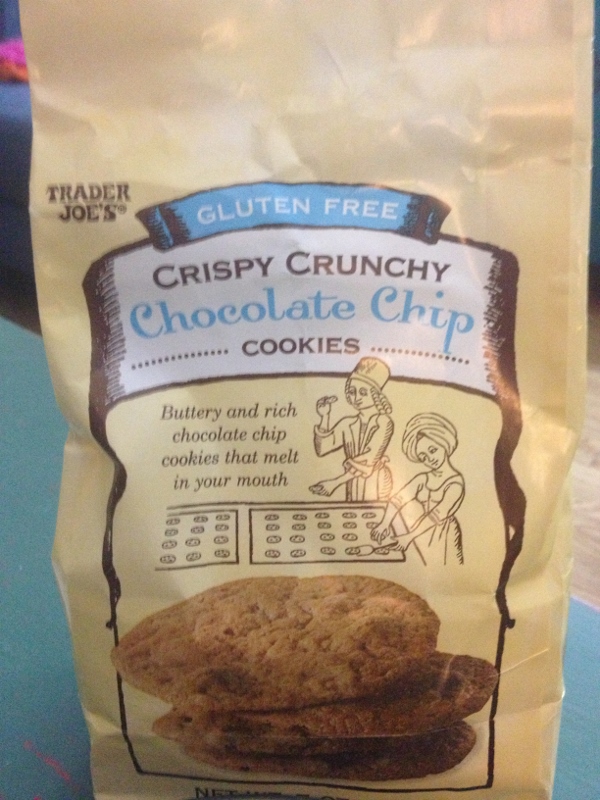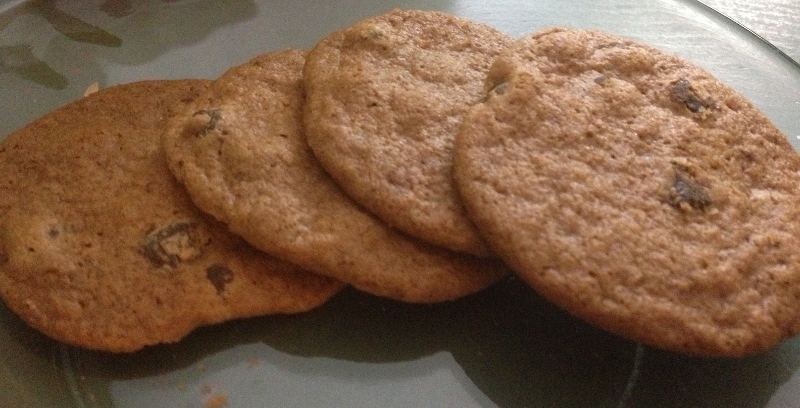 Last on my cookie adventure is the Crispy Crunchy Chocolate Chip Cookie. These come 14 to a package and they are exactly as described, crispy and crunchy. Not for everyone, they contain dairy, eggs and soy. These had disappeared from my local Trader Joe's for awhile but reappeared recently.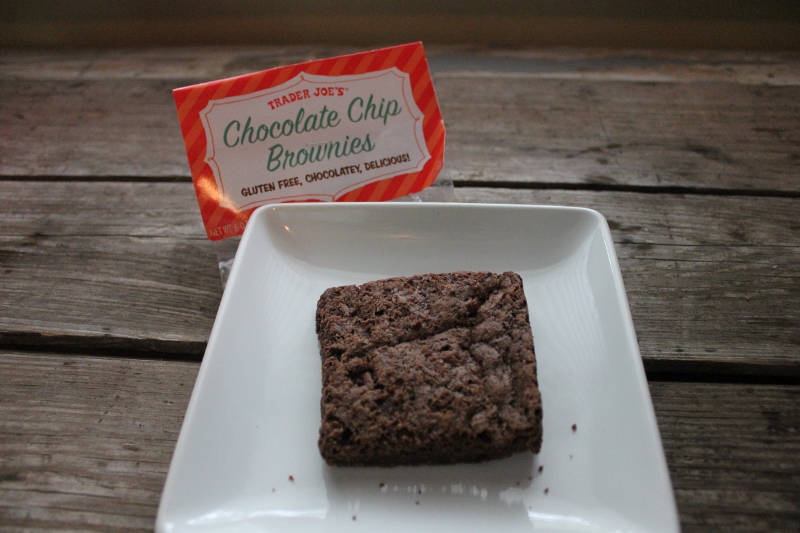 I did buy one more gluten-free item while at Trader Joe's, the gluten-free Chocolate Chip Brownies. They come two to a package and like the Iced Lemon Rounds, are found near loaves of bread. They contain milk, eggs and soy. The package does clearly say though that they are made in a wheat, peanut and tree nut free facility. I didn't eat this, my favorite fella did. He said they were soft on the inside with a bit of that crunchy exterior he likes in a brownie. I've got nothing else on this except that they looked good and were intact in the packaging. When I first went gluten-free, it was pretty typical to see crumbles of what was once a cookie or a brownie on store shelves. These brownies were in one piece, as were the other cookies sampled for this post.
So there you have it, a look at the new Gluten-Free Joe-Joe's and other gluten-free cookies from Trader Joe's. I'm excited to hear what y'all think of these, too.
*Trader Joe's labels many products with a "g" symbol, indicating no gluten ingredients were used. I have only located one product in their stores that contains information on the label regarding whether or not the manufacturing facility is gluten-free. That would be the gluten-free Chocolate Chip Brownies. Please take this into consideration when indulging in any products, at Trader Joe's or otherwise. Just because a product is labeled gluten-free does not mean that it has not been subject to cross contamination. I hope one day there will be labeling standards so we know that a product is indeed gluten-free and has been tested so we know for certain it is safe to eat.
Full Disclosure: This post contains affiliate links. If you make a purchase, I make a small commission. My goal is to one day make enough from affiliate links to pay for the cost of maintaining this website. I appreciate your support.