This post contains affiliate links. See my disclosure for more information.


For the most up-to-date information on gluten-free offerings at Trader Joe's, please visit the list on their website. Try as I may, ingredients, voluntary "made on shared equipment" statements and regional suppliers change. This list contains what I purchased on the date of this post. While I try to maintain the most current offerings, it is best to always ask the business itself for the latest information.
Like most folks who live near a Trader Joe's, I find myself shopping there pretty often. I get organic produce for a great price, steamed beets that make my salads tasty and affordable cheeses that rival a gourmet cheese market. Once I even saw Elvis shopping at Trader Joe's in Las Vegas.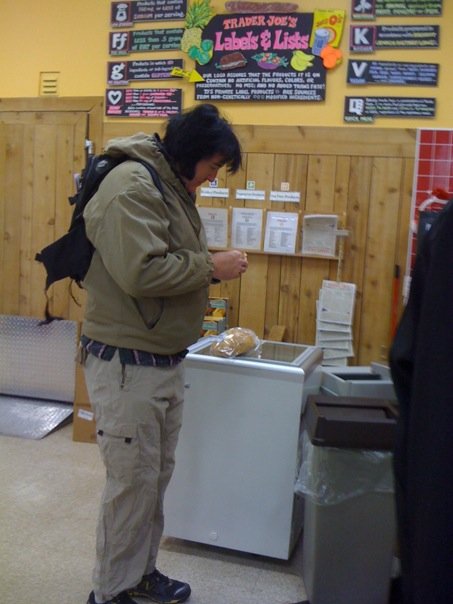 Folks who haven't shopped at Trader Joe's ask me why, what's the big deal? For me, the big deal is primarily cost. I can buy many items for fraction of the price at the supermarket. Organic produce is often priced similarly to conventional produce elsewhere. Ingredients are a big deal to me, I never have to worry about artificial colors or HFCS in products at Trader Joe's.
There are a fair number of gluten-free products in the store and many products are labeled with a "G", which means no gluten ingredients used. As with any store, please read the labels carefully! Products can change overnight, suppliers can change overnight, products vary by region. I do not receive updates from manufacturers and can only post what is current in my region based on my visits to the store. Although many products at Trader Joe's do not contain gluten ingredients, they are manufactured in a shared facility that does use wheat. You know your needs better than I do; buy only those products you feel safe consuming.
Below is a list of the products I most frequently buy at Trader Joe's. I've created the list aisle-by-aisle to help you easily locate the items. If you have a healthy, gluten-free product you buy at Trader Joe's that isn't on the list, please leave a comment below. Let's help each other shop!