This post contains affiliate links. See my disclosure for more information.


One quick tip before I dive into the list: Take your own shopping bags to Trader Joe's. I'm not suggesting this just because it's environmentally friendly. Trader Joe's has a gift certificate drawing for customers with reusable bags. Bring your own bags and get an entry into the drawing to win a store gift card. I like that incentive and have even won once! (These are my favorite shopping bags. And these are the reusable produce bags I use.)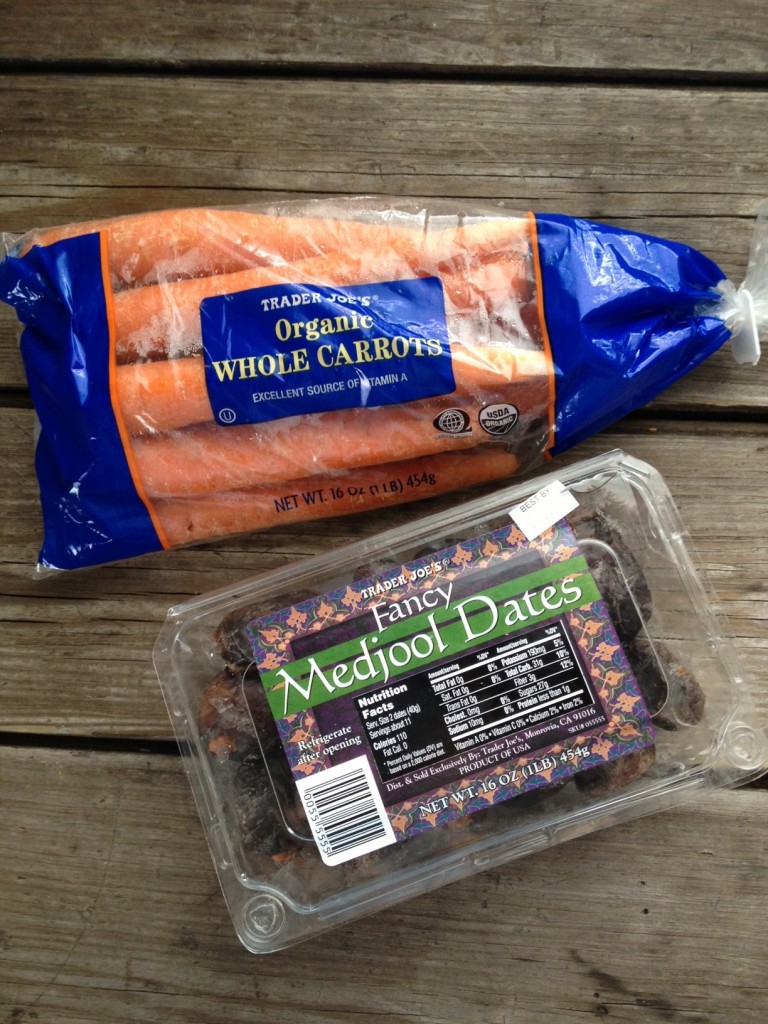 Produce
Organic Romaine Hearts
Organic Carrots (watch for Rainbow Carrots, too!)
Organic Celery Hearts
Organic Sweet Potatoes
Organic Steamed Baby Beets
Organic Baby Spinach
Butternut Squash, cut into cubes
Organic Blueberries
Medjool Dates (almost hidden on the top shelf, half the price of most stores!)
Super Firm Organic Tofu
Organic Fruit is often very affordable, take a look to see what looks good!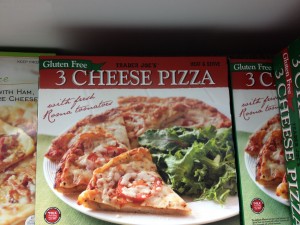 Frozen Foods
Organic Brown Rice Packets (I can cook rice quickly, but sometimes don't plan well. Lifesaver for me!)
Gluten-Free Pizza (read my review here)
Gluten-Free Toaster Waffles (I don't eat these often, but they are the best I have tried. And only $2!)
Organic Frozen Veggies, offerings vary, read labels. In the Winter, I buy frozen Brussels sprouts here. Do not include fries on your list without reading labels carefully, I noticed some of their frozen fries aren't gluten-free.
Organic Riced Cauliflower
Bread Area
Udi's bread, buns and bagels (No longer in the KC area stores, replaced by store brand)
Corn Tortillas
Store brand of white bread, multi-grain bread and buns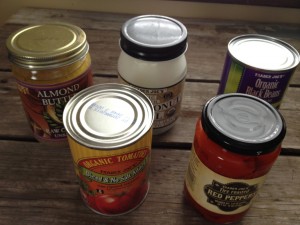 Canned Foods Aisles
Organic Diced Tomatoes
Organic Crushed Tomatoes
Organic Black Beans
Organic Tomato Paste
Crushed Garlic in a jar (works great in a pinch if out of fresh garlic!)
Roasted Red Peppers in a jar
Pickle Relish (no HFCS!)
Organic Marinara Sauce (only a few cents more than conventional, great price!)
Pizza Sauce in a jar
Pink Himalayan Sea Salt in a grinder
Cold Pressed Olive Oil
Coconut Oil (To me, the Trader Joe's brand has a distinct coconut flavor. If you don't like coconut, buy a different brand.)
Balsamic Vinegar
Raw Almond Butter
Vegetable Broth in a box (regular and low-sodium varieties available)
Applesauce Cups, unsweetened (each cup is 1/2 cup, which is great when a recipe calls for a small quantity.) (It has been reported that these are now labeled "contains natural flavor." I do not know what this natural flavor is, so use caution. I have contacted Trader Joe's but it is rare to get a reply from them.According to this post from a trusted expert, it is unlikely any natural flavor would be something that contains gluten.)
Organic Pumpkin Puree (seasonal, stock up when you spot it!)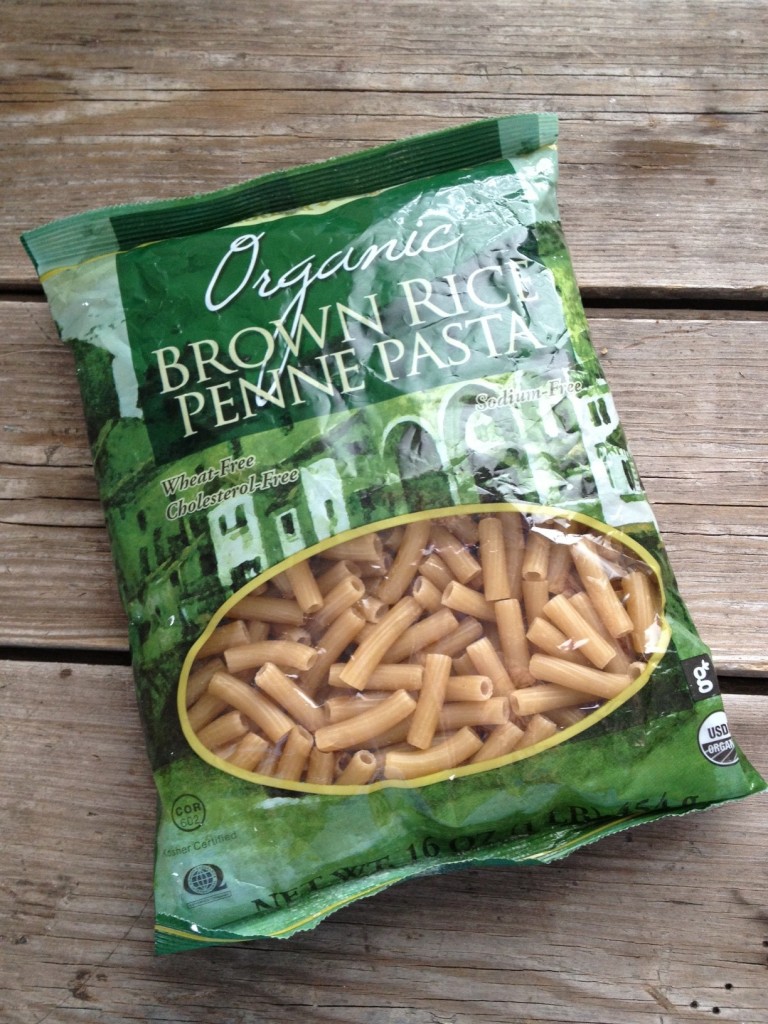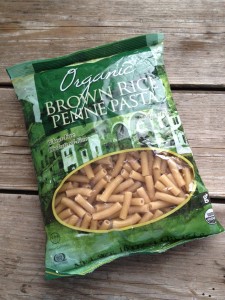 Pasta
Brown Rice Fusili
Brown Rice Spaghetti
Black Bean noodles
Corn Penne
Pantry Staples
Gluten-Free Oats (These are a product of Canada. Until early 2016, oats labeled gluten-free from Canada may come from Purity Protocol suppliers. That isn't always the case now, so better safe than sorry.I read the statement in the Fearless Flyer about their oats but the wording doesn't make it super clear to me whether these are sorted oats or purity protocol.)
Almond Milk (Almond Breeze, same as supermarket, just a great price! Also available as a store brand without carageenan.)
Chia Seeds (little purple bag OR yellow bag, around $5)
Hemp hearts
Maple Syrup, Grade A and B are priced similarly and there is a Vermont-only bottle available.
Dried Fruits and Nuts
Raw Pepitas/Pumpkin Seeds
Pine Nuts (amazing price!)
Sundried Tomatoes, NOT in oil, in a baggie (these are sometimes with dried fruit, sometimes with canned tomatoes)
Check bags of nuts and dried fruits; Trader Joe's is now labeling many products with the voluntary, "Made on shared equipment" or "Made in a shared facility" statements to many products and those can contain wheat. Always read labels.
Sweet Treats and Cookies
I wrote an additional post all about the gluten-free cookie options at Trader Joe's. Click here to read it. There are many options, my favorite being the Gluten-Free JoeJoe's, an oreo-like cookie. There are other cookies that very much resemble
Trader Joe's has a No Gluten Ingredients Used list on their website. My list is not intended to provide a comprehensive list of all gluten-free products in the store, just the ones I use most. It is up to date BASED ON THE PUBLISHING DATE. Because ingredients and suppliers change frequently, as well as suppliers being regionally specific with Trader Joe's, I have done my best BUT you are responsible for reading labels and making your own buying decisions. Try as I may, items change quickly so you must read labels. I hope this is a good resource for those of you cooking the recipes I share here on my blog and also those who attend my classes. When I first made dietary modifications, knowing where to get the goods was really helpful to me and I hope this helps you! Shop on, happy eaters…