This post contains affiliate links. See my disclosure for more information.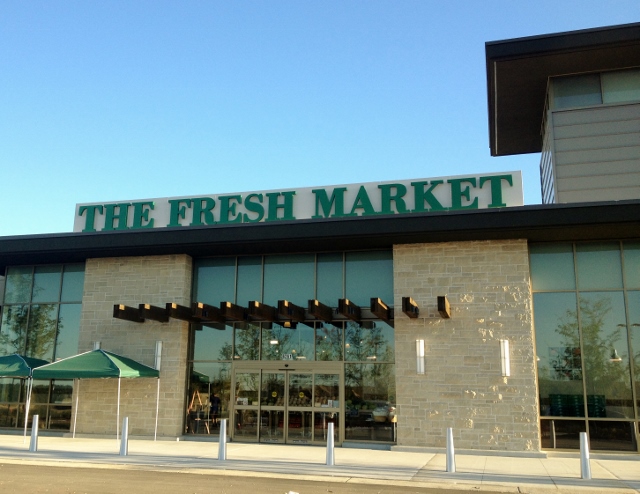 I was invited to attend a sneak peek event of a new location of The Fresh Market opening near me in Overland Park, Kansas. I can't begin to tell you how excited I was to get a glimpse of a never-shopped-in store.
Perhaps this is just another indicator of my food nerd-ism, but I love grocery shopping. When I eliminated gluten, I found myself spending hours reading labels, searching aisles for ingredients I'd never heard of. The grocery store became a new adventure for me, a place I knew I could find the answers to how I could continue eating with my new guidelines. So the chance to visit a new store, one that is completely new to my area, was exciting!
A small group of us were led on a tour of the store, along with several sample stops along the way. But before the tour even started, I eyed these beautiful nectarines. I just spotted a peach recipe round-up at All Gluten-Free Desserts, perfect timing!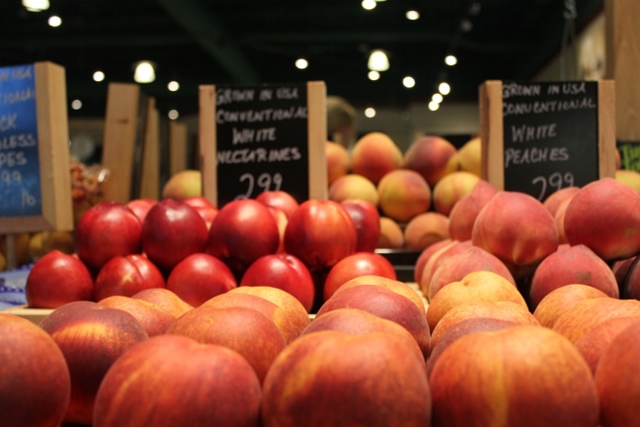 Oh, the beautiful produce section! Lots of conventional and organic fruits and veggies, much of it local. I like The Fresh Market's labeling system of the Local 100 and Regional 300 items,, indicating items sourced within 100 miles or 300 miles.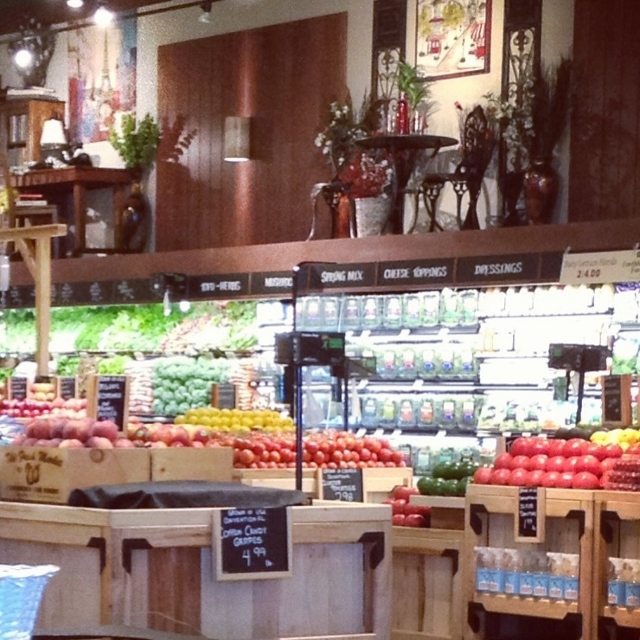 The bakery counter, all items baked in house, was definitely drool-worthy. Unfortunately nothing I could try, but sure fun to look at and get a little inspiration for home baking projects.
After seeing this display of one of my favorite gluten-free crackers intermingled with a non-gluten-free snack mix, I asked about their gluten-free labeling. They do have gluten-free tags marking products in the aisles and only use those tags on items that the manufacturer has labeled gluten-free. As with any store, you should still read product labels. I initially was excited to check out the bags of snack mix intermingled with the crackers, thinking I had discovered a new gluten-free item (by association of proximity to the crackers) and quickly discovered it contains gluten. Keep reading labels, folks, but know The Fresh Market is taking steps toward making it easier with the on-shelf labeling.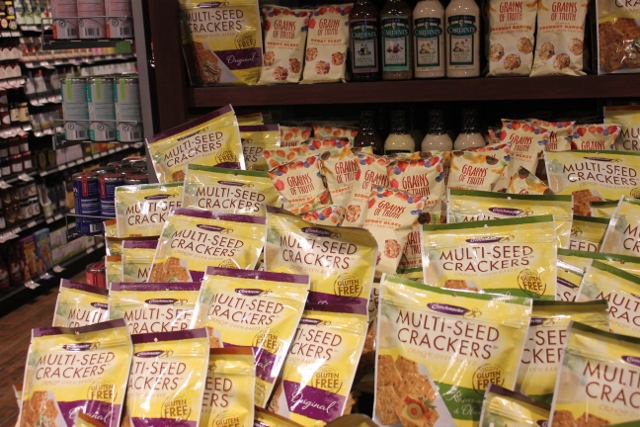 The Fresh Market has in-store Fresh Flavor Cooking Demos taught by a chef. We watched a demo for Blackened Steak with a Cabernet Blue Cheese Sauce. While I couldn't sample it, it was a terrific demo. Each month they offer a different demo and along with a sample, you get a recipe card. They also have an Inspirations publication, part sale ad, part food magazine. The copy I picked up has several recipes that are easily modified to fit my dietary plan.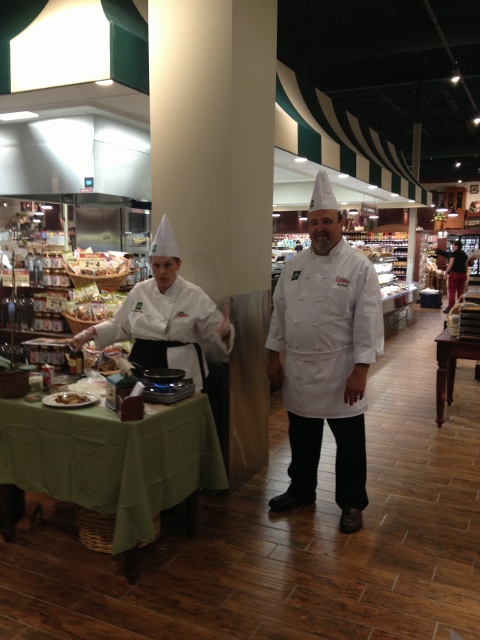 Speaking of publications, look what I found in the store: Simply Gluten-Free Magazine! I also spotted several other magazines that are faves.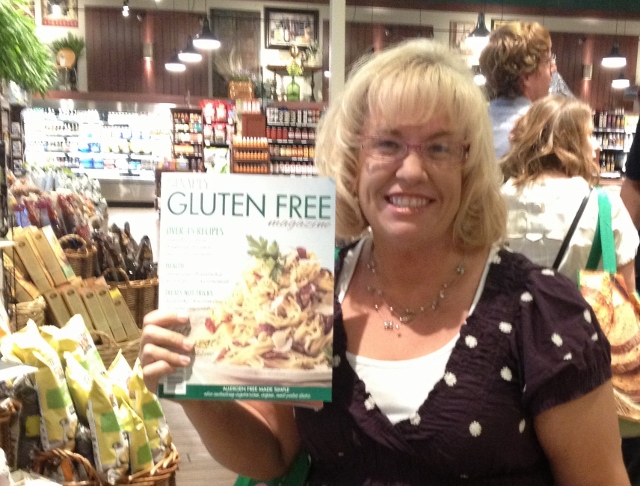 It was fun to see local coffee connoisseur and founded of The Roasterie, Danny O'Neill, in the store. He shared a bit of company history with us, talked briefly about where coffee is grown and how The Roasterie selects beans before serving coffee. I had the EthiopianYirgacheffe Fair Trade Organic. It's no secret I'm a big fan of Roasterie coffee and I'm happy to see The Fresh Market is carrying their product.
Another stop along the tour took us to the cheese department. We learned what the stamps on a wheel of Parmigiano-Reggiano mean, how long the cheese is aged and a bit about the process. I was surprised to hear it takes 165 gallons of cows milk to make an 85 pound wheel of cheese. Everywhere we turned in the store, there was a staff member with a great amount of knowledge about their area of the store. So nice!
A big YAY about this: there is a store brand at The Fresh Market. One of my greatest challenges is eating healthy on a budget so I often look for store brands. Here are a couple of the items I tried from The Fresh Market:
The Vidalia Onion with Dijon Mustard salad dressing made a great marinade for veggie kabobs.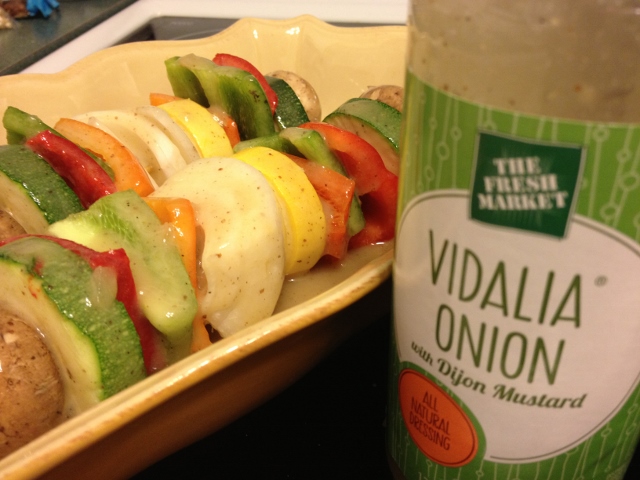 The Hot Salsa was great with chips. I rarely buy salsa at the store, preferring homemade and questioning the ingredients in many, but was thrilled to read the label on this one. The ingredients are so simple: tomatoes, onions, cilantro, habanero peppers, garlic, salt and lime juice. Pretty similar to what I make at home!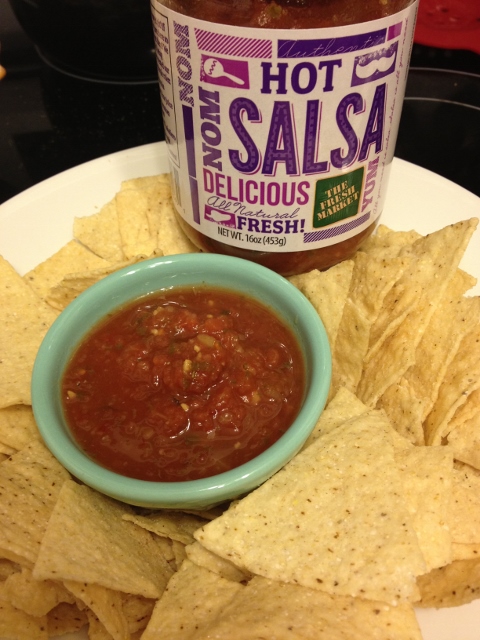 A few other areas in the store caught my eye, including the spices, the beautiful candy aisle and the large seasonal display loaded up with fall and Halloween goodies. I can already tell I'm going to like shopping at The Fresh Market!
The Fresh Market visited in this post is located at 6261 West 135th street in Overland Park, Kansas.
Full Disclosure: I received a goodie bag and store gift card while attending the Sneak Peek event. No further compensation was received for this article. The opinions expressed are my own, as always.