This post contains affiliate links. See my disclosure for more information.


Recently I was working in a city where an Ironman Triathlon was being held. I saw a guy wearing this shirt the day before the race: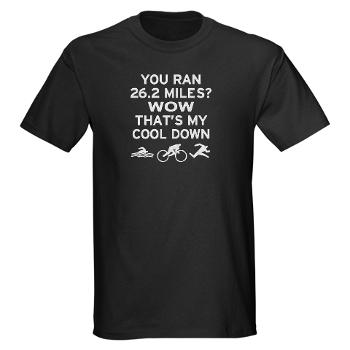 I asked him what it meant, even though I had a pretty good idea what the point was. He told me that marathoners think they are Bad Ass, but he runs a full marathon as a cool down after swimming 2.4 miles and biking 112 miles. Which is not just Bad Ass, but it makes him a BAMF. (Click here if you don't get the acronym. I'm not spelling it out because, well, language.)
My immediate reaction was to feel dismissed. Like completing a marathon wasn't enough. And that message isn't simply external, it's an internal one for many of us. I can remember on the 3 hour car ride home after a marathon rambling about the ultra marathon I was going to do next. Because, see, I was sucked into the "never enough" cycle. I had to constantly do more, go further, be faster, essentially be more Bad Ass than the next guy or gal. Instead of celebrating the completion of a big goal, I was already moving on to the next thing.
For days, I thought about what it means to me to be a BAMF. Diana Nyad qualifies. She had a dream, a goal, and never gave up on herself. My neighbor, young mom of two, just completed her first 5k. She, too, qualifies. A friend completed the Ironman I mentioned above. He qualifies as well. Some days I feel pretty darned Bad Ass riding my bike to the post office. No big mileage, no race t-shirt, just a bit of recognition that I made a healthier choice for me. And you? I bet you've already done something in your life that qualifies you for your very own BAMF badge.
So here's the thing, what I really want you to understand in what I'm saying. No matter how small your goal may seem in comparison to someone else's, allow yourself to revel in your BAMF-ness when you complete your goal and conquer the task. It's YOUR goal. No need to compare it to anyone else. No need to minimize anyone else's goals or accomplishments. Just do your thing, whatever that thing is. And don't forget to award yourself a BAMF badge. You've earned it.