This post contains affiliate links. See my disclosure for more information.


In addition to my I Ate Here and I Shopped Here series, I'm adding I Vacay'd Here. I work super hard so I can play super hard and want to share more of my travels with you. I hear often, "It's such a hassle to travel gluten-free." I want to share with you how very possible and enjoyable it is. You'll notice I'm adding Travel Tips to many of my I Ate Here posts as well. So get out there, explore the world, have a memorable meal out. And check back here for tips on how to do it!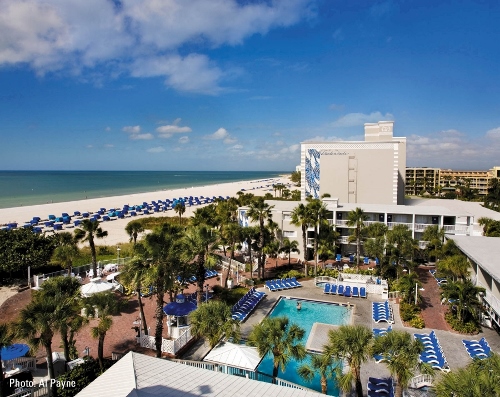 If you follow me on Instagram, you know I'm a sunset chaser. As often as possible, I stop to watch the sunset and celebrate, if just for a moment, the joys of the day. There is no better place to watch a sunset than at TradeWinds Island Resorts on St. Pete Beach, Florida.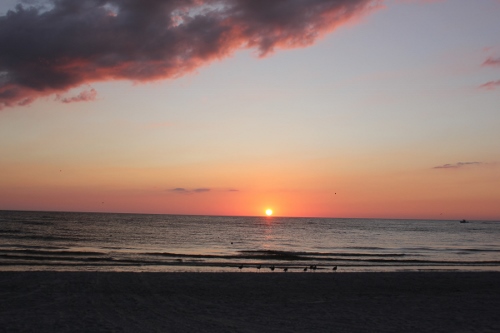 So what's that got to do with gluten-free food, you ask? Well, if one is going to enjoy the sunset, the perfect white sand beach, the five heated pools, the spa and the tiki bar, food will become a necessity. TradeWinds has it all in one spot, you can eat every meal without leaving the resort!
Even though I'm not much of a morning person, I love the quiet beach. This is the view from the room I stayed in at TradeWinds: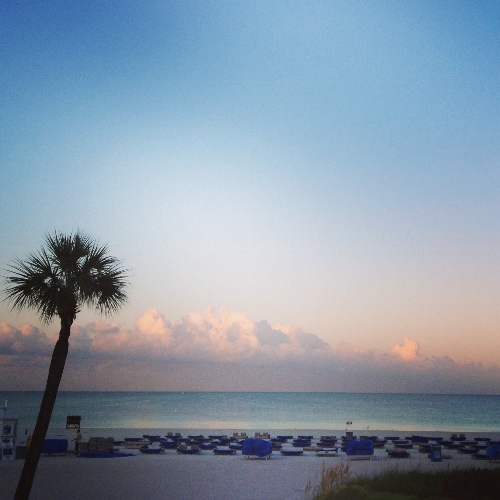 After taking in this view, my favorite thing to do is head down to the lobby to get a coffee at the Awakenings Bar.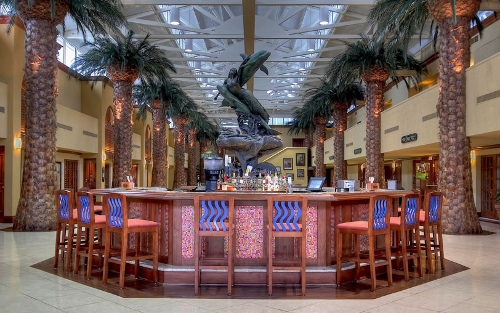 Some mornings call for more than coffee. I had gluten-free French toast one morning at Bermudas.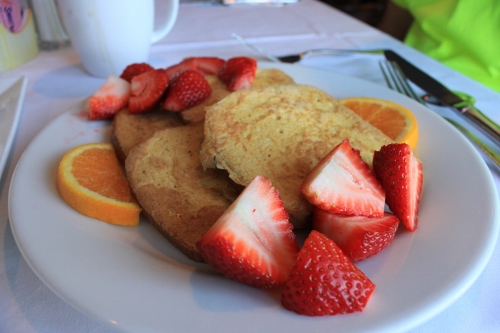 While Bermudas is an indoor restaurant, it feels like being outside. My French toast, made on rice bread, came with a side of potatoes cooked in a dedicated fryer. Ask for the manager when ordering and he will connect with the folks in the kitchen to warm up their dedicated gluten-free fryer.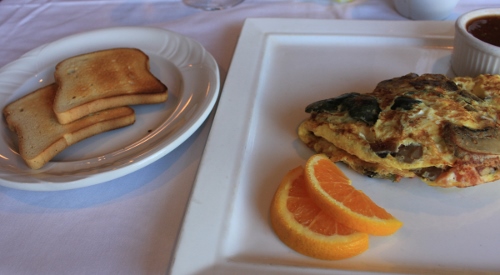 My favorite fella had a wonderful omelet with gluten-free toast. While I wished for a better gluten-free bread option than rice bread, this was a terrific meal and a lovely way to start the day.
My favorite spot during the day and after sunset is Salty's. Salty's is a tiki bar, steps from the beach. It's a great spot to grab a frozen cocktail and a light snack.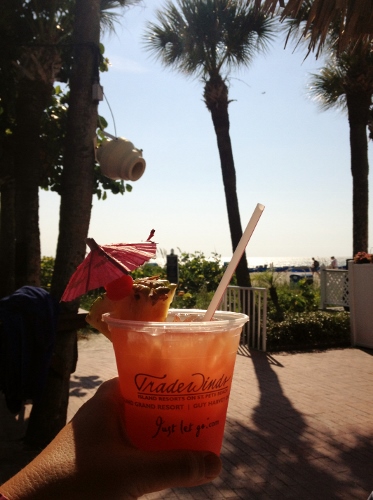 There is a short food menu available. I asked if the pita bread with the black bean hummus could be substituted with something gluten-free. A quick check-in with the kitchen and our server said it could be served with a gluten-free corn tortilla. Perfect! The vegetable kabobs were also a nice nibble to share.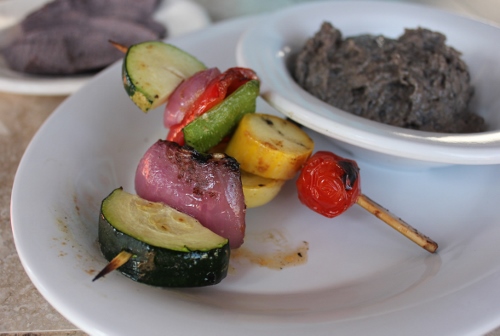 My favorite fella and I could spend hours playing WallHooky, sometimes called Bimini Ring Toss, at Salty's. Barefoot, blissed out, playing a silly ring toss game on a gorgeous stretch of beach isn't a bad way to spend an evening or two…or twelve!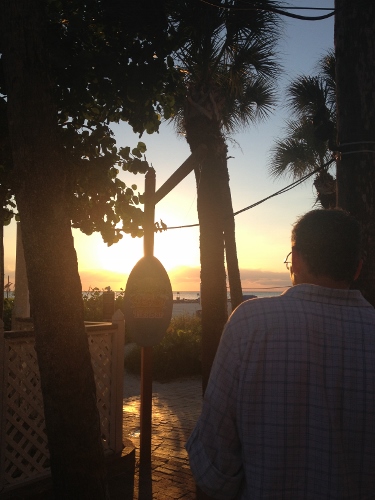 Late one evening after the sunset we just wanted a quick bite to eat. We visited Flying Bridge, a Florida cracker house that appears to be floating over the waterways that weave through the resort. The vegetable wrap on the menu sounded like just the right thing for a light meal. I asked our server if it could be made gluten-free and off she went to check…she discovered gluten-free wraps available. Yay! It was a perfect light meal. (Tip: if you see something on the menu that looks like it could easily be modified to gluten-free, just ask. The wraps are not listed as gluten-free on the menu, but a quick inquiry made it possible.)

I'm going to save dinner at Palm Court, the resort's Italian restaurant, for a post of its own. The meal I had there deserves a full post. The dinner was memorable, the food perfectly prepared by the chef who paid careful attention to my dietary needs. In my many travels, the meal I had at Palm Court was one of the best I've had. So more soon…
If you' don't feel like dining out, there are quite a few gluten-free food items available in The Deli. I spotted chips clearly labeled gluten-free and several options in the cold case including fruit cups and a gluten-free salad. There is also a nice wine selection in The Deli.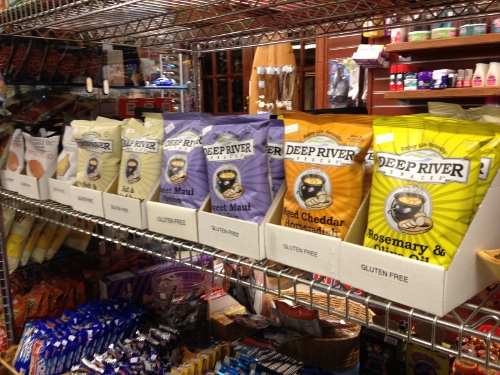 Now that I've told you about the food, I want to share a few other reasons you should visit.
The beach. Surely the photos tell you more than my words ever could. This is one of my very favorite beaches. There's not much I would rather do than get a TradeWinds cabana (which you can reserve a day ahead as a resort guest!), a good book and an iced tea. It's my idea of a perfect afternoon.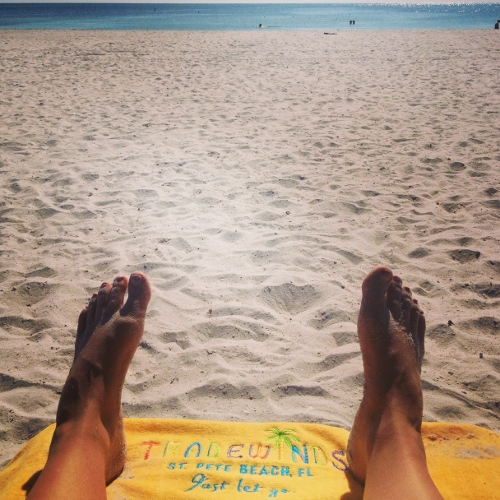 When I get too warm, I go for a quick dip. A walk down the beach turns up lots of seashells, another bonus of this perfect stretch of beach.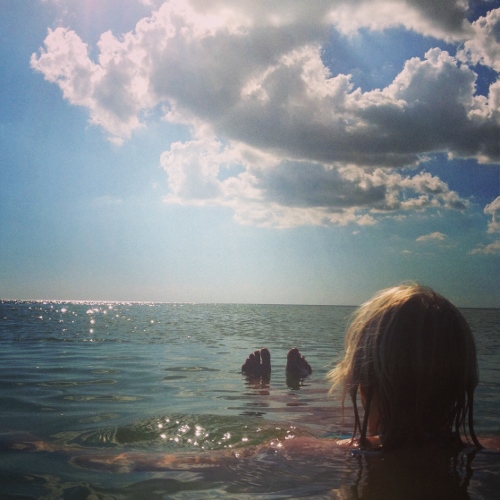 The rooms are so nice, recently renovated and very well outfitted for a beach visit. I stayed in a gulf front suite on this visit, which has a full kitchen. All of the rooms have microwaves, refrigerators and a toaster, so even if you opt for a standard hotel room, you can keep your own stash of gluten-free goodies handy. This makes traveling with food restrictions much easier!


Walk your dog. Yep, this resort is pet-friendly! They even have an off-leash dog area with super cute painted chairs so you can relax while your pooch romps around. I often travel with one or more of our fur kids and know how challenging it is to find a pet-friendly beachfront resort. I love that TradeWinds has a solution to this!
I mentioned the amazing sunsets. During my recent stay, I was even treated to a dolphin show minutes before sunset. Seeing dolphins in their natural environment at sunset was a memorable way to end the day.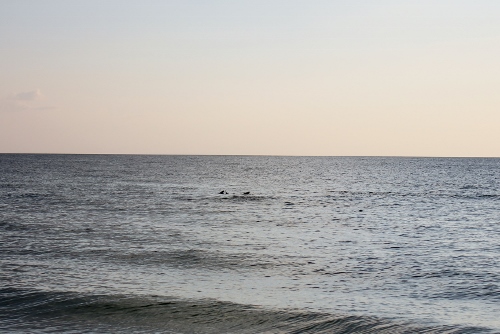 The activities. There are more than I can list, but it's safe to say you won't get bored. There's a giant water slide, all sorts of beach and water activities like Stand Up Paddle Boarding, parasailing, jetlev, even floating cabanas! I caught a bit of a dive-in movie being shown poolside, watched folks playing mini golf and went on a sunset sail from Dolphin Landings, which is close enough to walk to. I have trouble letting go and not staying busy, even on vacation, and have found myself bored at a resort before. That isn't going to happen at TradeWinds. I left wishing I had just a couple more days to do everything I would have enjoyed.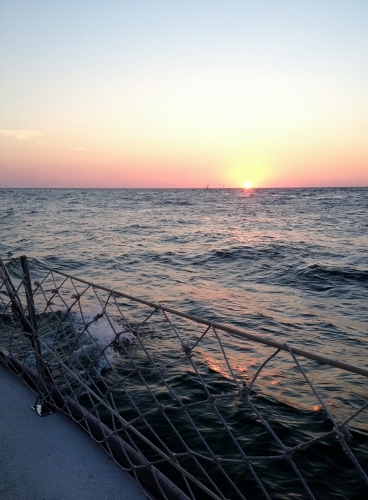 TradeWinds is located at 5500 Gulf Boulevard, St. Pete Beach, Florida. The dining and accommodations mentioned in this post are at TradeWinds Island Grand. There is a sister property, Guy Harvey's Outpost. I didn't visit the Outpost on this visit but have stayed there in the past. Both properties share the same gorgeous stretch of beach and sunsets. Did I mention the sunsets? 😉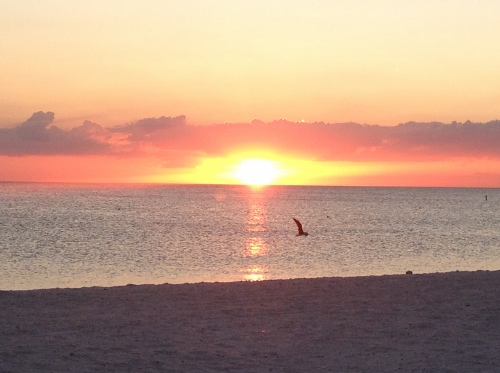 Johnna's I Ate Here, I Shopped Here and I Vacay'd Here series are not intended as restaurant, shopping or lodging reviews, rather a summary of Johnna's experiences. You may or may not have a similar experience. Menu prices, items and ingredients featured were current at the time of writing. Please read the menu carefully and ask your server for assistance in ordering if you have dietary restrictions. It's a good idea to call ahead and let the restaurant know of your food needs.
Full Disclosure: I received a media rate for my accommodations at the TradeWinds. I also received a complimentary meal for two at Palm Court and a welcome gift that was lovely. No further compensation was received. The opinions expressed in this post are my own.