This post contains affiliate links. See my disclosure for more information.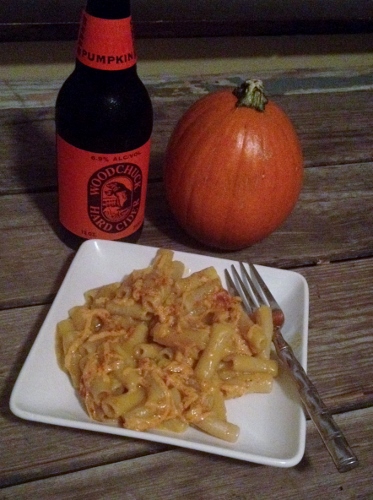 Last Winter I went a little crazy making all sorts of creamy, cheesy sauces with butternut squash and nutritional yeast. Last week I craved comfort food and was thinking about making a similar sauce again. Since it's the season of all-things-pumpkin, I started wondering how I could use pumpkin for a similar sauce.
Truth be told, it was really mac 'n cheese I was craving. That's the king of comfort food for me. Creamy, cheesy goodness with pasta, baked in the oven until the top has a little crunch to it. It really doesn't get much better. With an abundance of pumpkin puree right now, working it into a dairy-free sauce was a good plan.
So here's the outcome. You're gonna love this part: this recipe makes sauce for THREE batches of mac 'n cheese. Make one batch the day you make the sauce, split the others and refrigerate or freeze them for use later. Talk about a quick weeknight meal, already prepared sauce for mac 'n cheese so all you need to do is boil your pasta and pop this under the broiler for an easy meal. I think that's what I'll do for dinner tonight!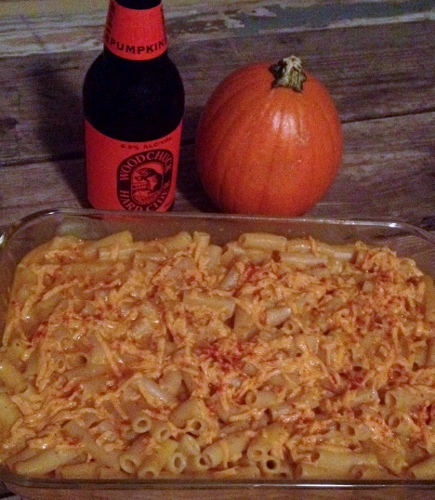 Quick note: I used Woodchuck Hard Cider's pumpkin flavor to make one batch of this. I've also used just a regular, non-seasonal flavor hard cider to test a batch. While I like the flavor of the pumpkin cider, this is great with a regular hard cider as well. I share this because in a few weeks, the pumpkin cider will be gone. I don't want you to limit your consumption of this creamy, cheesy dish to the time of year when pumpkin cider graces the shelves.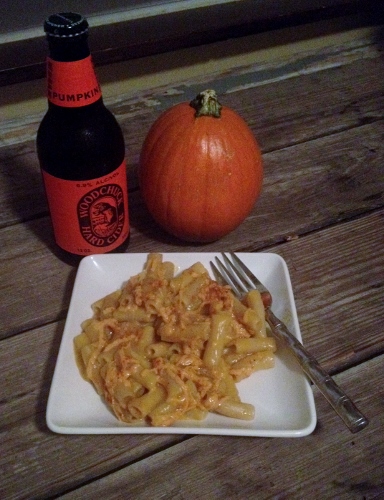 Pumpkin Mac 'n Cheese (gluten-free, dairy-free, vegan)
Ingredients
3

Tablespoons

coconut oil

3

Tablespoons

brown rice flour

1

cup

hard cider

(I've used Woodchuck hard cider pumpkin and also a standard apple hard cider)

2

Tablespoons

maple syrup

2

cups

unsweetened non-dairy milk

(I used almond milk)

1

teaspoon

ground mustard

1/4

teaspoon

nutmeg

pinch ground cloves

pinch cayenne pepper

1-15

oz

. can pumpkin puree

1 3/4

cup

Daiya cheddar style cheese shreds

smoked paprika

, to sprinkle on top

12

oz

. gluten-free pasta PER BATCH

(this recipe makes enough sauce for 3 two-quart casseroles)
Instructions
This recipe makes sauce for THREE two-quart casserole dishes of mac 'n cheese. You will use 1/3 of the sauce with 12 oz. of pasta. Reserve the remaining sauce for use another time.
In a large saucepan over medium heat, melt coconut oil.

Add in brown rice flour and whisk for 3 to 4 minutes. This will not clump the way butter and regular flour will when making a roux, but whisking is important to prevent browning.

Add in hard cider. Reduce until it has nearly evaporated and sauce base is thick.

Add maple syrup and milk, along with spices. Cook for 7 to 8 minutes, stirring occasionally, until it is thick enough to coat the spoon.

Whisk in pumpkin puree and Daiya shreds. Stir until sauce is thickened and Daiya shreds are incorporated.
To make into baked Mac 'n Cheese:
Prepare 12 oz. gluten-free pasta according to package instructions. Drain and place in a 2 quart baking dish.

Pour two cups of the prepared sauce over the top of the pasta, stir to combine.

Top with 1/4 cup Daiya shreds.

Place under the broiler, heating until the top is just starting to brown. Sprinkle with smoked paprika. Regular paprika is fine, too, but the hint of smoky flavor is a nice addition with the pumpkin and fall spices.
Recipe Notes
This recipe was inspired by a pumpkin mac 'n cheese recipe Rachael Ray demonstrated on her show back in 2011. I've modified it to be gluten-free, dairy-free and vegan. I like to give credit where credit is due, so kudos to the Rach for this one!