This post contains affiliate links. See my disclosure for more information.


While traveling recently, I had Bananas Foster French Toast that blew. my. mind. Like one of the best meals of my life. Can't stop thinking about it, wish I could have it every single day for breakfast, that kind of good. I'm gonna tell you all about it soon. It seems like I'm traveling non-stop lately, stopping only to make a few meals at home before hitting the road again. And I love it!
But first, I'm going to share what I've been eating when I find myself at home. My favorite fella likes pancakes more than French toast. So we've been having Bananas Foster pancakes, inspired by that amazing French toast I mentioned. Easy enough for a weekday breakfast, fancy enough for a special occasion.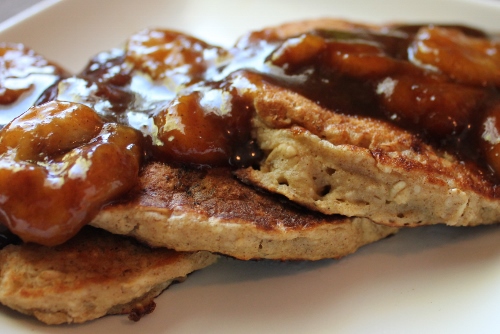 I gotta say, as you can see this photographed so ugly. Please don't let that keep you from making this. I'm sharing it because it tastes great, not because it's pretty. I'm committed to sharing tasty dishes with you, not just the photogenic ones.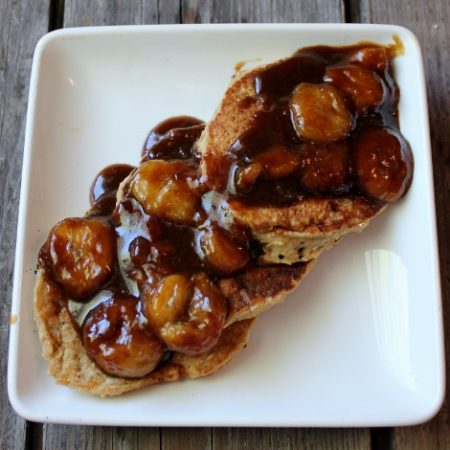 Banana Pancakes with Bananas Foster Topping
Ingredients
For the Pancakes:
1 1/4

cup

oat flour

(you can process gluten-free oats in your blender or food processor)

3/4

cup

gluten-free oats

1

Tablespoon

maple syrup

2

teaspoons

baking powder

1/2

teaspoon

cinnamon

1

large egg

1 1/3

cup

unsweetened non-dairy milk

(I use almond)

1

cup

mashed banana

(about 2 medium bananas)

1

Tablespoon

grapeseed or melted coconut oil
For the Bananas Foster Topping
2

Tablespoons

coconut oil

1/2

cup

coconut sugar

1/4

teaspoon

cinnamon

2

bananas

, sliced

1/4

cup

spiced rum

, divided (I use Sailor Jerry)
Instructions
For the pancakes:
Combine all dry ingredients in a large bowl. Mix to combine.

Combine egg, milk, mashed bananas and oil in a medium bowl. Mix to combine.

Add wet ingredients to dry, stir to combine.

Over medium heat, drop pancakes onto griddle 1/4 cup at a time. Flip when bubbles have formed in the middle of batter. Makes approximately 16 pancakes.
For the Bananas Foster Topping:
In a large skillet, liquify the coconut oil. Add coconut sugar and cinnamon, cooking until sugar has dissolved.

Carefully, add 2 Tablespoons of the spiced rum. (It is important to do this carefully, so the rum does not catch fire.)

Add in the sliced bananas, stirring to coat well.

Immediately before serving, add the remaining 2 Tablespoons of spiced rum. Using a kitchen torch, candle lighter or gently tilting pan into the flame if you have a gas stove, ignite the rum. This will create a beautiful caramelized finish on the dish.

Top pancakes with the Bananas Foster topping and serve.
I hope you will give this recipe a try. While not photogenic, it's so indulgent and feels like a gourmet treat for breakfast. It comes together in a hurry, but makes me feel like I'm enjoying breakfast at a tropical resort. If only I had a cabana boy to cook it for me… 😉