This post contains affiliate links. See my disclosure for more information.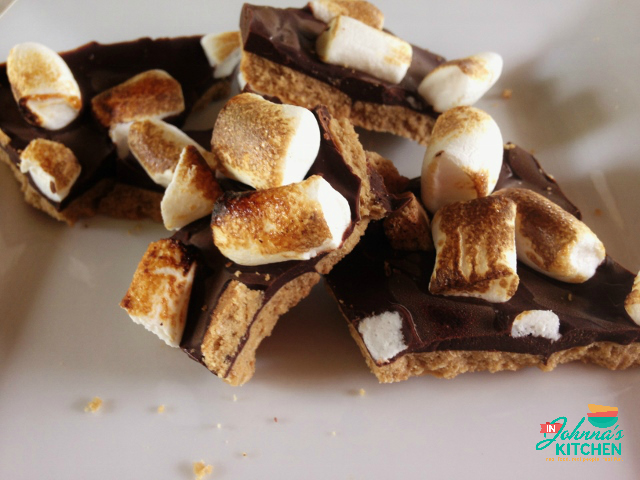 I really have few words for this one. All you really need to know is S'mores. Turned into bark. Quick and easy, no bonfire required.
Ok, so I do have a few more words. This is gluten-free, dairy-free, egg-free and vegan. I used Dandies new mini marshmallows, so the marshmallows are vegan. (Regular marshmallows contain gelatin, which is an animal product.) I used S'moreables graham-style crackers from Kinnikinnick to make mine, however you could make your own graham crackers. This recipe from The Organic Dietician looks great! I used Enjoy Life's chocolate chips, however you could use whatever chocolate you prefer.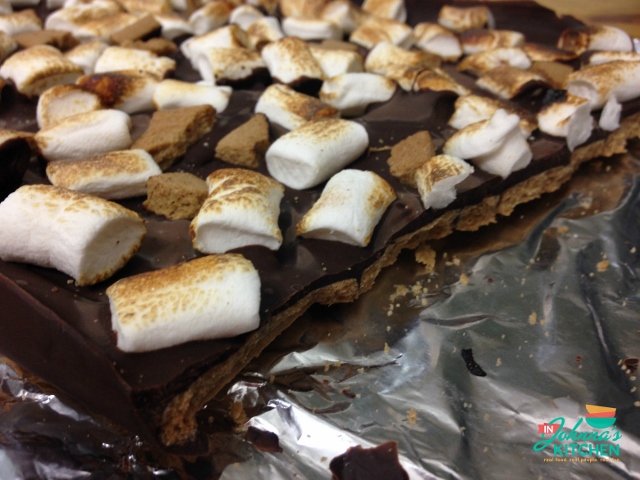 The S'mores flavor really comes from toasting/roasting the marshmallows. As I've explained in the recipe, you can either use the broiler in your oven OR you can use this handy dandy kitchen torch. For me, I have better accuracy using the torch, I'm less likely to end up with burnt-to-a-crisp marshmallows. Plus I use my kitchen torch for all sorts of things, from making Creme Brulee to Bananas Foster Pancakes.
Are S'mores your thing? I've got a few recipes I'd like to share with you: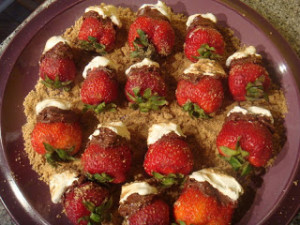 S'mores Stuffed Strawberries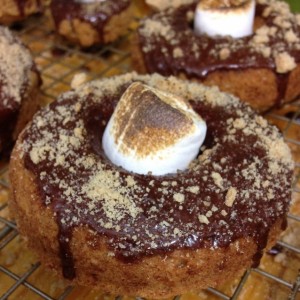 S'mores Donuts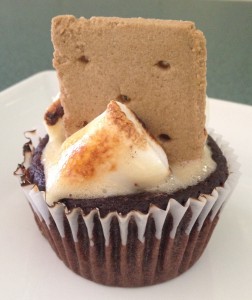 S'mores Cupcakes
Alrighty! On with the show. Here's the recipe for you. Enjoy!
S'mores Bark (gluten-free, dairy-free, vegan)
Ingredients
1 8-

ounce

box Kinnikinnick Smoreables (or enough gluten-free graham-style crackers of your choice to cover the bottom of a 9 x 13 baking dish

1 10-

ounce

bag Enjoy Life Chocolate Chips or Chunks

(or chocolate of your choice)

1/2

bag Dandies mini marshmallows
Instructions
Line a 9 x 13 dish with foil. (Please do not use parchment paper. You will be either placing the pan under the broiler or using a kitchen torch and the parchment can catch fire.)

Place graham-style crackers on the bottom of the baking dish, covering as completely as possible.

Melt chocolate chips using your preferred method, either a double boiler or in the microwave.

Carefully spread the melted chocolate over the top of the graham crackers.

While the chocolate is still soft, sprinkle marshmallows over the top, along with any remaining graham crackers if you'd like. (Using a box of the Kinnikinnick S'moreables, one cracker remains. I break it up into little pieces and sprinkle on with the marshmallows.)

Once you have topped with the marshmallows, give them a gentle press into the chocolate.

Using kitchen torch or the broiler in your oven, toast the marshmallows.

Place pan in the refrigerator or freezer until chocolate is set.

Break into pieces and enjoy!
I am linking this post up with Gluten-Free & DIY Tuesdays and Gluten-Free Fridays. Check out both for many more gluten-free and other-free recipes!
This post contains affiliate links. Should you make a purchase from one of the links in this post, your price remains the same and I may make a small commission. Affiliate links allow me to contain providing high-quality, original recipes tested in my kitchen, along with other information I hope you find helpful. I appreciate your support!