This post contains affiliate links. See my disclosure for more information.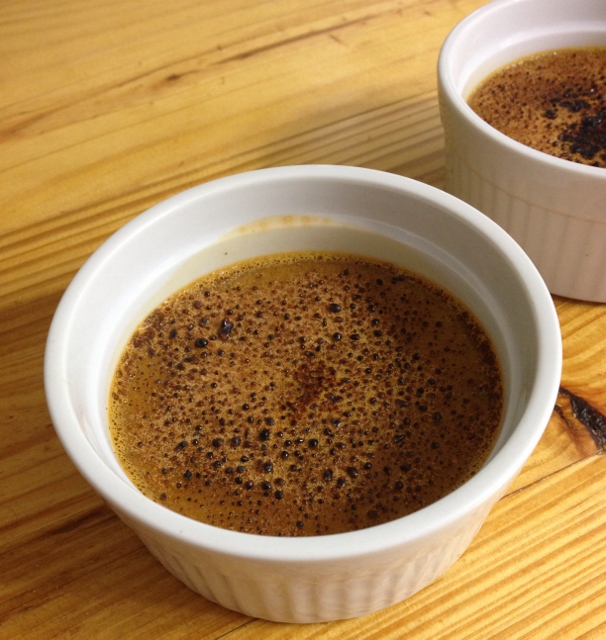 With only two of us in the house, making big batches of dessert is a challenge. I say this because I have limited restraint when it comes to dessert. With this Creme Brulee for Two, that problem is solved.
Know what else is solved? It's dairy-free and also refined sugar-free. If you've been reading my blog for long, you know creme brulee is one of my very favorite desserts and one that results in an occasional dairy indulgence for me. I've never been thrilled with any dairy-free version I've attempted until this one. It's rich, creamy and smooth. And the flavor is divine. I'm glad it only serves two!

You'll notice I've used a touch of Bourbon in the recipe. If that's not your thing, you could substitute spiced rum. Or you can leave it out altogether. I tested the recipe both with and without Bourbon. While I prefer it with Bourbon, it's still very tasty without. Enjoy!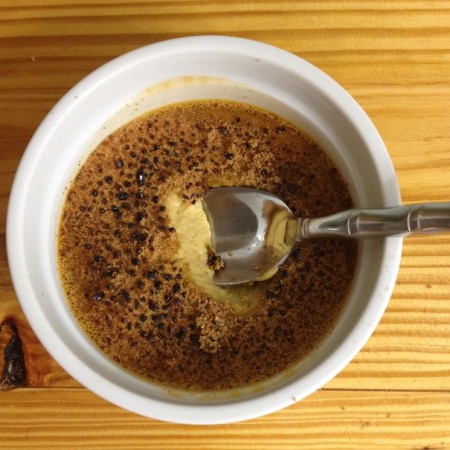 Creme Brulee for Two, Dairy-Free
Ingredients
2

large egg yolks

1

whole large egg

1/4

cup

coconut sugar plus 2 to 4 additional teaspoons for topping

2

teaspoons

Bourbon

1

teaspoon

vanilla bean paste or vanilla extract

1/2

cup

full fat coconut milk

(canned)
Instructions
Preheat oven to 300 degrees.

Gather two ramekins (5 ounce size works well), a shallow baking dish and a tea kettle.

Fill tea kettle with water and place on stove to boil.

While water is heating, whisk together all ingredients except the coconut milk until smooth.

Once mixture is smooth, whisk in the coconut milk.

Place ramekins in baking dish. Fill each ramekin with half of the liquid mixture.

Once water begins to boil, place the baking dish in the oven. Pull the rack out just far enough that you can easily pour water into the baking dish. (This is safer than carrying a baking dish filled with boiling water to the oven.)

Pour the boiling water in so it reaches halfway up the ramekins. Gently push the oven rack back in. Bake for 35 to 40 minutes. The creme brulee is done when there is just a slight wiggle to the center of the ramekins.

Allow to cool. Top with an additional 1 to 2 teaspoons of coconut sugar. Using a

kitchen torch

, brulee the sugar until it is melted. Alternatively, you can place these under the broiler but it is important to keep a very close eye as the sugar will caramelize very quickly. Because this recipe uses coconut sugar, the sugar crust will be darker than with white sugar and will take on a burnt appearance very quickly.

You may eat this at room temperature, or as I prefer to, refrigerate it before serving.
This post may contain affiliate links. If you click on a link and make a purchase, I may make a few pennies, perhaps even enough to buy a bunch of kale. Your price remains the same. The use of affiliate links allows me to continue providing high quality, original recipes that have been tested in my kitchen at no cost to you. Thanks for your support!