This post contains affiliate links. See my disclosure for more information.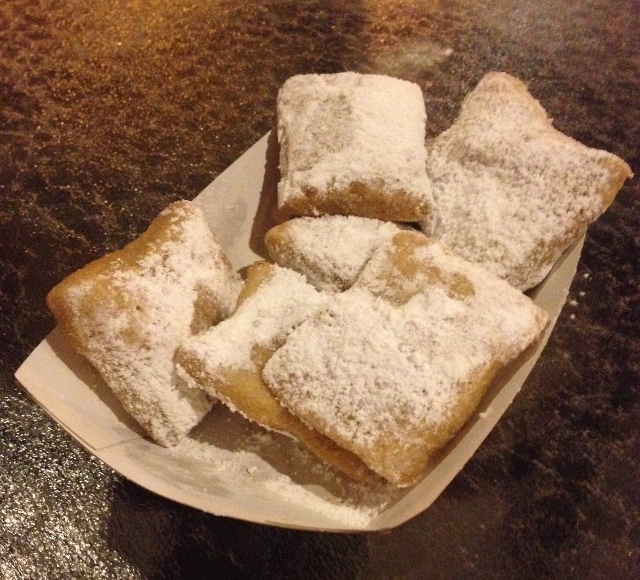 This post shall serve as my Disney redemption tale. It really doesn't take much to make this girl happy, just a gluten-free donut. Or beignet, as it was in this case.
I have written a total of two less-than-positive blog posts about dining experiences. One was about a visit to Walt Disney World. I traveled there for a marathon with a group of friends and had a really tough time eating there. I'm partially responsible for this as I wanted to eat at quick service restaurants in the parks, not sit-down restaurants. I also have more than one food issue: I'm gluten-free and vegetarian. Disney was quick to provide a list for each of those, but I was on my own to make it work from there. I just had a bad experience, which was hard for me. I'm a fan of Disney, I even got married at Disney World. I had read nothing but glowing reviews of how well Disney handles gluten-free dining, how quick the chefs are to come out to talk to you about options, how accommodating they area. Sadly, that just wasn't my experience three years ago.
While at the Gluten-Free Living Conference, I had the chance to turn my past bad experience around. I went with Andrea of Rockin' Gluten Free to Sassagoula Floatworks & Food Factory at the Port Orleans French Quarter Resort to get gluten-free beignets.
Beignets are ordered at a counter in what is essentially a food court at the resort. There is a counter for ordering sweets, ice cream and beignets. We asked a castmember (Disney employee) for assistance ordering gluten-free beignets and she said she would send the chef out. (See! There it is, the experience I missed out on last time.)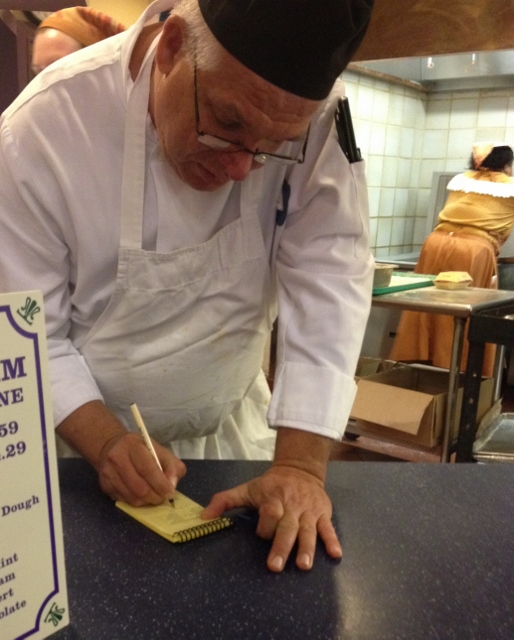 Chef Malcolm came out to take our order, six beignets please! He wrote our order down on paper asked that we wait in the area while he prepared them. Gluten-free beignets are prepared by the chef in a dedicated fryer.
We waited for just a few minutes, surely less than 10 minutes. Chef Malcolm returned with a basket of hot, fried dough plentifully sprinkled with powdered sugar.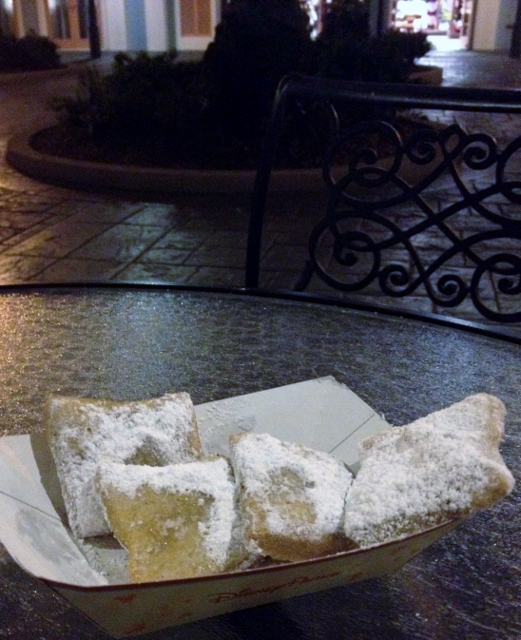 I asked what type of flour they use in making their beignets. Chef Malcolm told me they use Bob's Red Mill pancake mix. (Potato starch, sorghum flour, tapioca flour, corn flour, evaporated cane juice, baking powder (sodium acid pyrophosphate, sodium bicarbonate, corn starch, monocalcium phosphate), baking soda, sea salt, xanthan gum.) Other bloggers have shared that Sassagoula Floatworks & Food Factory uses Bob's Red Mill pizza crust mix. (Whole grain brown rice flour, potato starch, whole grain millet, whole grain sorghum flour, tapioca flour, potato flour, evaporated cane juice, xanthan gum, active dry yeast, sea salt, guar gum.) I'll include links to other bloggers posts below.
While these were no Cafe Du Monde beignets, they were hot, fried dough that happens to be gluten-free. A bit on the chewy side and not as fluffy as I remember gluten-full beignets being, but it was terrific to have the option. It didn't take long for them to disappear. Not a bad use of $5.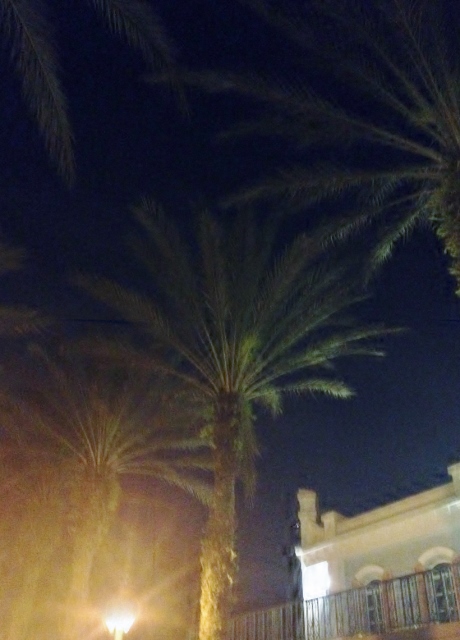 We sat outside in the courtyard to eat our beignets. It was quiet, peaceful and warm. While the other areas of Disney I visited on this trip were so very busy, Port Orleans was peaceful. It was a nice spot to enjoy a sweet treat without all of the frenetic energy of the busier areas. On the night of our visit, an acoustic guitarist was playing in a nearby bar, the tunes quietly drifting out into the courtyard. The walkways are lined with New Orleans-style street lamps and palm trees. Not that we were far away from the opportunity to purchase Mickey Mouse ears, but it felt very far removed from that, at least for a few minutes.
Sassagoula Floatworks & Food Factory is located within the Port Orleans French Quarter at the Walt Disney World Resort in Lake Buena Vista, Florida.
Additional Posts by other bloggers on Gluten-Free Beignets at Sassagoula Floatworks & Food Factory:
Gluten Free in Orlando (includes recipe!)
Gluten-Free & Dairy-Free at WDW
Celiac in Orlando


Johnna's I Ate Here series is not intended as a restaurant review, rather a summary of Johnna's experience dining out. You may or may not have a similar experience. Menu prices, items and ingredients featured were current at the time of writing. Please read the menu carefully and ask your server for assistance in ordering if you have dietary restrictions. It's a good idea to call ahead and let the restaurant know of your food needs. If you are eating gluten-free or specific allergen-free, Johnna suggests informing the restaurant staff of this, so they know this isn't a food choice, but a necessity, and consumption will result in illness.