This post contains affiliate links. See my disclosure for more information.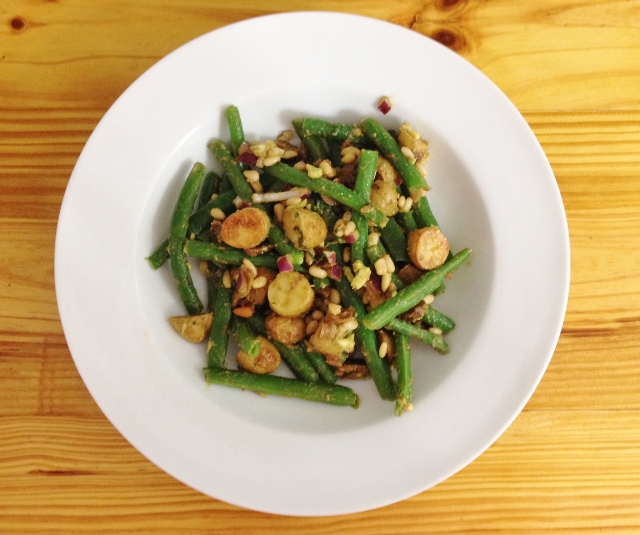 One of my favorite tapas to share during happy hour at La Bodega is their Judias Verdes, a dish of roasted potatoes and green beans with figs and walnuts. In my recipe idea file, I had made a note to re-create this dish at home when fresh green beans were harvested from our garden. My plan was to use pine nuts and make a creamy dressing with an avocado. But it seemed I would have many months to ponder this recipe, as beans haven't even been planted yet.
And then, Surprise! I received a lovely gift while at the Gluten-Free Living Conference in Orlando. My sweet friend Mary, who lives in the area with her dog Rylee, dropped a box of fresh, local produce from Gary the Organic Farmer by to the hotel! The box was packed full of farm fresh goodness, including the sweetest strawberries I have ever had, cucumbers, a strawberry onion and picked-that-morning green beans.
I am not ashamed to admit to you that I ate the green beans straight out of the box in the hotel parking lot. Winter just won't give up this year and fresh produce still seems so very far away. Eating green beans picked that morning took me to my happy place, in the garden harvesting my own beans, eating a few as I go.
A pound of the green beans made it back to Kansas City with me. Because they are so very flavorful, I knew this salad would be the perfect way to use them. Blanched green beans, baby roasted potatoes, figs, pine nuts and a creamy dressing with no added oil. It's a garden party on a plate!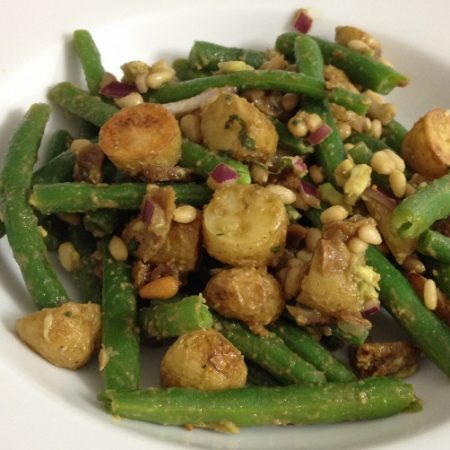 Roasted Potato & Green Bean Salad
Ingredients
For the Salad
1

pound

baby new potatoes

(I used the teeny tiny yellows from Trader Joe's)

2

teaspoons

olive or grapeseed oil

1

pound

fresh green beans

1/2

cup

pine nuts

(raw or toasted)

1/4

cup

finely diced red onion

8

Conadria figs

, finely diced
For the Dressing
1

Avocado

, ripe

2

Tablespoons

balsamic vinegar

2

Tablespoons

chopped fresh basil

2

cloves

garlic

, minced
Instructions
For the Salad
Preheat oven to 400 degrees. Line baking sheet with parchment paper.

Halve or quarter the baby new potatoes, depending on their size. Cut them into a bite-size piece.

Place on baking sheet and drizzle with oil. Roast for 15-20 minutes in the oven, until fork tender.

While the potatoes are roasting, boil water in a large pan to blanch the green beans. I use a

Lodge Dutch Oven

for this.

Trim or snap the ends of the green beans and break into pieces if the beans are really long.

When water has reached a rolling boil, add green beans for 3 minutes.

During that 3 minutes, prepare an ice water bath for the green beans, a large bowl filled with ice cubes and cold water.

At the end of the three minutes, remove the beans from heat and drain immediately. Then place the beans in the ice water bath. This will stop the cooking and result in a green bean that is still vibrantly green and crisp.

Once beans have completely cooled, allow them to drain in a colander while assembling the rest of the salad ingredients.

Remove potatoes from the oven and allow to cool.

Combine all of the ingredients, once beans and potatoes have cooled, in a large bowl. Gently toss.
For the Dressing
In a small bowl, mash the avocado until it is a creamy puree. Add the remaining ingredients, mixing well until you have a thick dressing. (This may appear very thick for a dressing, but it works perfectly in the salad.)

Toss the dressing with all of the salad ingredients. This may be eaten immediately or refrigerated to eat later.
This post may contain affiliate links. If you click on a link and make a purchase, I may make a few pennies, perhaps even enough to buy a bunch of kale. Your price remains the same. The use of affiliate links allows me to continue providing high quality, original recipes that have been tested in my kitchen at no cost to you. Thanks for your support!