This post contains affiliate links. See my disclosure for more information.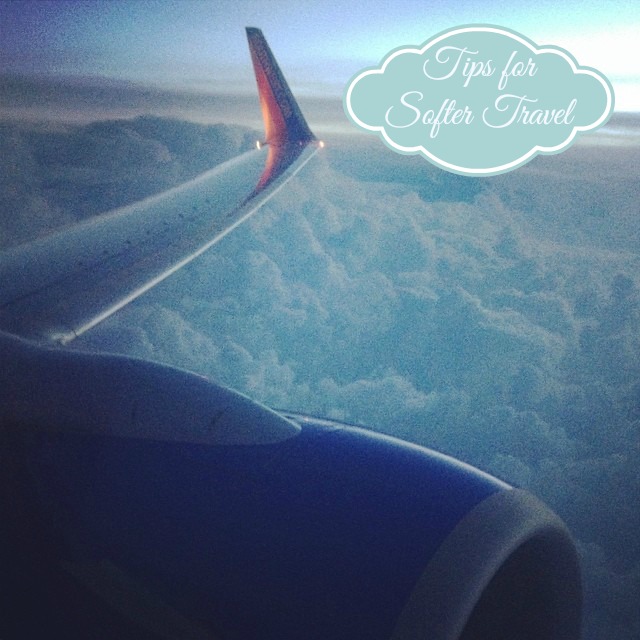 I've been traveling this week. I'm attending the Gluten-Free Living Conference and Blogger U in sunny Orlando. As I made the journey here and then after I got here, I had thoughts on being Softer to ourselves and our travel companions. I want to share those Tips for Softer Travel with you!
But first, I want to tell you about getting here. I got only as far as the security screening before I saw a major travel meltdown. A young family had a gallon size Ziploc bag with full size toiletry bottles. The father yelled at the mom, called her ignorant for not knowing the rules. She was in tears. It was 5 a.m. and they had two littles with them. Stressful enough without yelling over something like toiletries, right?
Then I got on the plane and snagged a prime window seat, only to have a bickering couple sit down in my aisle. The gal nitpicked at her fella, she constantly pestered the flight attendant (as though the flight attendant could fix the turbulence issue), glared frequently at the kid behind her who was bumping her seat…basically the 3 hour flight was the world's most miserable experience for her. I attempted to meditate, then tried to sleep, anything to keep her crankiness in her seat and not let it seep into mine.
So now that I'm here, I expected the travel tensions to ease. Last night, while searching for a parking space in a heavily congested area, I witnessed a couple having an ugly fight, right out in public in a parking lot. The fella shouted, "Just shut the F*@# up!" I'm guessing the "Happiest Place on Earth" wasn't for that couple.
Travel doesn't have to be this way. I get that it is stressful. If you follow me on Facebook, Twitter or Instagram, you have seen my travel photos. I have incurable wanderlust and love traveling. That doesn't mean I don't feel the stresses that come with travel. Here are a few of my tips for making travel a softer experience.
1. Pack a snack! I can't express the importance of this enough. Even if you are a "regular eater" and don't have to worry about gluten, allergies or intolerances, having a snack that you like is imperative when traveling. When I get hungry, I'm less patient, more cranky, more likely to yell at my travel mates in a parking lot. Need some ideas? I have a post here about my airline travel kit.
2. Make your agenda then reduce it by 25%. I am a go-go-go girl. I like to do everything, all of it, when I visit someplace. Except I found I wasn't really doing all of it; I was rushing through all of it and not really enjoying it. So I now make a plan and then cut it back by at least 25%. Planning to go to four amusement parks? Cut back to three, eliminate the least desirable one. Should you have extra time and energy, you could still go there. Or not. It's important to leave open time in the schedule to allow spontaneous adventures to happen…or naps. Naps are important when traveling.
3. Before you leave, make an agreement with your travel mates that you will not be unkind to each other. Travel is stressful (have I mentioned that enough yet?) and can bring out the worst in all of us. Before you leave, make a commitment to each other that you will be understanding of each other's stress and agree to cut yourselves some slack. If that couple I mentioned above fighting in the parking lot had stepped back for a minute and considered how stressful and tired they were, maybe they would have reconsidered. Setting the intention before you leave is a great way to start off right.
4. Pack a sweater. Do I sound like your mom yet? I always take a jacket onto a plane, even in the heat of summer. It's always cold on planes to me. Conference rooms are also cold, so when I travel for work, I make sure I have a sweater. If you are a fan of soft, warm, snuggly jackets, this is my current favorite. It's like a super soft blanket made into a jacket, but has enough style to wear with many outfits. So soft and comforting. I may have even slept in mine a few nights…
5. Be kind to those who make travel possible. Those TSA folks need lots of love, they have a thankless job. The people working at the hotel desk don't want you to have to wait in line for 30 minutes to check in either. The server at the restaurant may just need a hug after dealing with cranky tourists all day. Your experience will be a gazillion times better if you are kind to those who make your travels possible.
Safe and Happy Travels, my friends. Let's hit the road or the skies, but keep it Soft. 🙂