This post contains affiliate links. See my disclosure for more information.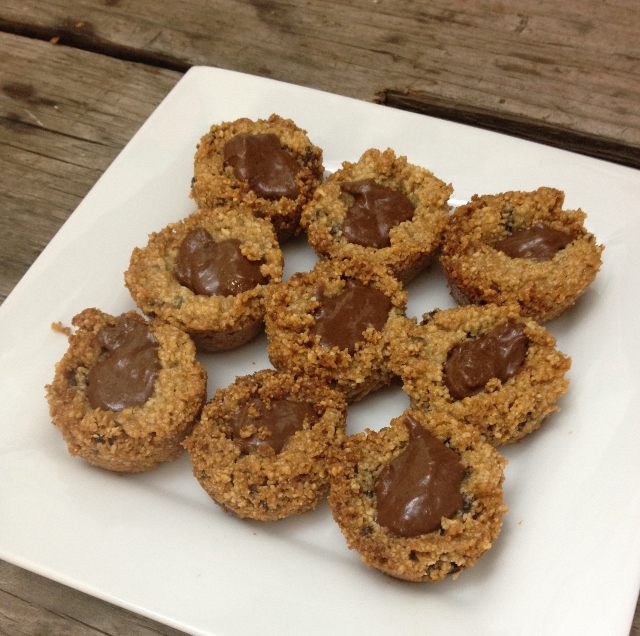 When I was still eating gluten and wasn't conscious of what was in the food I was eating, I would sometimes get this delicious cookie cup thing at the cookie place in the mall. It was the size of a muffin, not a mini muffin. Chewy peanut butter cookie filled with some sort of chocolate frosting, at least 1/3 of a cup of it. I was thinking about those the other day, wondering how I could make something similar that is more in line with how I eat today. And here it is, Mini Chocolate Chip Nutella Cookie Cups.
I ditched the peanut butter cookie idea quickly (blasphemy, I know, especially since I'm sharing this post on National Peanut Butter & Jelly Day) and instead went with a chocolate chip cookie. And instead of straight up chocolate frosting in the middle, I've used Justin's Chocolate Hazelnut Butter blend. If you like Nutella, you should try this. It's dairy-free, unlike Nutella, and it's also made with ingredients that fit more into my idea of healthy. Still indulgent, absolutely indulgent, but organic and simple ingredients.
This recipe makes plenty of these tasty little nibbles, 36 or so, but one will probably be enough to soothe your sweet tooth. My favorite fella, a big fan of Nutella, tells me that the Justin's version is about half as sweet as Nutella. Yet these struck me as a very sweet treat and I was good after having just one. But if you want to have more than one, I'm okay with that, too. 😉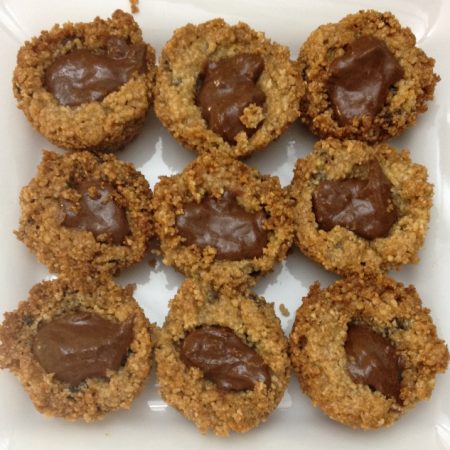 Mini Chocolate Chip Nutella Cookie Cups
*I used cashew meal in this recipe. While I often interchange almond meal and cashew meal in my recipes, this recipe has not been tested with almond meal. Cashew meal is a bit more coarse. Using almond meal may change the texture and outcome of this recipe. I purchase cashew meal at Trader Joe's. It is less expensive than almond meal and has a higher oil content than almond meal. Proceed with caution if substituting.
Ingredients
2 3/4

cups

cashew meal*

1/2

teaspoon

baking soda

1/2

cup

coconut oil

, liquified

1/2

cup

maple syrup

1/2

cup

mini chocolate chips

(I use Enjoy Life)

1/3

cup

Justin's Chocolate Hazelnut Butter Blend or Nutella

nonstick spray for mini muffin pan
Instructions
Preheat oven to 350 degrees. Spray mini muffin pan with nonstick spray and set aside.

In a large mixing bowl, combine cashew meal and baking soda. Mix with a wooden spoon.

Add in coconut oil and maple syrup, stirring well to combine. This will be a very wet and sticky batter.

Stir in mini chocolate chips.

Fill each of the 36 cavities of the mini muffin pans with a scant Tablespoon of the cookie batter.

Bake at 350 degrees for 10 to 12 minutes.

Remove from oven and immediately make a small indentation in the center of each cookie cup with a spoon. While still warm, add a scant 1/2 teaspoon of Justin's Chocolate Hazelnut Butter Blend to each.

Allow to cool completely before removing from pan. This is an important step! It is best to allow them to cool for 4 or more hours. Once they are completely cooled, they are very solid, but when they are still warm, they fall apart.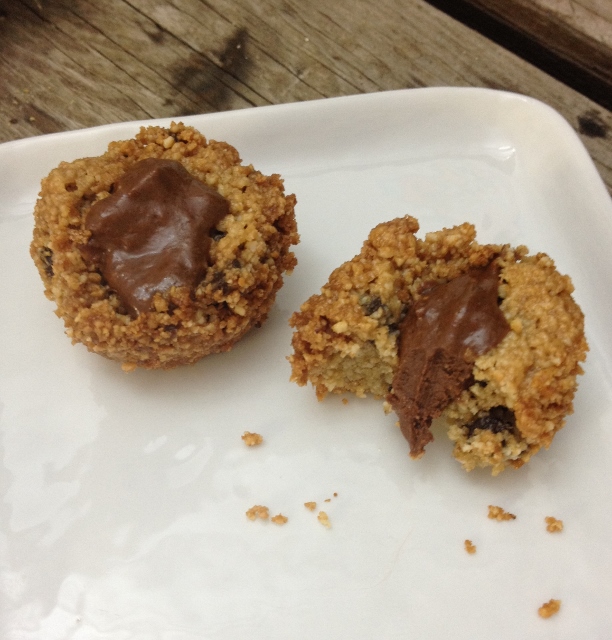 I am linking this post up to Gluten-Free Wednesdays. Click over to see all of the wonderful recipes shared!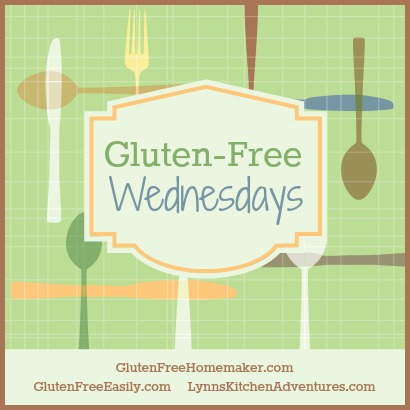 This post contains affiliate links. Should you click on a link and make a purchase, I make a few pennies. Your cost is the same, but your purchase allows me to continue providing high quality, original recipes that have been tested in my kitchen. It is my goal to continue providing recipes at no charge to you, my wonderful readers, and affiliate links are one way for me to do that. Thank you!