This post contains affiliate links. See my disclosure for more information.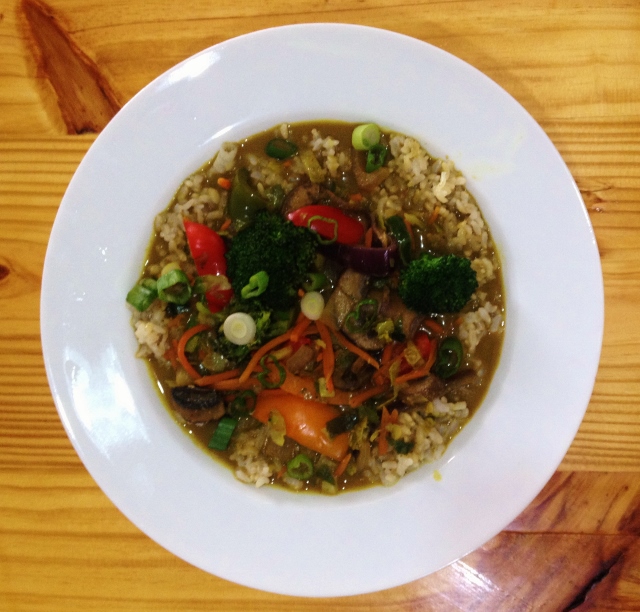 When I typed that headline, I worried that you would read it and say, "Nope, the World's Easiest Coconut Curry Sauce comes from the grocery store in a jar." Well, okay, you may be right. But I am certain it isn't as flavorful as my version. And mine is pretty basic, no ingredients you can't pronounce. Plus it is quick enough for a weeknight dinner. Convinced you yet?
Most often, I cook veggies in this sauce. But don't limit yourself to what I've shown. It's great to simmer tofu or tempeh. I've heard coconut curry sauce is good with chicken or shrimp, but I've got no knowledge there. You'll have to report back to this veggie girl and let me know. My point is that this is a good, basic sauce that will work in many applications in your kitchen. Run with it!
If you are sticking free to mix up the veggies to suit your taste…or to clean out your crisper drawer. In the photo with this post, I've used red onion, red, yellow, green and orange peppers, shredded Brussels sprouts, shredded carrots, broccoli, sliced baby bella mushrooms and green onions for garnish. If I have it, I use cauliflower in this dish. I love the flavor combination of cauliflower and curry. Sometimes I toss in sweet potatoes or butternut squash. Basically, if it's in the crisper, it goes into the curry sauce.
A quick word on Curry Powder, one of the ingredients in this sauce. If you are gluten-free, please read the label carefully when buying curry powder. Curry powder is not a single spice, it is a blend of spices. When reading the label, watch for anti-caking or filler agents that could contain gluten. I saw a curry powder that contained wheat starch at an Indian market. (What the heck is wheat starch anyway?!?) I buy curry powder from Penzey's Spices. We like dishes with heat here, so I keep both the Hot Curry Powder and the Vindaloo powder in my spice collection. If you don't like heat, start with a sweet curry powder.
Ok, off to the recipe… Enjoy! And don't forget to tell me what you put in your coconut curry sauce. I'd love to hear from you!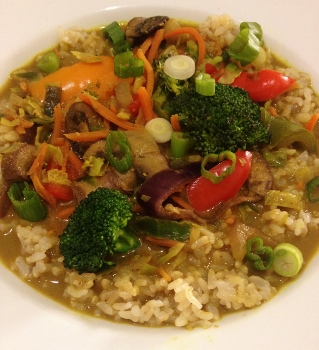 World's Easiest Coconut Curry Sauce with Veggies
Ingredients
1

yellow onion

, finely diced

1

teaspoon

oil

(I use coconut oil, use a healthy oil from your pantry)

1

can full fat coconut milk

(13.5 to 15 ounces, depending on brand)

2

Tablespoons

curry powder

1

Tablespoon

Tamari

, Coconut Aminos, Bragg's Aminos or gluten free soy sauce

1/4

teaspoon

sea salt

6

to 8 cups of fresh vegetables of your choice

2

cups

rice

, quinoa or other similar choice

green onions to garnish

(optional)
Instructions
Whisk in coconut milk and continue cooking over medium.

Add in curry power, Tamari and sea salt. Whisk to combine.

Cook until mixture reaches a simmer. Then add in fresh vegetables, stirring to incorporate. Cover with lid and allow to simmer until vegetables are fork tender, about 5 to 7 minutes for most vegetables.

Serve over rice or quinoa.

If you are making the sauce ahead of time, store it in a mason jar in the refrigerator for up to one week.