This post contains affiliate links. See my disclosure for more information.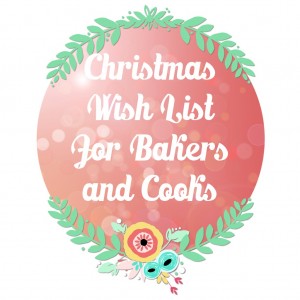 I made a list, checked it twice, with you in mind! I thought it might be helpful if you had a list to pass along to those who shop for you, a list for you to shop from for those on your shopping list AND a list where you might find a little something to buy for yourself!
The items below are the most-used items in my kitchen which also makes them the most used items in my recipes. I own and use every item that I'm sharing in this list. While you won't find a Johnna-Approved sticker on the box, know that I do really like each thing I've shared here. Happy shopping!
I've included the price that was current at time of posting. This time of year, you are likely to get an even better price!
The Chop Wizard is one of my all-time favorite kitchen gadgets. It makes dicing an onion quick and easy (think 30 seconds) and comes in super handy when dicing large quantities of vegetables to make salsa. I use this to cut all sorts of vegetables, carrots, zucchini, onions, mushrooms, celery… It comes with two sizes of blades and a handy little tool to clean it. Along the sides, it has measuring marks which makes measuring for a recipe a breeze. ( $19)

I'm a big fan of making noodles from veggies. (See my recipe round-up here for ideas.) The Spiral Slicer gets lot of use in my kitchen, making noodles with zucchini and sweet potatoes most often. I also make pretty spirals of carrots and beets to top salads. As of today, the price was about $23 on Amazon, which is less than half price and twenty bucks less than the only store local to me that carries it. If you've been in a cooking class with me, you've heard me call this two things: The Noodler and Spiralizer. ($23)

I store most of my pantry dry goods in Mason Jars. While I do a fair bit of canning, mason jars really get the most use in my kitchen for storing flours, nuts and seeds. I love the 1/2 gallon size for items I use a lot of ( rice flour, almond meal, cashews…).
Here's a fun gift idea for you using Mason Jars. The anniversary version of the jars in blue are functional and decorative. I have one in my kitchen full of mismatched spoons collected from thrift stores and yard sales. When cooking, there's so much tasting going on that I used to find myself short of spoons. Now I keep one of the pretty blue jars full of spoons on the counter. Problem solved and it's also decorative! ($8 and up)

While this isn't specifically a kitchen tool, Vanilla Bean Paste (VBP) is a game-changer for bakers. Unlike alcohol-based vanilla extract, VBP is a thick, sugar gel filled with flecks of vanilla beans. Not only is it a stronger vanilla flavor, you'll get those pretty little vanilla bean flecks in your baked treats! A Tablespoon is about equivalent of scraping one vanilla bean. I buy VBP by the quart, but it's also available in small bottles if you want to try a little first before committing to a large bottle. ($10 and up)

I use my Microplane for so many kitchen tasks: zesting lemons and limes, grating fresh nutmeg, mincing garlic and ginger…For the money, it's a great value since it is such a hard working kitchen tool. ($13)

I own two Coffee Grinders. One is for the intended use, to grind coffee beans fresh each morning. The other, which I've labeled with NO COFFEE, is for grinding spices and small quantities of seeds. Because whole spices keep longer than ground, I keep quite a few spices whole and grind them as needed. It makes a huge flavor difference! This little coffee grinder is perfect for getting the job done in a hurry. ($11)

Our preferred way to brew coffee in our kitchen is with a Bodum French Press. They come in lots of sizes and colors. We keep it simple here with the 1-liter model, which makes enough coffee for two folks to have a very generous mug of coffee. After many years of use, we replaced the screen in ours this year. I love that Bodum makes parts available for inexpensive kitchen gadgets like this. We also splurged and got a neoprene sleeve, a Coffee Coat, to keep our second press of coffee warm late into the morning. ($20 and up)

When I went gluten-free, I got rid of the wooden spoons and wooden handled appliances that had previously been used in my kitchen. I wanted to eliminate any risk of gluten leftovers getting into my food. That's when I discovered Bamboo Spoons. Bamboo is less absorbent than wood, which makes them easier to clean and helps them last longer. You know that jar of tasting spoons I mentioned when writing about the mason jars? A jar full of bamboo spoons or one of these bamboo utensil sets would also make a great gift! I have no plans to return to regular wooden spoons after using bamboo. ($4 and up)

If you are a cookie maker, you NEED the OXO Flexible Spatula. I bought my first one years ago at Williams-Sonoma and managed to lose it after a cooking class. I was so relieved to track it down on-line after finding the store didn't have it anymore. This spatula is a super thin metal, yet sturdy enough to slide right under cookies. I use it for more than cookies, but that's where it really shines. ($8)

Speaking of OXO, their Good Grips storage containers are my favorites for storing leftovers. When I get on a kick and make meals ahead of time to freeze or refrigerate, these are what I use to store them. These come in so many different sizes, so take a look around and see what size speaks most to you. I'm sharing a link to the size that I use for a single serve meal. I like that I can freeze a meal-for-one and take it directly from the freezer into the microwave. ($4 and up)

And one last OXO product. Their angled liquid measuring cup is a must-have in my kitchen. Instead of holding a liquid measuring cup up at eye level to see if I have an accurate measure, I like that I can peer down from the top. I also like the non-slip handle. After baking all day, hanging on to the handle of an all-glass measuring cup can be tricky. While this is an inexpensive kitchen tool priced like a stocking stuffer, it is worth much more in my eyes. ($8)

Speaking of stocking stuffers, for an avid baker a Cake Tester makes a nice little gift. Instead of using a toothpick, a fork, a skewer every time you need to check to see if a cake or brownies are done, this little gizmo works like a charm. I got all fancy and hot-glued a magnet to the back of mine. It lives on the side of the refrigerator nearest my oven so it's always handy. ($8)

Know how I mentioned switching out wooden utensils when I had to eliminate gluten? The wooden cutting boards had to go, too. I now have a Bamboo Cutting Board set. Again, just like with the bamboo spoons, it isn't as absorbent as wood which makes cleaner easier and it's less likely to absorb food odors than wood. ($20 for a set)

I use my Silpat Sheets almost daily. For just about any recipe that calls for using parchment on a baking sheet, I use a Silpat instead. They clean up easily and are non-stick, plus they create a more evenly heated surface for baking. (Pro-tip: store them rolled up. Never fold a Silpat.) ($20 and up)

Earlier this week, with my Mushroom and Veggie Soup recipe, I mentioned my Lodge Dutch Oven. It's one of the heaviest cookware pieces in my kitchen at 14 pounds, but also one of the most used. I love the durability of cast iron pieces and the flavor they impart in recipes. This is by far my favorite cast iron piece. If you make soups, stews, chili or cook your own stock, this will come in handy. ($31)

Another handy little pan I keep in the kitchen is the Lodge 6 1/2″ skillet. I use it for frying eggs. It's the perfect size for two eggs. ($10)

My other cookware love beyond Lodge cast iron is my set of Calphalon. The pans I use most often are the 12″ round griddle (this pan works great for my Socca pizza crust or for a frittata) and the classic 11″ griddle, which is my preferred pan for making pancakes. These pans are also oven safe which makes them perfect for dishes that start on the cooktop and finish in the oven. (Starting at $40)

I also use Calphalon's 5 quart sauce pan with a lid. This is the big pan I use when sauteing sweet potato noodles for my Japchae. It's a hefty pan to be called a sauce pan, large enough to make a small batch of chili or soup. ($60)

I use my Immersion Blender for quite a few tasks, including pureeing soups right in the pot and making whipped cream. I don't have a super fancy one because I don't use it often enough to justify the higher price, but the one I do have works very well and has two attachments, a blade and a whisk. It also has two speeds. ($18)

The OXO Mandoline is the hardest working slicing device I've ever owned. I tried several cheap mandolines (thankfully I still have all of my fingers) and never got the results I was looking for. Now I get super thin slices of jicama that I use for taco shells, beautiful lasagna-like noodles from zucchini, perfect matchsticks of carrots and so much more. This mandoline has adjustable thickness and has a rotating blade that allows for julienne slices, matchsticks, waffle cuts and probably other cuts I haven't yet explored. (A SERIOUS WORD OF CAUTION: Please do not EVER use a mandoline without using the safety guard. The blades are very sharp and should be handled cautiously. I don't care how the chefs on TV do it, use the hand guard!) ($70)

The rest of the items that I'm going to share are a little on the pricier end, true investments for the kitchen. As with the items above, I own and use each of these. The items below are perhaps the most important in my kitchen, next to the refrigerator, dishwasher and cooktop.
I first started using the Calphalon Countertop Convection Oven for my cooking classes, because I occasionally teach where there isn't an oven. But I quickly discovered I really liked this handy little oven for so much more than classes. When it's 100 degrees outside and I don't want to heat up the entire kitchen to bake a batch of six muffins, this is what I use. When my favorite fella wants to cook a frozen pizza, this is what he uses. (It's got a clever bump-out on the backside, easily accommodating a 12″ pizza!) It's got settings for bagels, pizza and cookies. You can even put a 9 x 13 baking dish inside, making it perfect for casseroles.

Eighteen years ago, we received a KitchenAid Classic Mixer for a wedding gift. It was refurbished, basic white, nothing fancy. And boy, has it ever been a workhorse! After all these years of heavy use, it's got a little hitch in its giddy-up, but just keeps working away. I use my mixer for so much, rarely a day goes by when it isn't doing its thing on the counter. While there are much fancier models, the Classic works great for us. (I do have glass bowl envy of some of the other models…) Anytime my recipes suggest using a stand mixer, this is what is used in my kitchen. ($230)

Last year my old, loud, clunky food processor just about gave up on me. I dropped the bowl one too many times, tried to glue it back together and finally gave in, buying a new food processor. Then I wondered why I had waited so long! The Cuisinart Food Processor not only works better than what I used to have, it's SO quiet compared to other brands! There was no way we could talk in the kitchen when my old one was running. The Cuisinart is quiet enough that we can have a conversation while food is processing. I did splurge for one add-on, I got the blade and disc organizer to keep everything safely together that came with the food processor. ($100)

When it came time to buy a dehydrator, several people recommended a particular brand. I had an opportunity to see one of them working in a friend's house and noticed it was pretty loud. So I started asking around and a couple of trusted food professionals told me about the Sedona Dehydrator. I am SO glad it is the one I chose to buy. Not only it is quiet, it has an even quieter night time setting. I sometimes put my hand on it to check to make sure it is actually on! It also has a glass door to keep things sealed (I'm not a fan of the open dehydrators) and a digital control that allows temperature and amount of time to be set. I load up the trays and leave it to do its thing, so easy! And did I mention quiet? ($350)

More than any other kitchen appliance, I get asked for juicer recommendations. I started juicing with a Black & Decker juicer that is around $30. While it's good for finding out if you really enjoy juicing, it didn't work for me long-term because it is a centrifugal juicer. I needed to drink the juice made with it right away. The juicer I use now is a Hurom Snow White and I love, love, love it! I can make juice for about 3 days at one time and store it in glass jars. (Aha! Another use for the Mason jars I mentioned above.) It is a masticating juicer so juice keeps longer and I get about 50% more juice from the produce than I did with that first juicer I bought. It has paid for itself quickly just in the extra juice I get from produce. ($299)

I was a hard-sell with the Vitamix blender. But once I got it, I wondered why I waited so darned long to get it. When I was working through my Living Foods Chef curriculum, so many things required a high speed blender. I just couldn't fathom that it would make much of a difference and plugged along with a cheap, 15 year old blender. A friend suggested I go the least expensive route and get a refurbished model, which is what I did and saved a big chunk of change. The blender I got looked absolutely new (and the carafe and tamper were brand new) and it has performed incredibly well. So here's my suggestion to you: follow THIS LINK (you'll get free shipping using it) and browse the Reconditioned Vitamix Blenders . What you'll get will look brand new and you'll save enough money to make it comparable in price to that other blender that is profusing on its commercials right now that it does everything a Vitamix can do. It doesn't, I've tried it. What the Vitamix does that impresses me: makes soup that is HOT, makes nut butter, makes green smoothies that are truly smooth (no chunky kale bits), makes sauces super quick, makes thick concoctions that I use to drag my food processor out to make. My Vitamix sits out on the counter all the time. It also travels with me. It's the one kitchen appliance I couldn't do without. And to think I was a hard sell… 😉 ($279 and up)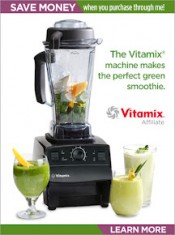 (It's tricky to find the low-priced Certified Reconditioned Models. Here's how to do it: On the Vitamix page, at the top of the page, click on Shop Products, then select Certified Reconditioned Series in the right column of options. Sometimes a good deal is a little hard to find, but worth the effort.)
Whew! That's a lot of kitchen goodies I've accumulated to create all of these recipes. If you've seen me use something in a class or mention something in a recipe that isn't here, let me know in the comments below. I'll add it to the list so you can forward it on to Santa. Happy Holidays to you!!
This post contains affiliate links for products I personally own, use and believe in. Should you click on the links and purchase these items, I may receive a small percentage commission. By purchasing via links in my blog posts, you are helping me earn a few pennies to buy a bunch of kale, a pound of flour or a new spatula. This allows me to continue producing high-quality, free content including original recipes. I appreciate your support!